LOCATION

The Roost Rd. is a B Class road that will take you to the staging point on the Sam's Mesa Rd.
TRAIL TYPE
Depending on the road conditions you can drive a truck to staging area. After that point it is recommended that only ATV's and experienced OHV riders do the trail.
DISTANCE
The distance from the Roost Rd. staging area to the Mesa Towers Overlook is 15 miles.
DIFFICULTY
For an ATV this trail is EASY. For OHV's it is MODERATE with some difficult parts.
TRAIL DESCRIPTION
The whole area is BLM land. The trail is sandy with some rocky spots.
TRAIL COORDINATES / POINTS OF INTEREST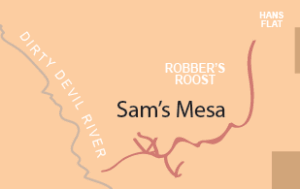 EQUIPMENT
This trail is designated for ATV, and experienced Jeep riders.


ENVIRONMENT
Check the weather conditions, but this trail is pretty good in all weather that you would want to be out in.


SAFETY
Make sure that you only go out there in anything but an ATV if you are experienced. This way you will continue to be safe on the trails.


TRAIL TIP
Be careful where you ride because there is some wilderness study areas out there. The areas are well marked, so pay attention to the signs.


Get up close and personal with the historic old west. You can walk where old cowboys walked and see what they saw. Its now wonder infamous outlaws such as Butch Cassidy made areas like this their hide outs. Not only would a cabin be difficult to find, but also the views are incredible.
There are 2 pinnacles of rock on the Mesa where the road will cut right through them. From the mesa the Dirty Devil river is in a canyon just the west. The Panorama Point inside the Glen Canyon Recreation Area looking opens up to an incredible view and place to explore.