LOCATION

Begin this trail at Factory Butte just off Hwy 24. Stay on the road to east and head north. Immediately east of Factory Butte take the short spur road to Skyline overlook.
TRAIL TYPE
Dirt road trail for 4WD vehicles and ATV. 4WD vehicles can loop from Caineville of Hanksville on Hwy 24. ATV should stage at Factory Butte and will return on the trail the way they came.
DISTANCE
This trail is approx. 30 mi. from Factory Butte to Goblin Valley. As a loop, (Hwy 24) this will be approx. 40 mi.
DIFFICULTY
MODERATE – There is one river crossing, areas of sand, and rocky terrain. The river is 1-2 feet deep (seasonal).
TRAIL DESCRIPTION
This trail is a Class B road that passes through terrain that looks like the moon and Mars.
TRAIL COORDINATES / POINTS OF INTEREST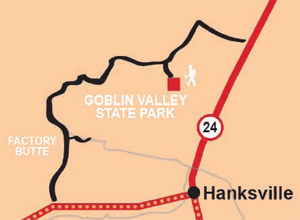 EQUIPMENT
This trail has been designed for ATV and 4WD vehicles.


ENVIRONMENT
The weather can cause parts of the trail to become difficult, especially the river crossing. Be sure to check with BLM for road conditions.


SAFETY
This is a remote area so be sure to have enough fuel, water, and food, just in case you have any trouble on the trail.


TRAIL TIP
Take some time to visit the historic Hunt Ranch on the edge of the Muddy River. It includes 5 old log home structures, an old corral, and remnants of a rough life in this harsh terrain.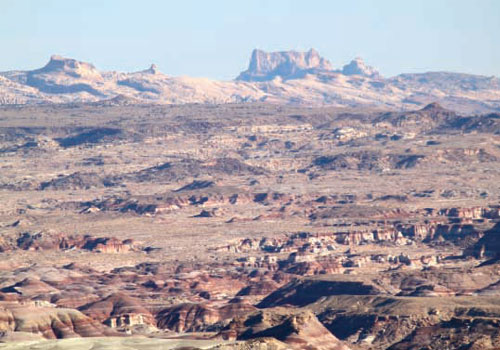 The incredible views on this trail will have you viewing a lunar-like landscape. It has been said that parts of this trail look like what you would see were you on the Moon.

Goblin Valley also provides a spectacular view of tiny rock formations that look like natures own mythical creatures.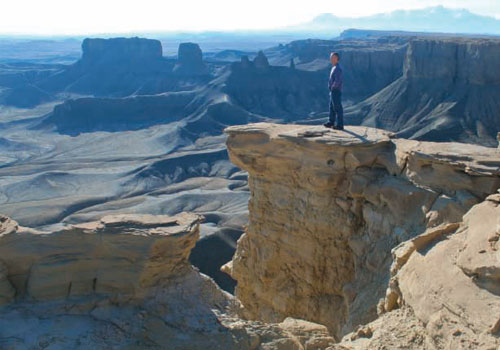 There is unsurpassed beauty and unique places to see on this trail, so make sure you take the time to explore. Along this trail you will find the Hunt Ranch, the Factory Butte Coal mine, and the Skyline View Overlook, all of which are must sees along this trail.