LOCATION

Both staging areas are located just off Teasdale Rd. on the Bullberry Rd and the Donkey Reservoir Rd.
TRAIL TYPE
ATV and OHV. The trail is well marked and usually maintained by the state of Utah.
DISTANCE
Staging area to Donkey Reservoir is 6.8 miles.
DIFFICULTY
MODERATE | DIFFICULT – Weather conditions can change rapidly causing parts of the road to become challenging and difficult for even the best ATV riders.
TRAIL DESCRIPTION
For the most part this trail is a maintained trail. Mostly it consists of dirt with a few rocky parts.
TRAIL COORDINATES / POINTS OF INTEREST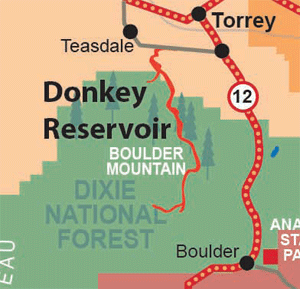 EQUIPMENT
This loop was designed for an ATV or a OHV only.


ENVIRONMENT
Some areas of ther trail can be washed out due to weather. Be sure to be aware of the conditions before starting out.


SAFETY
Make sure you have all the gear and equipment that you will need. Wear a helmet and other protective gear to protect yourself.


TRAIL TIP
There is dispersed camping areas along the trail. All of these campgrounds are very limited and have no services. Be sure to take all your equipment up if you plan to camp.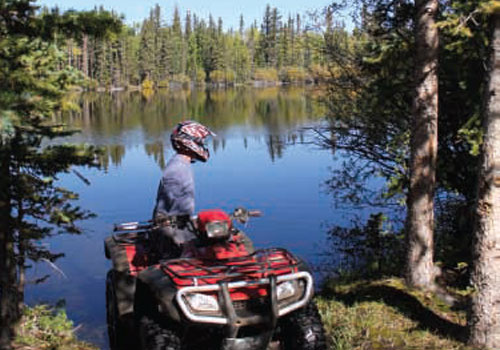 There are several places to stop and take in the incredible views.
This trail has absolutely incredible views. Be sure to take the time to ride into Coleman Reservoir, Round Lake, Donkey, and Left Hand Reservoir.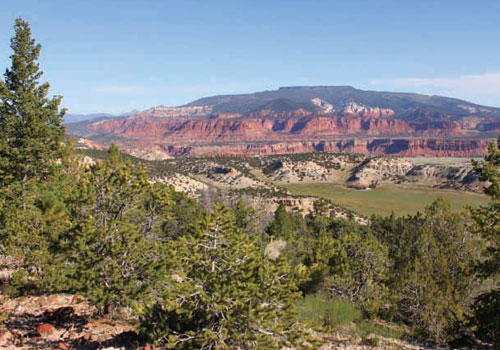 On this trail, you will see the largest Ponderosa pine that has been discovered in the Dixie National Forest. This natural land mark and others add to the appeal and beauty of this trial. Take sometime to get off the ATV and experience the beauty first hand.