Goblin Valley State Park is one of Utah's most popular state parks, and once you see the park's unique 3,654-acre landscape for yourself, you'll understand why! Along with nearby Bryce Canyon, Goblin Valley State Park is a place where visitors can see some of the largest "hoodoos" in the world. These tall, Entrada Sandstone pillars have been eroded over millions of years to create an array of peculiar formations that scatter this desert valley.
EXPLORE
Visitors come to this section of the San Rafael Desert to explore the thousands of mushroom-shaped pillars resembling stone "goblins", which give the park its name. Goblin Valley looks very different from the rest of Utah's landscape, but is just as beautiful, in an other-wordly sort of way. Visitors can choose from a variety of fun things to do in the area, including camping, hiking, mountain biking, and disc golf. If you look closely, you may even come across ancient petroglyphs and pictographs left behind by the Fremont, Paiute and other Native American residents. 
CAMPING
Overnight visitors to Goblin Valley can choose to stay on a campsite, in a yurt, or with their own RV. Reservations can be made through Reserve America.
Campers can choose from one of the 25 camping sites found in Goblin Valley State Park's main campground. Click here for details and current fees.
Main Campground
The main campground is not located right in the center of the "Valley of the Goblins", but is located just outside, surrounded by beautiful views and other rock formations. Park amenities include showers and flushing toilets, as well as a free station for water and dumping. Each campsite includes a small shelter, fire-ring and picnic table. Camping in Goblin Valley is a great way to experience the rugged beauty of this unique place.
Yurts
For visitors looking to stay overnight at Goblin Valley with a bit more comfort than camping in a tent would offer, check out the two yurts available for rent. These small, furnished dwellings include a table with chairs, deck chairs and a single/double bunk bed. Yurt users also have access to a grill and propane that comes included with the rental fee. Click here for details and current fees.
Rv Sites
RVs of up to 59 feet can fit in the sites available at Goblin Valley. There are no hookups, but a sewage disposal station is available. 
HIKING
There are three marked hiking trails in Goblin Valley State Park, making it easy to explore in an hour or two. Follow these trails through the Valley of Goblins and to various viewing sites throughout the park. One of the most fun ways to hike Goblin Valley is by going off-trail and exploring the hoodoos up close. Visitors are allowed to hike around freely, but extreme caution is requested to preserve the hoodoo structures that have been formed for millions of years. Damaging the "goblins" of Goblin Valley is a crime. But feel free to get as close as you want!
CANYONEERING
For the more adventurous visitors, Goblin Valley offers some great canyoneering too. On the east side of the park is a cave-like slot canyon called Goblin's Lair, which extends 70 feet through a sandstone cavern. Those with canyoneering experience can rappel into the deep crevice and then hike back out the east side. A permit is required for each person rappelling into Goblin's Lair. Groups of up to 8 people are permitted to enter together. Guided rappelling and other Capitol Reef Country tours can be booked through Get In The Wild.
MOUNTAIN BIKING
The Wild Horse Mesa Mountain Bike Trail system is a variety of looping trails that take mountain bikers to various scenic views within the park. The Wild Horse trails are exciting and a great way to see lesser-known parts of Goblin Valley. View a map of the Wild Horse Mountain Bike Trail system.
DISC GOLF
Campers at the main campground will find a 9-hole disc golf course that's free to play. Bring your own discs, or rent them for $1.00 each from the visitor center. This unique course location makes you feel a little bit like playing disc golf on mars!
STARGAZING
The night sky above Goblin Valley State Park is one of the darkest you'll find anywhere on the planet! Due to the extremely low levels of light pollution in the area, visitors can look up and see incredibly clear views of the stars of the Milky Way. It's hard to really appreciate what a completely clear view of the night sky looks like until you see it in person. Depending on when you visit Goblin Valley, you may be able to participate in one of the various night activities led by Utah park rangers.
FEES
Day-use fees (valid for two days):
$20 private vehicle
$10 motorcycle, bicycle, or pedestrian
$5 per-person commercial vehicle fee
Camping fees: Main Campground (no electrical hookups): $35 ($20 extra vehicle fee) Yurts: $150 + tax. A maximum of two pets (dogs only) may stay in a yurt for an extra fee of $20 each.
Group Overnight Camping: Group Campground: $200 + tax for up to 40 persons. Please note that we do not honor rates posted on third party websites.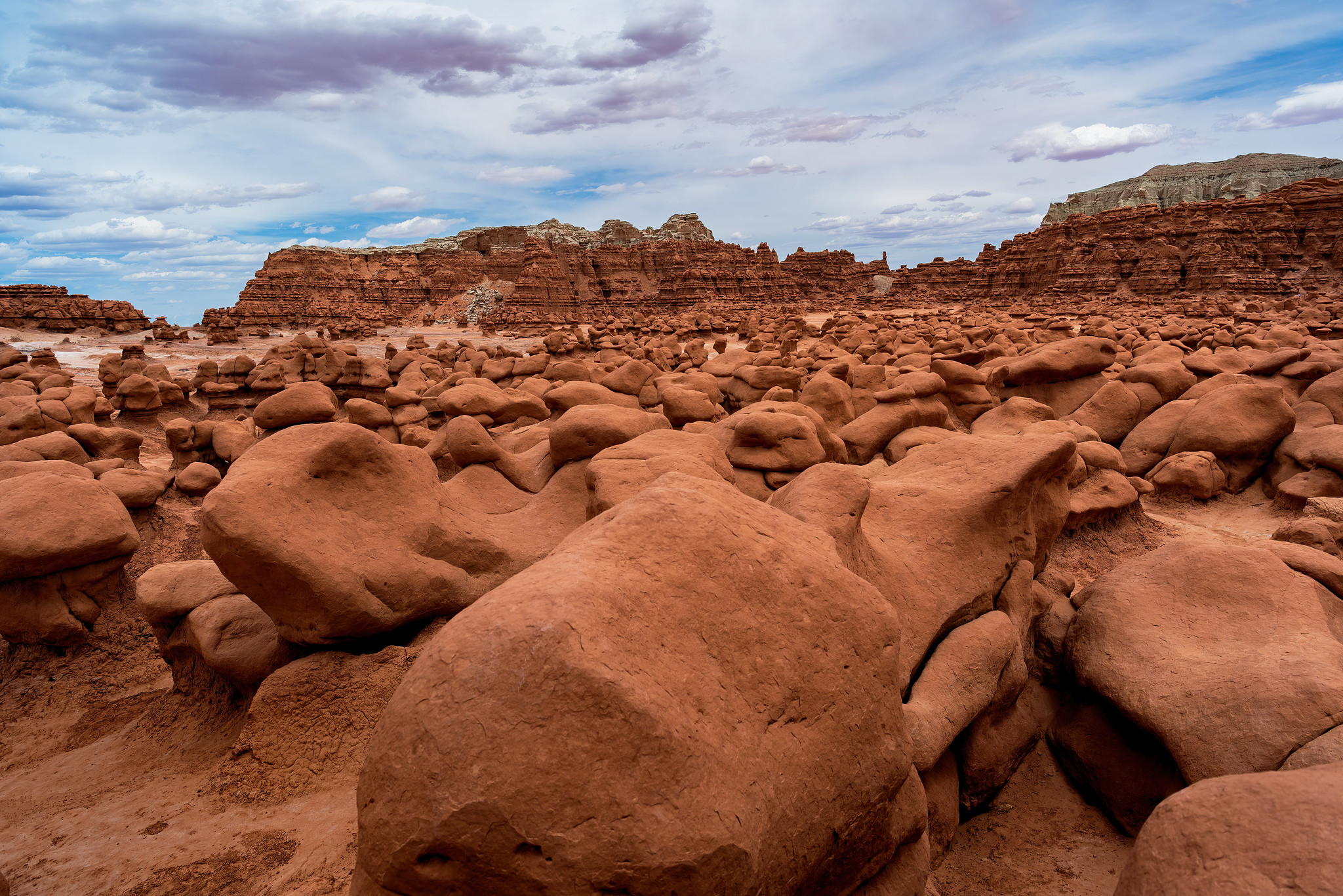 PARK HOURS AND VISITOR INFORMATION
Goblin Valley State Park is open year-round, including holidays. A visitor center is on-site and is open from 8:00am to 5:00pm every day, except for occasional closings for short stretches during the winter months.
WEATHER
The weather at Goblin Valley is typical for Utah—hot in the summer and cold in the winter. 
PETS
Leashed pets are permitted in the park.