OPTION 1 
RELAXATION IN CAPITOL REEF NATIONAL PARK
The outdoor recreational opportunities are endless in Capitol Reef Country, so slow down and drink in all the area has to offer. Spend a leisurely day in the heart of this beautiful region, at Capitol Reef National Park. Begin at the visitor center, which features interpretive exhibits where you can explore the park's intriguing geologic and anthropologic history. Check out the Ripple Rock Nature Center for hands-on learning activities particularly suitable for kids, then swing by the Historic Gifford Farmhouse, a combination pioneer museum/country store just one mile south of the visitor center. There is a picnic area nearby. 
Soak in the scenery with a ranger-guided nature walk, offered daily from May to September. Easy self-guided strolls in the park include Capitol Gorge, 1.25 miles of mostly level walking along a narrow wash bottom to Pioneer Register, and the 1-mile moderate trail to Hickman Natural Bridge with a view of the Fremont Petroglyphs. The 2.5-mile Grand Wash trail is a bit longer but also an easy, level trail with steep canyon walls rising on both sides. After a scenic drive through the park on Highway 24, end the day with a short stroll to Sunset Point for panoramic views and dramatic photos in the evening light.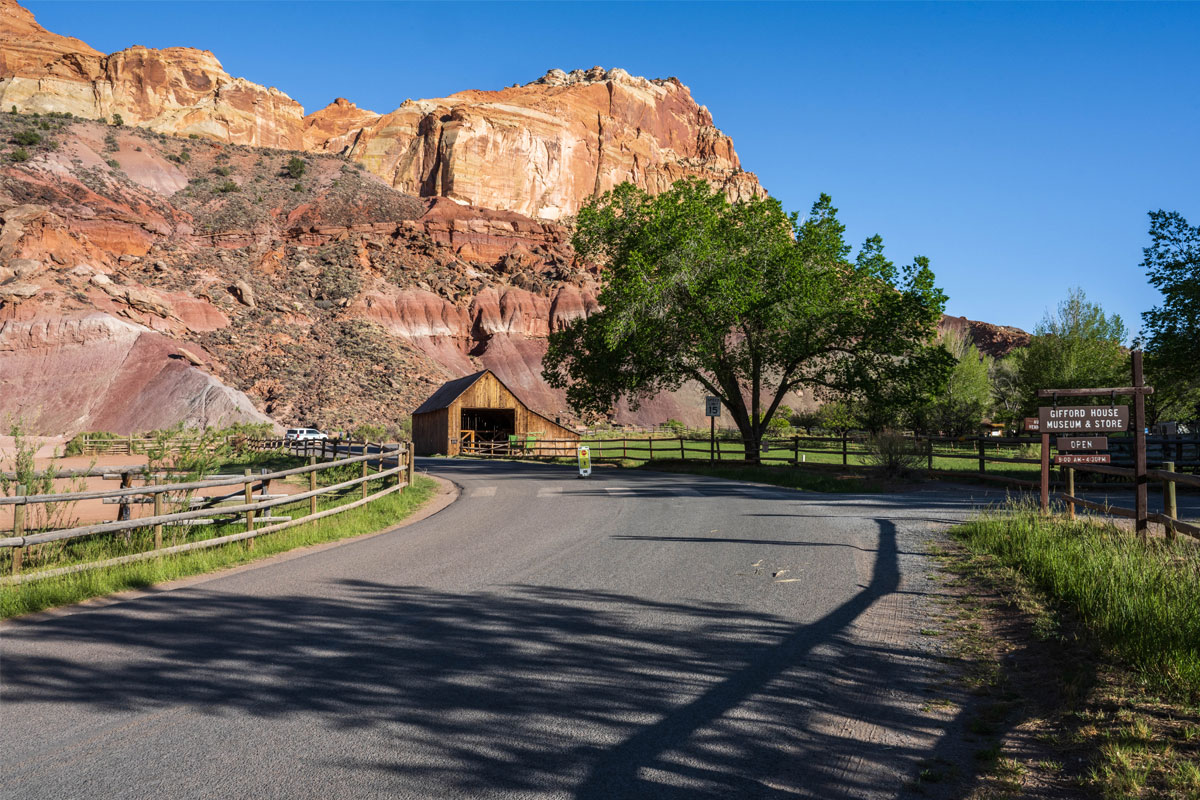 OPTION 2
RELAXATION IN TORREY & BICKNELL
Torrey is an ideal place to spend some down time, with access to stunning scenery, walking trails, cafes, shops and galleries. Wake up with an espresso and a good book at the Robber's Roost Bookstore and coffee shop, then stroll around the tree-lined streets for a glimpse into the town's history. Within walking distance you'll find the historic Torrey Schoolhouse, now a renovated B&B, plus a general store, gift shop and art galleries. Spend some time browsing the paintings, photography, sculpture and Navajo rugs at the Torrey Gallery, then grab some lunch at a local café. Next, take a short road trip to Bicknell Bottoms, about ten miles west via Scenic Highway 24. This 670-acre wildlife habitat is ideal for bird watching and photography. After some time communing with nature, head over to the small town of Bicknell, just 3.5 miles northwest, to catch a flick at the town's historic movie theater. Spend the night here or head back to Torrey for more lodging options.
OPTION 3
ARTS, CULTURE & HISTORY
Capitol Reef Country is remote in population but rich in culture. A drive along Capitol Reef Country Scenic Byway (Highway 24) leads to historical and cultural surprises in and near the small towns along the way. Spend some time in Torrey browsing the art galleries, then head west on Highway 24 to Teasdale. Visit the Teasdale Cultural Hall, built in 1917 with local red rock and modeled after the Temple Square Tabernacle in Salt Lake City. Stop at the nearby historic Nielson Grist Mill, or head over to Bicknell to catch a movie at the historic Wayne theater. Round out the day in Loa by checking out Doc Inglesby's world famous rock collection, tracing your ancestry at the Loa Family History Center, or with a little browsing of Native American and western-themed art at the Creative Spirit Art Gallery.
Leisurely entertainment is at its peak during the summer months. Summer travelers may want to visit Torrey during Apple Days, the Torrey Music Festival or the Women's Redrock Music Festival. The entertainment continues from May to September with Saturday evening concerts presented by the Entrada Institute. You may even be lucky enough to catch a performance at the renowned Hale Family Summer Theater in Grover, just seven miles southeast of Torrey.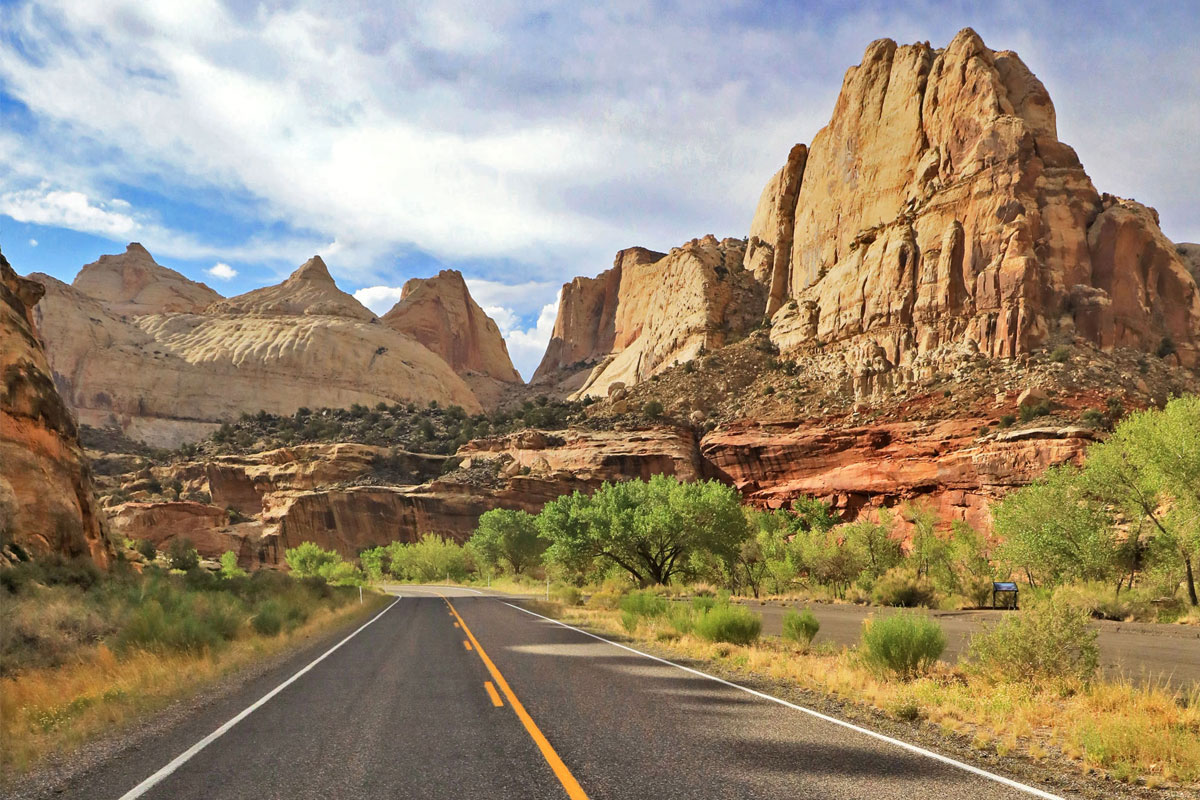 OPTION 4
FISHING, BIRD WATCHING & WILDLIFE VIEWING
Viewing wildlife in Capitol Reef Country comes with the territory—it's just a matter of choosing a location. The Henry Mountains, accessible from Hanksville, offer a unique opportunity to see free-roaming bison along the South Summit Ridge of Mt. Ellen. Hundreds of species of wildlife can be found within the boundaries of Capitol Reef National Park alone, thanks to the unique habitats created by the Waterpocket Fold. From whiptail lizards to mule deer, jackrabbits to coyotes, wildlife sightings in the park can be astounding. Bird watchers may sight anything from a lone Golden Eagle in the desert areas of the park to flocks of warblers and catbirds along the lush Fremont River banks. For an entirely different bird watching experience, head to Bicknell Bottoms, a mostly marshy wildlife management area frequented by a variety of waterfowl. Simply fill up the gas tank, and pack a picnic and a camera on any of these excursions for a leisurely day trip.  
If fishing is how you unwind, there are seemingly endless opportunities in the streams, lakes and tributaries of the Fremont River, Fishlake Mountain, and Boulder Mountain, just to name a few. Blind Lake, the largest on Boulder Mountain, offers excellent trout fishing, as does Fish Lake. A visit to Fish Lake can be combined with a scenic drive along UT-25/Fishlake Scenic Byway, for unbeatable day of beauty and solitude.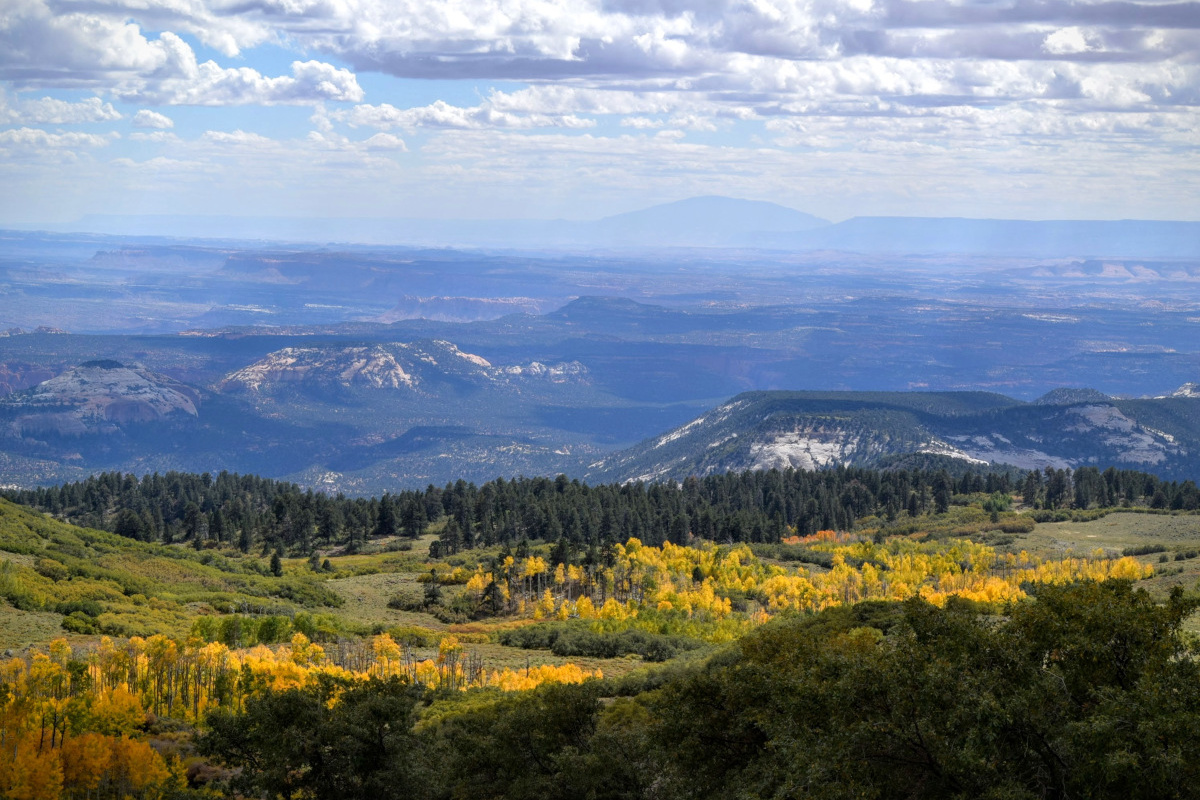 OPTION 5 
PHOTOGRAPHY 
If there's one thing to pack for a visit to Capitol Reef Country, it's a camera. One look at this oasis of colorful sandstone cliffs and verdant riverbanks nestled beneath brilliant blue skies, and there's no wonder it's also called Color Country. There's no shortage of photo opps here, whether you're a beginner or a professional. Capitol Reef National Park was once referred to as the "Land of the Sleeping Rainbow" because of its beautiful contrasts, from the majestic white sandstone Capitol Dome to the towering red sandstone Chimney Rock and the enormous monoliths of Cathedral Valley. To fully capture the shifting shadows and contrasts of this stunning park, fill up your tank and get an early start. Drive Scenic Highway 24 through the main section of the park, or choose a spur or backcountry road. Pack a lunch for a full day of leisurely sight-seeing and photography or painting. Sunset Point offers striking lighting at the end of the day.
Unique photo opportunies can also be found among the hoodoos at Goblin Valley State Park. Spend an hour or two strolling along the three marked trails and photographing the eerie, mushroom-shaped 'goblins.' With a little creativity and the right lighting, it's not hard to imagine why this park served as the backdrop for the movie Galaxy Quest. To round out your day, head back to nearby Hanksville via Highway 24. Continue west to photograph Behunin Cabin, designed to blend in with the surrounding red sandstone.