LOCATION

The staging area for Poison Spring is just off HWY 95. There is a sign that will indicate the location.
TRAIL TYPE
This is for OHV vehicles. Other vehicles are not restricted, but this is a challenging trail.
DISTANCE
The Poison Spring trail is 16 miles each way. Plan 2-2 1/2 hours each way for this trail.
DIFFICULTY
EXTREME – This trail is considered to be very DIFFICULT. Be aware that bad weather will cause the trail to become even more difficult to travel.
TRAIL DESCRIPTION
This trail consists of road, wash, and narrow passages. After storms, there are areas that become impassable because of the flooding.
TRAIL COORDINATES / POINTS OF INTEREST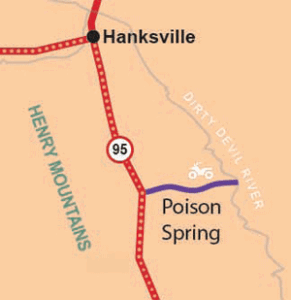 EQUIPMENT
This trail is recommended for OHV only. Be prepared for any mechanical needs as this is a remote area.


ENVIRONMENT
The weather varies and will affect the road conditions greatly. Be sure to check the Visitors Center before starting out on your tour.


SAFETY
If you run into problems, help may not be able to arrive right away so make sure you are prepared with enough food, water and clothing.


TRAIL TIP
This trail is not recommended during heavy rains as that causes muddy conditions.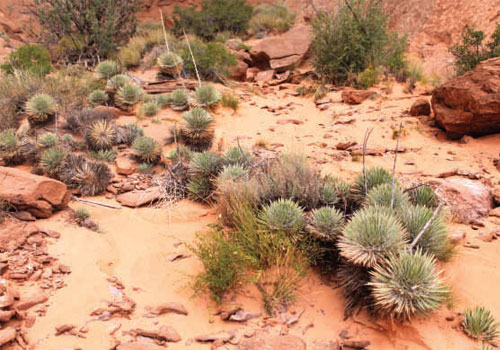 This road is a straight shot from Hwy 95 to the Dirty Devil. Along the way there are several canyon trails that lead down different washes. Make sure to take some time to explore the more remote parts of this area.
The Poison Spring Rd crosses the the Dirty Devil and continues on. In total the trail can be up to 100 miles, depending on how far you want to travel. If you pack enough fuel and equipment you can camp along the way. You will enjoy the solitude that this beautiful, yet remote area provides.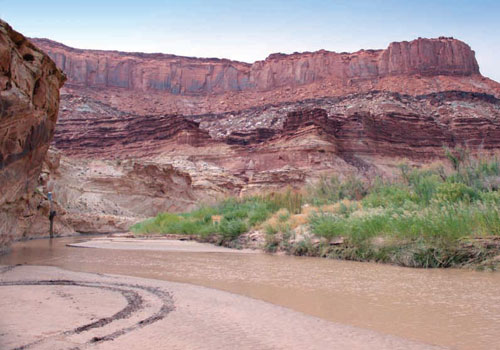 The road to the dirty devil may be difficult in parts, which is why people ride it. It challenges even the best of riders.