As FoxNews.com said, "Sometimes, it's not about the destination, but the journey." Utah's Scenic Byway 12 is a gorgeous stretch of road that connects Wayne County and Garfield County, and a popular drive for both tourists and locals. In FoxNews.com's 2013 list of the 10 most beautiful highways in the world, Utah Highway 12 was ranked #2!
One of the best experiences in Capitol Reef Country is taking a scenic drive on Byway 12. The whole route is about 124 miles long, fully-paved and open year round. But keep in mind that snowfall and freezing temperatures may make some stretches of the highway less safe or temporarily impassible. Please travel with care!
Along the route, you'll get a great view of jagged red-rock formations, deep slot canyons, green alpine forests, and rolling meadows. Some travelers drive it all in one go, while others take time to make stops along the way to check out some of the unique sites.
Things to See Along
Scenic Byway 12
Torrey, Utah
Torrey serves as a great base camp for exploring Capitol Reef Country, and sits at the north end of Scenic Byway 12. There are some fantastic restaurants and lodging options in Torrey, as well as convenient access to many of the parks and hiking trails in the area. Read more…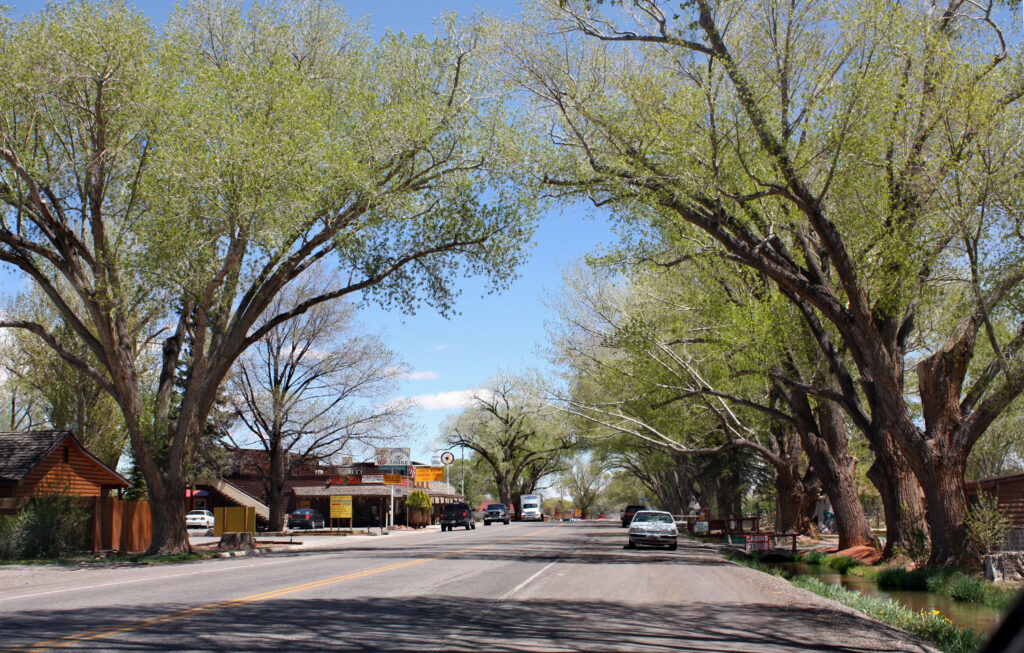 Dixie National Forest
Your drive along Highway 12 will take you past a few areas of Dixie National Forest, a nearly 2-million acre expanse of outdoor lover's paradise. The forest includes peaks and plateaus, lakes and valleys. Stop for a while or just take in the views as you go. Read more…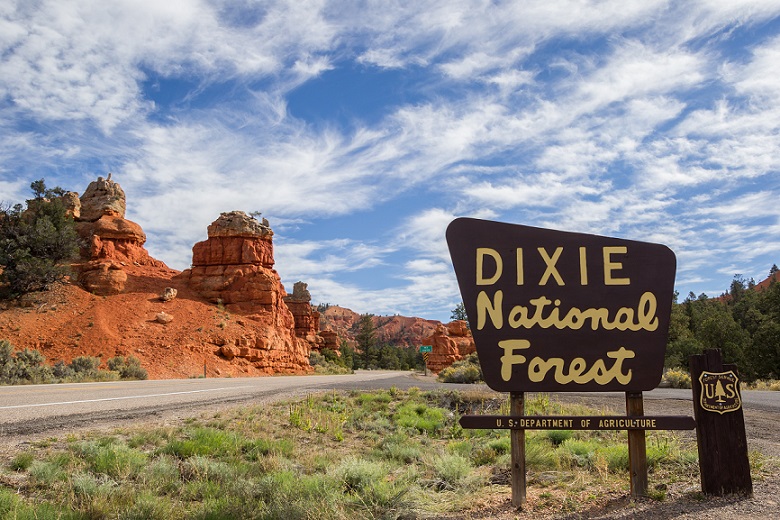 Capitol Reef National Park
The drive along Scenic Byway 12 also passes Capitol Reef National Park. While this incredible stretch of the Waterpocket Fold is worth a day's visit or more all by itself, you can still appreciate the multi-colored rock and rolling hills in the distance as you pass. Read more…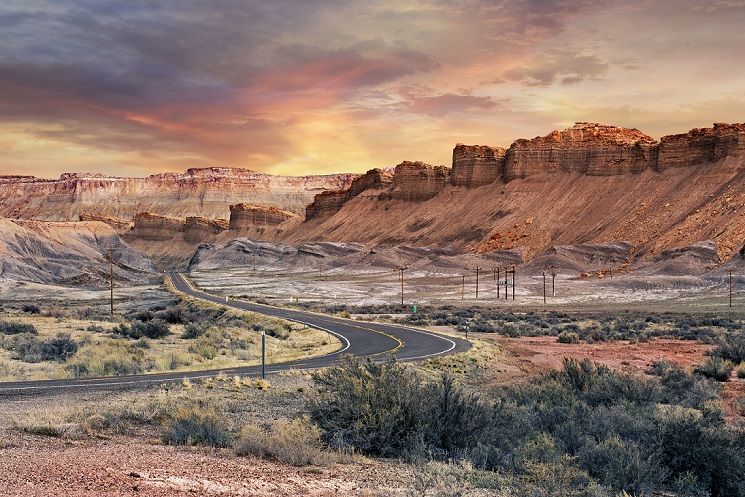 Larb Hollow Overlook
A lesser well-known spot worth stopping at for a moment along your scenic drive is a pullout called Larb Hollow Overlook. This is a point where the trees open up a bit and you can get a clear view across miles and miles of Utah's natural beauty. This is a high-elevation point on the drive, so it provides a vantage point from above looking out across Capitol Reef to far off mountain peaks. Snap a picture or two, or just soak it in! Read more…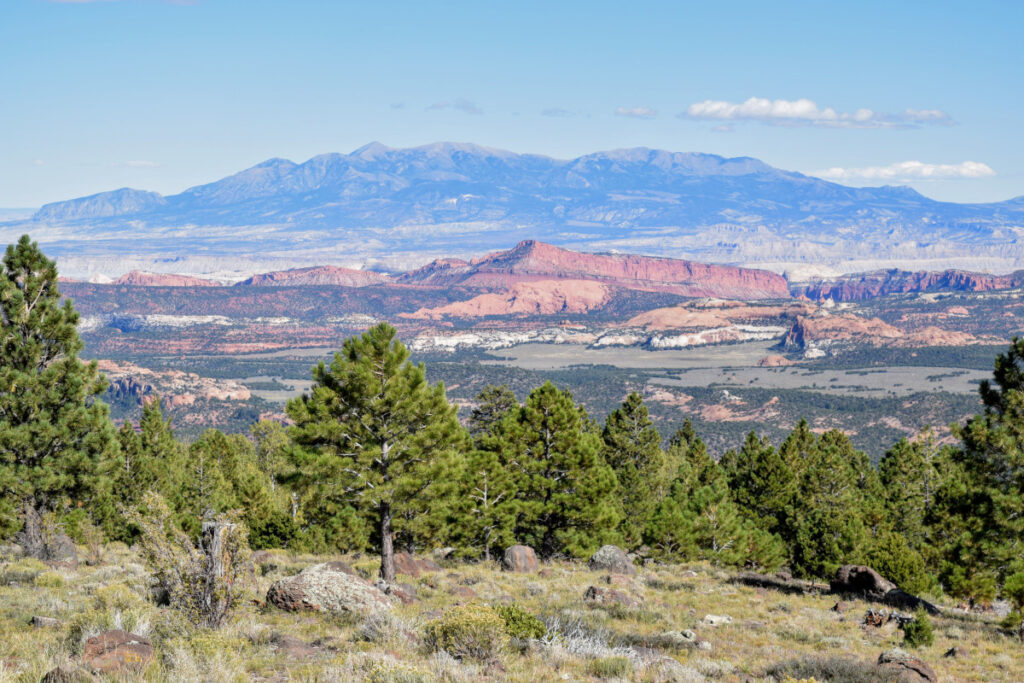 Boulder Mountain
Scenic Byway 12 crosses Boulder Mountain, the highest forested plateau in North America. Many anglers come to enjoy the great fishing in the high-mountain lakes scattered around Boulder Mountain and the surrounding DIxie National Forest. From this high point on the highway, you can see more than 100 miles on a clear day. Read more…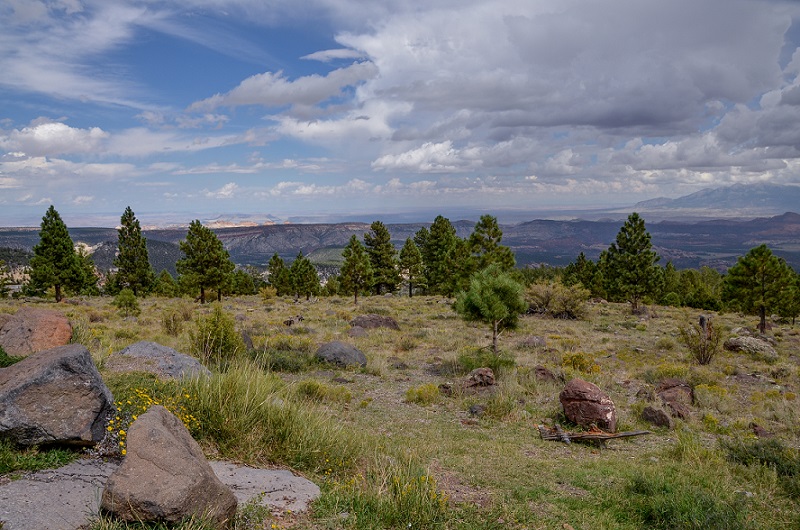 Anasazi State Park and Museum
The drive passes through the city of Boulder, where you can stop to see Anasazi State Park and Museum. This place was once home to around 200 or so Anasazi people between 1050 and 1200 AD. This ancient village is now a state park and museum, where guests can learn about the ancient culture and see some of the artifacts that have been unearthed there. Read more…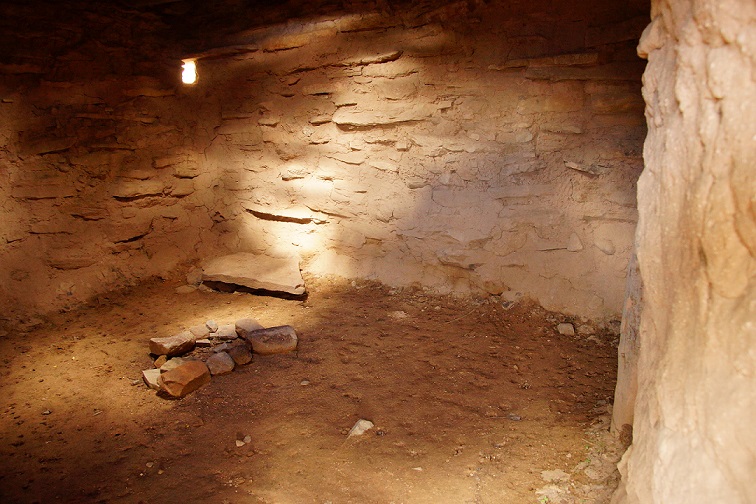 The Hogback Area
At one point along Scenic Byway 12, between the communities of Boulder and Escalante, is a unique stretch of road called The Hogback. The road here runs along the top of a steep ridge, with the ground dropping drastically on each side of the road. Gaze out over the scenery to the left or the right while you slink atop the winding road above.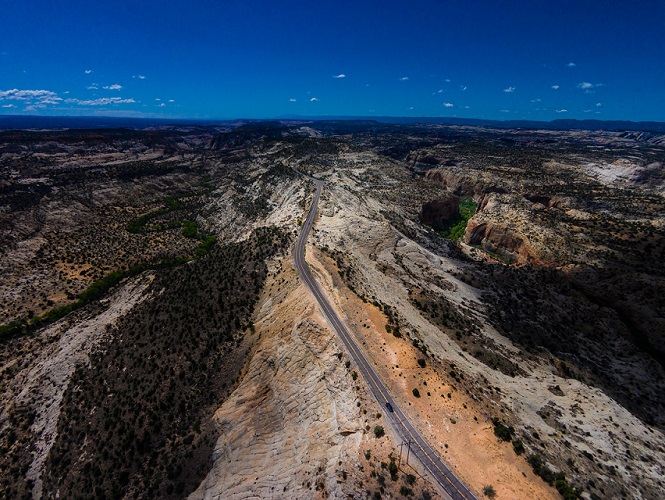 Lower Calf Creek Falls
Right off the road, at a place called Calf Creek Campground is the beginning of a trailhead that leads to Lower Calf Creek Falls. Take some time for a hike to see this beautiful spot off the beaten path. It's well worth it!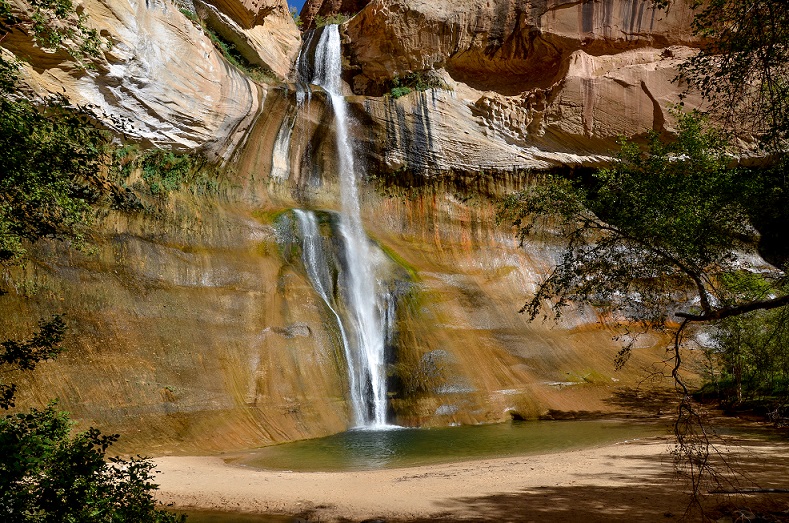 Hole in the Rock Road
Just off Highway 12, Hole in the Rock Road offers 55 miles of off-roading adventures and sights to see. A historic road paved by pioneers. Highlights of this route include several slot canyons: Peek-a-Boo, Spooky, Zebra and many unique landscapes and natural arches like those found in Devil's Garden. Road conditions vary – high clearance vehicles are recommended at times.
Escalante Natural Bridge
Another cool site you can get to from Scenic Byway 12 is Escalante Natural Bridge. This large stone arch was formed completely naturally but doesn't happen very often in nature. The hike itself is as beautiful as the natural bridge.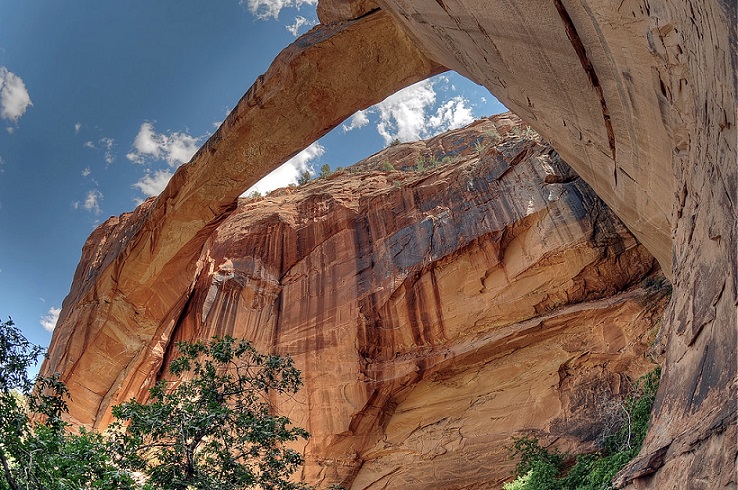 Grand Staircase-Escalante National Monument
The drive along Highway 12 also takes you past Grand Staircase-Escalante National Monument, one of the many nationally recognized attractions in Utah. Read more…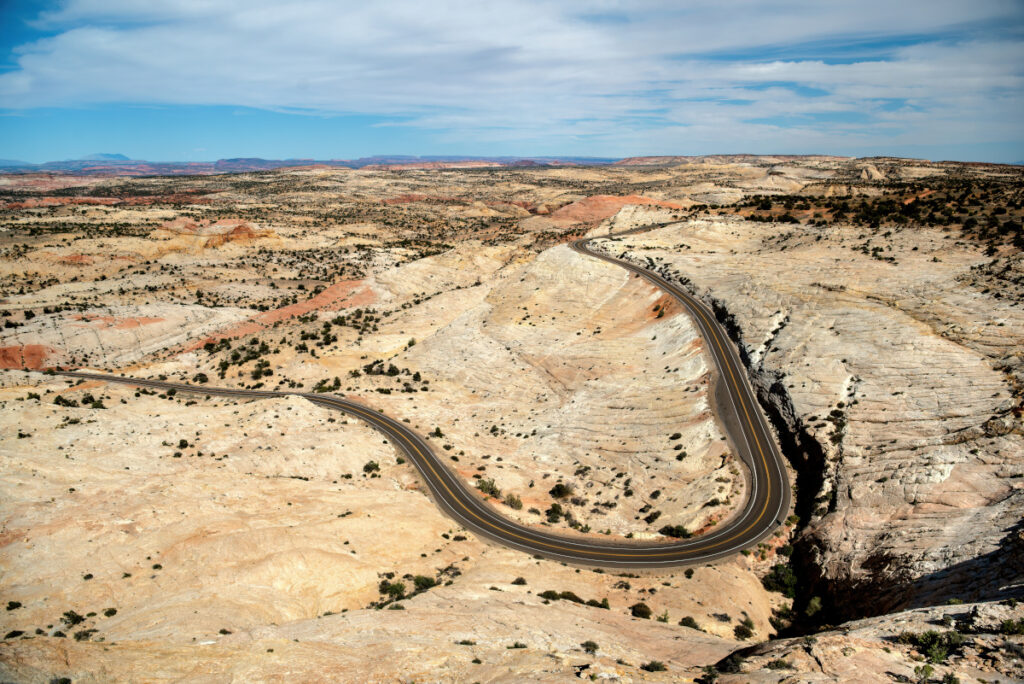 Escalante Petrified Forest State Park
Just outside of the community of Escalante sits Escalante Petrified Forest State Park. This unique park has hiking trails and places to see a variety of petrified wood structures and other beautiful landscapes. Wide Hollow Reservoir is also at this location, along with some campsites.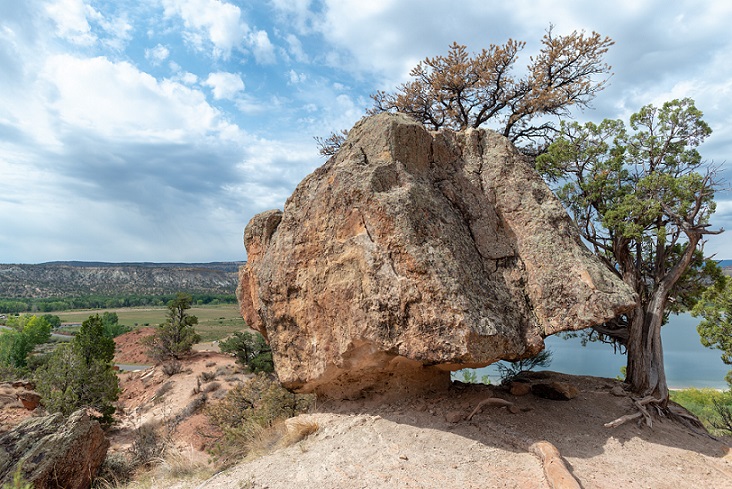 Drive Through Arches
It's not every day that you get to drive under a rock arch, but your trip along this road will take you right through the cliffside. It's just one of the many parts of Scenic Byway 12 that make this one of the most incredible highways in the world.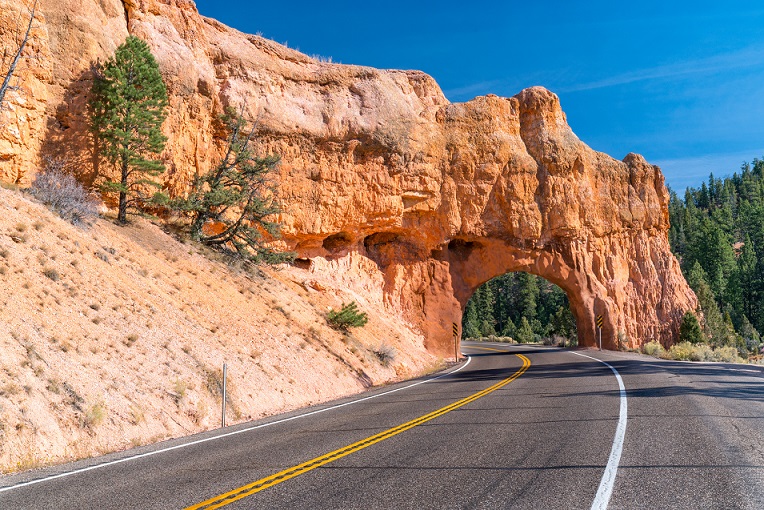 Bryce Canyon National Park
If you head south on UT-63 off of Scenic Byway 12, you'll get to Bryce Canyon National Park, where deep canyon corridors and towering "hoodoos" create a unique landscape that looks like something out of this world. Read more…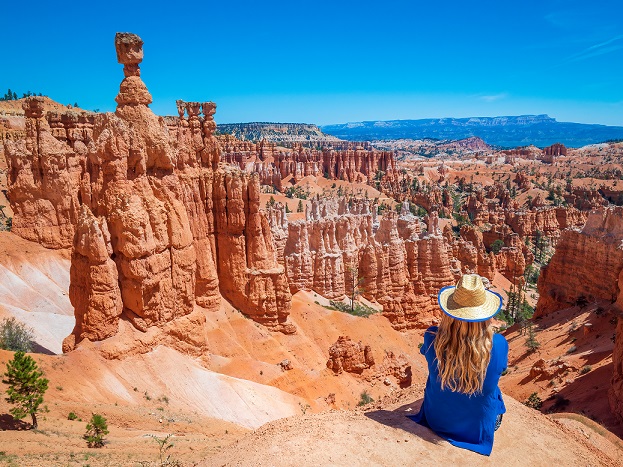 How far is Bryce Canyon from Torrey, Utah?
Bryce Canyon is about 110 miles from Torrey, Utah and around 2 hours and 20 minutes of drive time along Scenic Byway 12. You can get between Torrey and Bryce Canyon a little faster if you go through Koosharem and Widtsoe, but it's nowhere near as beautiful of a drive!
How far is Capitol Reef from Bryce Canyon
Taking Highway 12, Capitol Reef National Park is 122 miles, 2.5 hours from Bryce Canyon. You can save about 15 minutes of drive time and sacrifice a chance to experience the "#2 most beautiful highway in the world" by going a different route, but we think the scenic route is 15 more minutes well-spent!
Capitol Reef Country is filled with comfortable accommodations for every interest and budget. 
Visit our travel info page for helpful getting around information. 
This area of Utah has some great food options. 
Visit our travel info page for helpful getting around information.