Experience the Most Heavenly Views of Utah
LOCATION

There are 2 staging areas at the north and south accesses of the Sandslide road off of Hwy 95.
TRAIL TYPE
All motorized OHV's will be able to do this trail. At the end of the road there is a short hike to the Point.
DISTANCE
The Sandslide Rd. loop is 18 miles total. The trail to the Point is 4 miles one way.
DIFFICULTY
EASY. There are a few little rocky patches but nothing to worry about.
TRAIL DESCRIPTION
The trail has all maintained roads. The surface type is sand and red dirt. The trail is also an all-season accessible trail.
Learn more about Hanksville Utah
TRAIL COORDINATES / POINTS OF INTEREST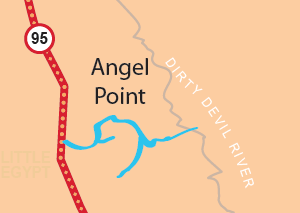 EQUIPMENT
This trail has been designed for OHV, motorcycle, ATV, jeep.
ENVIRONMENT
There is a little snow in the winter and rain in the spring. This trail is great year-round.
SAFETY
When it is raining be cautious of the run off that will be on the trail. Make sure to check the weather and be able to recognize potential danger.
TRAIL TIP
Make sure to bring your camera. These are the kinds of views that you won't want to ever forget.
Angel Point has some of the most incredible views that you will see in this area. You can see into several different canyons and valleys. The Henry mountains stand majestically in the distance. The views at the Point and the other overlooks that are marked along the road will leave you speechless.
The short hike to Angel Point at the end of the road, will give you the opportunity to experience the area at a closer range. Take some time to be adventurous and explore the area! You can even climb right down to the Dirty Devil and get a closer look at it that way.