LOCATION

The main access for the trail is off Hwy 24, the same road that leads to Goblin Valley. The road that leads to Horseshoe is 25 miles from Hwy 24.
TRAIL TYPE
The main trail is open to all OHV's. There is a 2 mile hike that you must take to get to Horseshoe Canyon.
DISTANCE
The total distance is 27 miles. That includes driving and hiking to Horseshoe Canyon.
DIFFICULTY
EASY – The trail into Horseshoe Canyon is a hiking trail. Part of the trail is a narrow passage along a cliff.
TRAIL DESCRIPTION
The whole trail is B Class county maintained road. There are restroom facilities at the end of the trail on the left side.
TRAIL COORDINATES / POINTS OF INTEREST
TRAIL COORDINATES / POINTS OF INTEREST
EQUIPMENT
This trail has been designed for all OHV and hiking.


ENVIRONMENT
This is a trail that is open year-round. The area is beautiful in all seasons.


SAFETY
The maintained roads to well in all weather, you just need to be as cautious as you would be normally.


TRAIL TIP
Make sure that you pack a camera. A picture will never be as good as the real thing, but the obvious history and amazing views are too priceless to not record.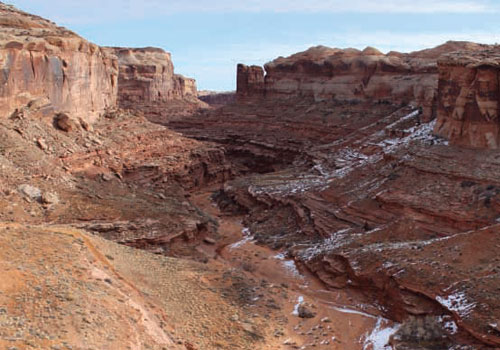 The Horseshoe Canyon Trail is located in Canyonlands National Park, providing a whole new world of views that are unique to this area. The beautiful views that can be seen along this trail are incomparable.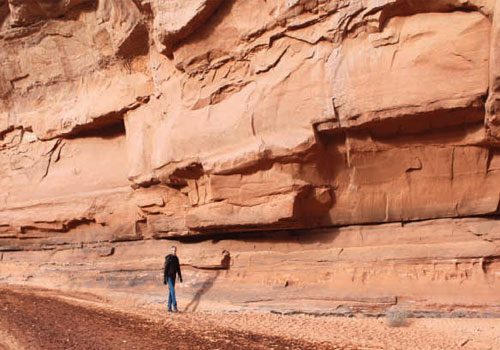 Make sure you plan enough time to really explore and get to know the area. There are so may incredible things to see!
Not only are the views incredible, but this area is rich with Native American and Western Outlaw history. There are panels of petroglyphs left by the ancient American Indian. The rock carvings and cave paintings are evidence that this area was once inhabited by ancient American Indians.