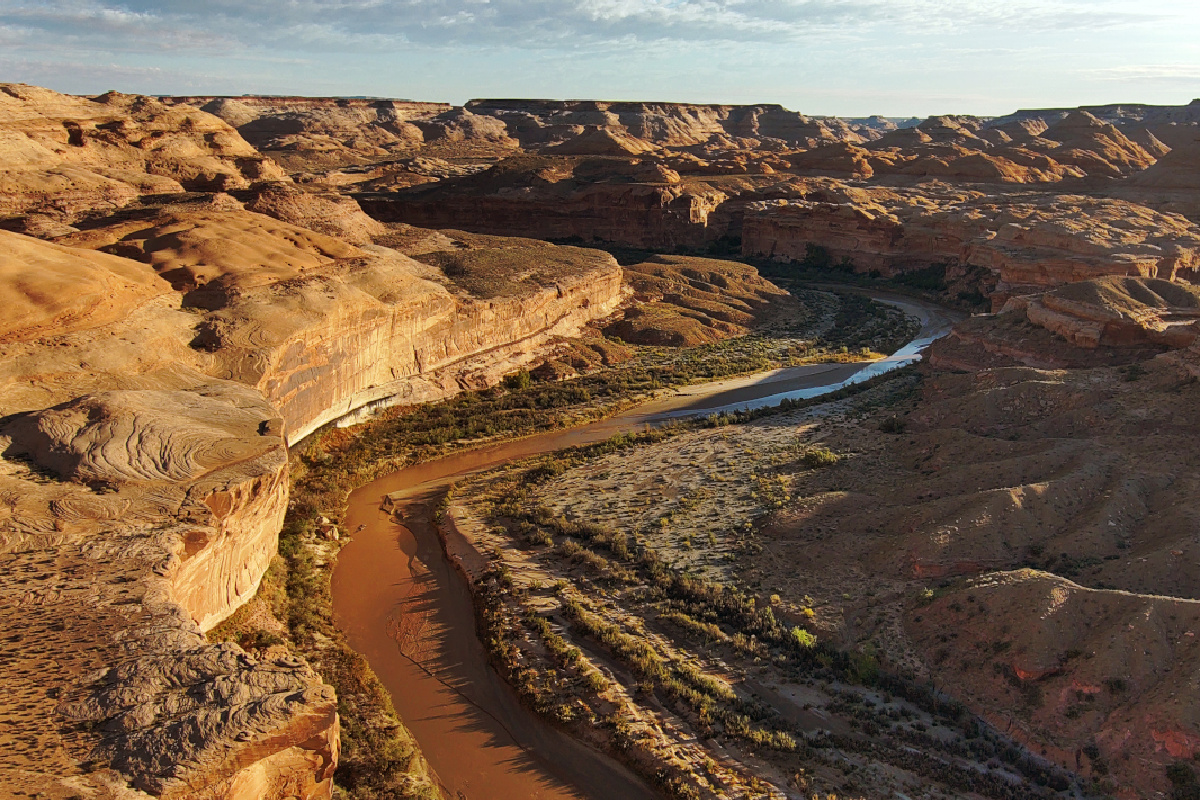 So, you're interested in exploring Utah, but you're looking for something more remote in the great outdoors. Whether you're looking for water sports or adventures on land, exploring the Capitol Reef National Park is a great place to start. This is an area located in the southern-central region of Utah and is generally lesser known than some of the other national parks in the state. 
Within Capitol Reef National Park, there are plenty of activities to enjoy including hiking, camping, and boating. One of the best places to do all three is The Dirty Devil Canyon & River Basin. Here, most visitors choose to float down the Dirty Devil River, but there are plenty of hiking opportunities as well. 
Discovered by John Wesley Powell, The Dirty Devil River is named for its high salt content and rushing rapids. It's not likely you'll find trout or other fish here due to the high salinity, but there's plenty of other wildlife to see. 
The Dirty Devil River is an 80-mile tributary that branches off the Colorado River. Located in south-central Utah, adventures in the Dirty Devil Canyon and River Basin require some more in-depth planning rather than a spontaneous trip. The best times to float are when the rapids are at their highest levels in March and April, though many people choose to float along The Dirty Devil in May and June when the waters are warmer.
How to Access:
If you're planning to float down The Dirty Devil River, one of the biggest problems you'll face is timing. Having remote camping, hiking, and boating experience is a plus as a trip out here requires preparation, but the effort is well worth it! 
It's also important to know that for any scientific or educational group outing, permits are required, and groups must be 12 people or less. If individuals are floating or hiking, no permits are required, but it is best to contact the National Park Offices or Bureau of Land Management to understand the river and road conditions before your trip.  
Obtaining access to the Dirty Devil River is known to be a more uncertain off-roading expedition. If you're planning to make it to the base of the river for some floating, kayaking, boarding, boating, etc., then it's going to require some work. Make a plan: whether you're using an ATV or another off-road vehicle, make sure to bring plenty of food, water, and additional fuel as roads could be flooded out and delay your arrival or cause you to get stuck! 
There are a couple of put-in/take-out areas for river entry and exit. Here's what you should know about each of them according to the Bureau of Land Management:
Hanksville Put-In
:
Boater access launch

4×4 vehicle required
Poison Springs Put-In/Take-Out
:
This location is the only motorized vehicle access between Hanksville & Hite

High clearance 4×4 vehicle required

Roads are frequently impassible due to flooding
Hite Take-Out
:
Located approximately 50 miles south of Hanksville

Located on the south side of UT-95 before crossing The Dirty Devil

Ample parking and toilets available during peak season
According to the National Parks Service website that the section of the river between Hanksville and Poison Springs are Class I & II rapids; they are easier to float on, with more regular waves, and do not require scouting. Between Poison Springs and Hite, however, may potentially include Class III rapids for which scouting may be necessary as there are more narrow passages, rapid waters, and more irregular waves.  
Once you make it to the river, there are hundreds of caverns and canyons to explore. It can take anywhere between 7-14 days to float to the end of The Dirty Devil depending on how direct of a path you choose to trek.
If floating down The Dirty Devil River is not your style, there are plenty of gorgeous hiking locations throughout the park as well. Between January-February is perfect hiking weather as this is a desert area of Utah, and hiking in the summer months can be hot and sometimes dangerous. 
Remember, plan ahead for your trip, and don't forget to bring enough food, water, and fuel. Stay hydrated, let a loved one know about your travel plans and expected locations, and most importantly, have fun! 
Keep Capitol Reef Country Forever Mighty
What is Forever Mighty? It's practicing responsible travel while visiting Utah and Capitol Reef Country by following the principles of Tread Lightly and Leave No Trace.
Plan ahead and prepare, travel and camp on durable surfaces, dispose of waste properly, leave what you find, minimize campfire impacts, respect wildlife, be considerate of others, support local business and honor community, history and heritage. Help us keep Utah and Capitol Reef Country's outdoor recreation areas beautiful, healthy, and accessible.