Most likely, you have heard of Utah's world-famous national parks and its main attractions, such as Delicate Arch, Angels landing and Thor's Hammer. These popular sights are definitely worth seeing, but they can be overcrowded at times. If you want an adventure that is less crowded, then you need to experience Horseshoe Canyon.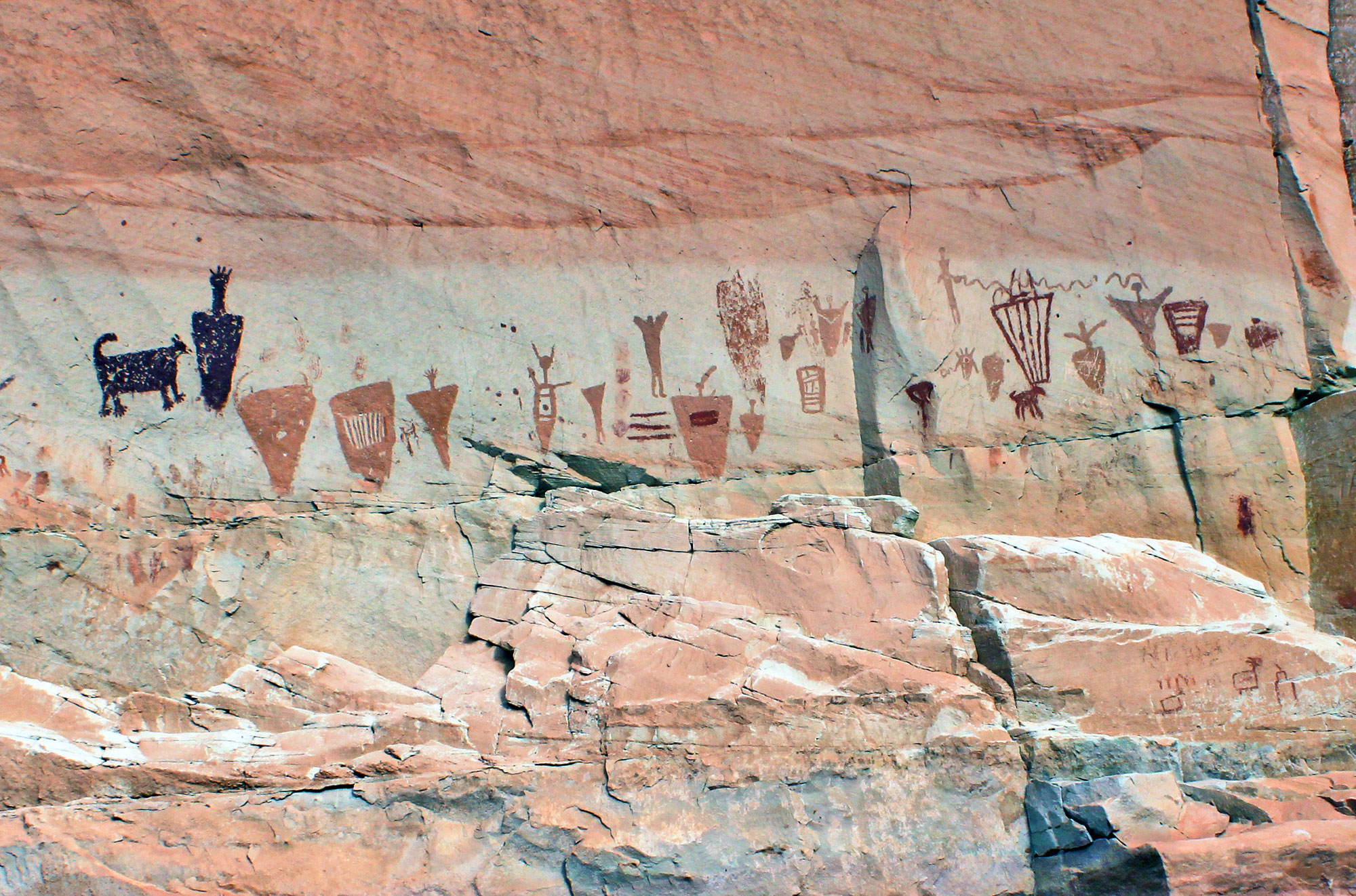 Located in Utah's southeastern desert, just outside of Canyonlands National Park, is Horseshoe Canyon. What makes this canyon worth seeing are the well-preserved pictographs and petroglyphs, which are the best preserved Barrier Canyon artworks in North America. In 1971, Horseshoe Canyon was added to the national park as a way to protect the history of these beautiful artwork collections.
Because Horseshoe Canyon is off the beaten trail, here is a guide with all you need to know about the canyon:
Background
Horseshoe Canyon has a long line of history with artifacts dating back to 9000 BCE, when mammoth and other large mammals roamed the earth. Most of the canyon's artwork is in the Barrier Canyon style, which dates back to 2000 BCE to 500 CE, when hunter-gatherers made this canyon their seasonal home. The canyon also features artwork created later by the Fremonts and ancestral Puebloans, but their time in the canyon was brief. The canyon was abandoned by 1300 CE.
Hundreds of years after the canyon was no longer inhabited, the Europeans arrived and brought new life to the area. In the 1800s, famous outlaws, such as Butch Cassidy, used the canyon as a hiding place. Then in the early 1900s, ranchers used the canyon as a place where their livestock could feed. In the mid-1900s, the area was searched for oil and other minerals, but nothing was ever discovered. Today, the trails that you will hike on were created by the ranchers and others.
Sights
As you explore Horseshoe Canyon, you will see four distinct rock art panels along the sandstone rock walls that feature both pictographs and petroglyphs. The panel with the largest collection of rock art is called, the "Great Gallery." This panel is the most interracial Barrier Canyon style rock art in the U.S.
The "Great Gallery" measures 200-feet long and 15-feet with life-sized figures painted. The panel features 20 figures without legs or arms that are 7-feet tall. These figures are painted in rows and are surrounded by animals, birds and other unidentified figures. Over 80 images are painted on the rock wall. The life-sized artwork are painted red, white and brown, with some having great detail in them. The "Great Gallery" is at the end of the hiking trail. The artwork of this panel is simply amazing, and worth the long hike.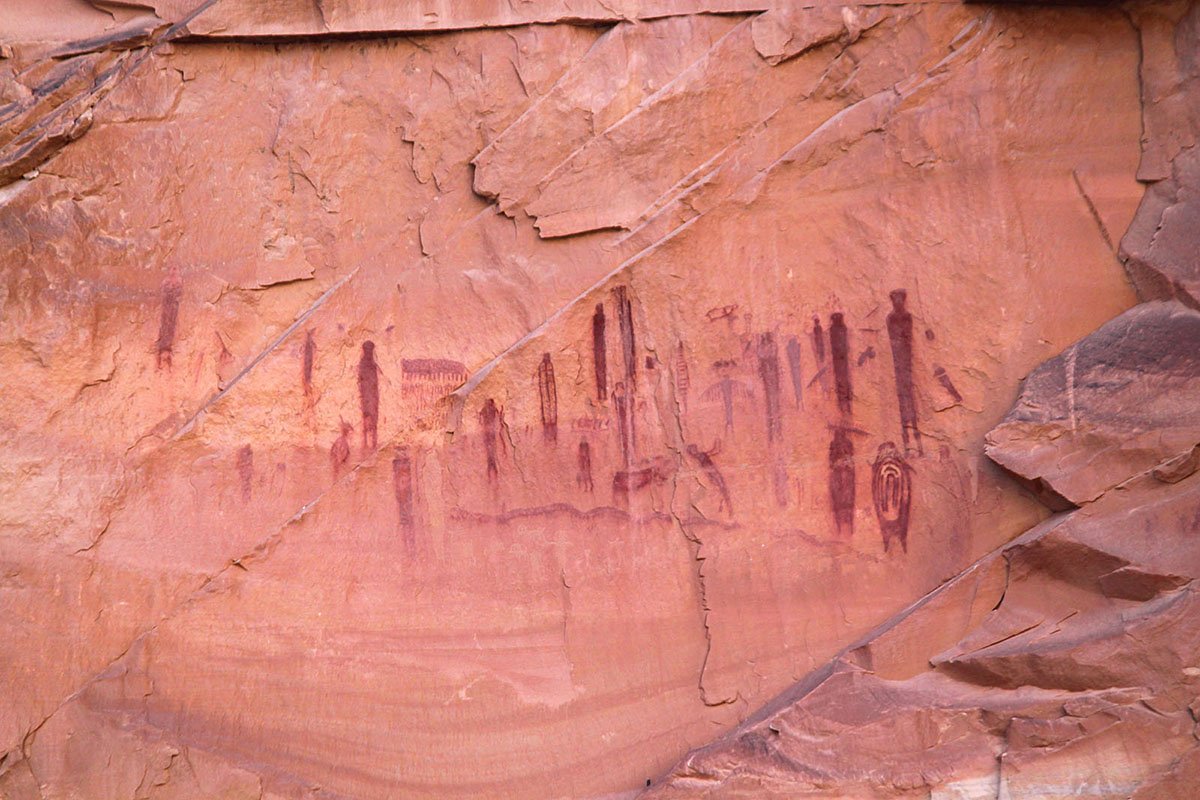 Hiking
The best time to hike Horseshoe Canyon is during spring and fall, when the weather is cool. In the spring, the wildflowers and the green, cottonwood groves against the sheer sandstone walls provide a unique beauty. If you do plan to hike during the summer be prepared for temperatures over 100 F. No matter what time of year you hike, be sure to pack plenty of water and food. Also, be aware that the trial includes hiking on uneven terrain, climbing over steep, rocky areas and trekking through thick sand.
Facts on hiking to the Great Gallery:
The trail is 7 miles round trip and is moderately strenuous.
The hike should take you around five hours, but may take longer.
The trail is well-marked, so you won't get lost.
Along the trail, you will experience a steep 780-foot climb into the canyon, which means a steep climb back up.
If you want a guided tour to the "Great Gallery," ranger-led hikes are available on the weekends, or you can hire a commercial guide or outfitter to take you. If you want to be your own guide you are good to go, but only when the park is open. If you want to hike with a group, your group must arrange in advance with a ranger because a limit of 20 people in a group are able to go hike at a time.
Please do not bring pets to hike this trail, as pets are not allowed in Horseshoe Canyon or on the trail. Also, remember to bring drinking water. Above the canyon rim and along the trail, drinking water is not available.
Travel
When it comes to traveling to Horseshoe Canyon, you will spend more time driving than actually hiking, but the travel is worth the view. Horseshoe Canyon can be reached by taking Freeway 70 onto Highway 191 or from Freeway 70 to Highway 24, both options will take you on a dirt road. Before traveling these dirt roads, be sure to have the necessities that you may need as cell service is limited.
Coming from Highway 24, the dirt road, near Goblin Valley State Park, is about 30 miles long, and the dirt road south of Green River is about 47-miles long. Most two-wheel-drive vehicles can travel on both of these roads. However, rain and winds can greatly affect the conditions of these roads, turning them into a four-wheel-drive vehicle roads only. Before traveling on these roads, call 435-259-2652 between 8:00 a.m. and 4:30 p.m. MST to check for the road conditions.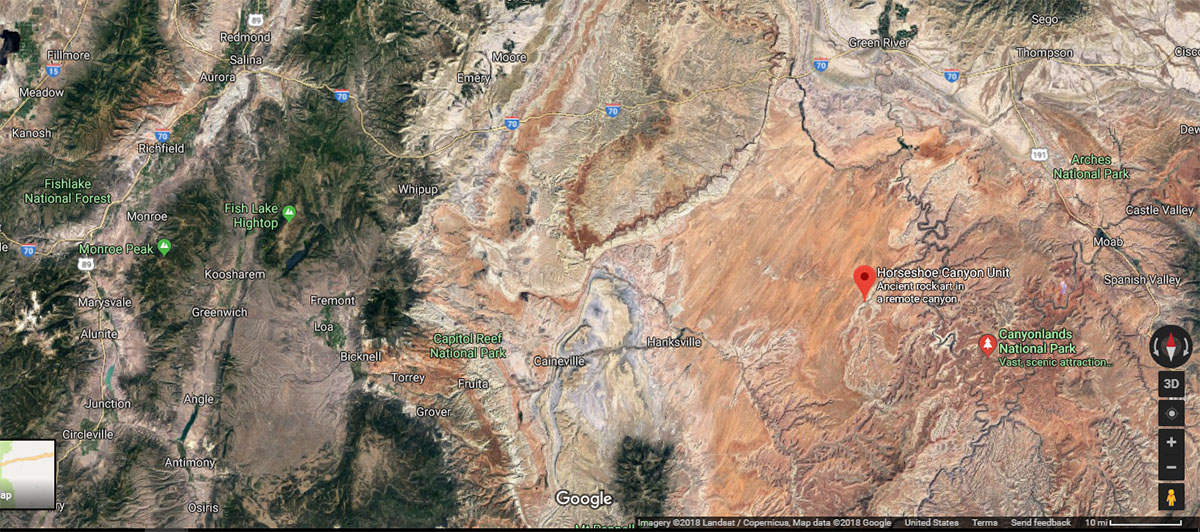 Lodging
If you want to split up your long drive, you can camp in Goblin Valley State Park, camp on BLM land or stay in any of the close towns, such as Hanksville. Camping along the west rim of Horseshoe Canyon is allowed on public land that is managed by the BLM. However, camping is NOT allowed within the national park boundary of Horseshoe Canyon. A vaulted toilet is provided in the area, but water and distinct camping spots are not provided.
Respect
Most important, while you are exploring the area please be respectful to the pictographs and petroglyphs. The artwork is fragile and is damaged easily. Do NOT touch the art panels on the rock because the oils on your fingers can cause the rock art to erode faster. Also, do not vandalize the walls by taking latex mold prints, taking rubbings of the rocks and drawing or scratching the rocks. These artworks are an important part of history and have been around for hundreds of years, so please don't be the reason for their destruction.
So what are you waiting for? Skip the overcrowded sights, and forge your own adventure to Horseshoe Canyon. To learn more about Horseshoe Canyon and the surrounding area.
Keep Capitol Reef Country Forever Mighty
What is Forever Mighty? It's practicing responsible travel while visiting Utah and Capitol Reef Country by following the principles of Tread Lightly and Leave No Trace.
Plan ahead and prepare, travel and camp on durable surfaces, dispose of waste properly, leave what you find, minimize campfire impacts, respect wildlife, be considerate of others, support local business and honor community, history and heritage. Help us keep Utah and Capitol Reef Country's outdoor recreation areas beautiful, healthy, and accessible.