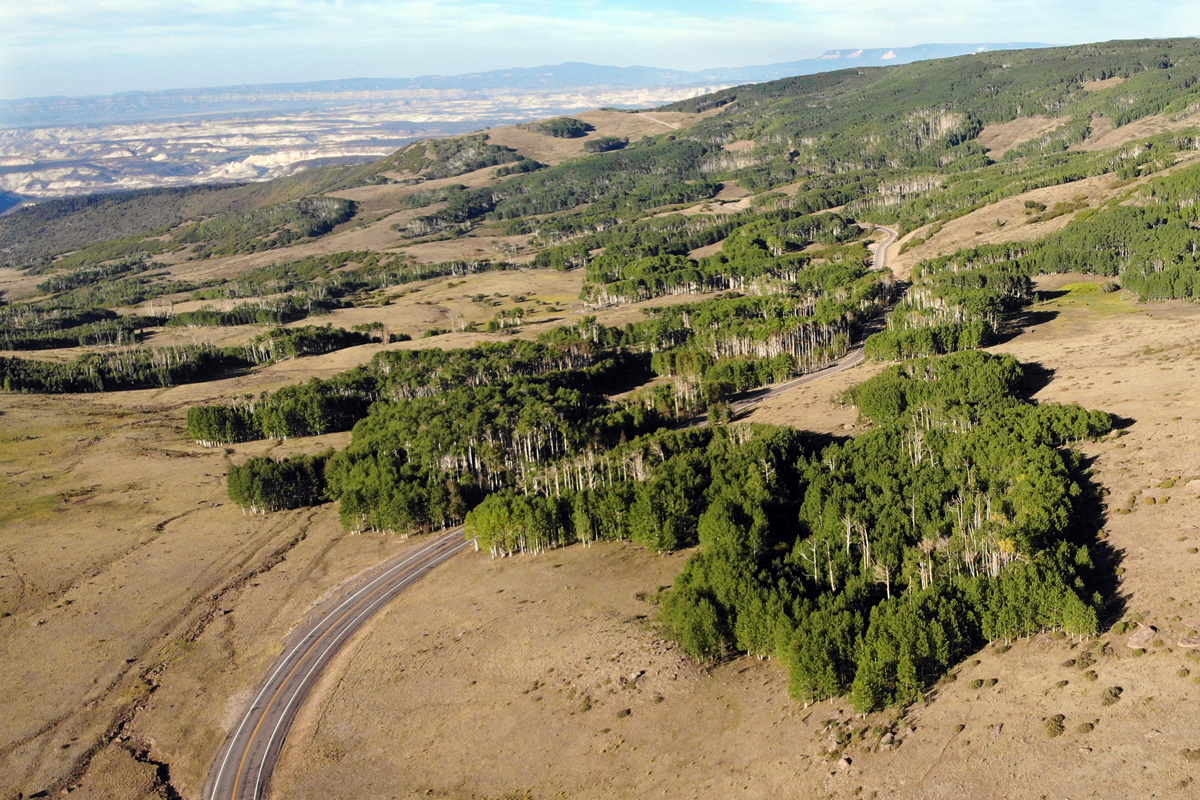 Where are the best places to view southern Utah's remarkable landscape? Generally the best views are from high points where you can see in panoramic vision the vastness of its convoluted topography. These elevated locations reveal what looks like earth still under construction. From deep canyons to towering cliffs, mesas and plateaus, you must go high to take it all in.
Highway 12, Utah's highly rated All American Road and National Scenic Byway, connects US-89 from its western tip with SR-24, 120 miles to the east. This is a scenic route on steroids that may cause sensory overload. You've been warned! This route offers a number of exceptional overlooks from Bryce Canyon, Grand Staircase Escalante National Monument with some of the very best viewpoints on Boulder Mountain near Capitol Reef National Park.
Highway 12 reaches its highest point of 9,600 feet on Boulder Mountain, which is actually the north east side of the Aquarius Plateau that runs parallel to highway 12 for a hundred miles. Although there are several scenic viewpoints on Boulder Mountain, two of the best views are from the Homestead and Larb Hollow Overlooks.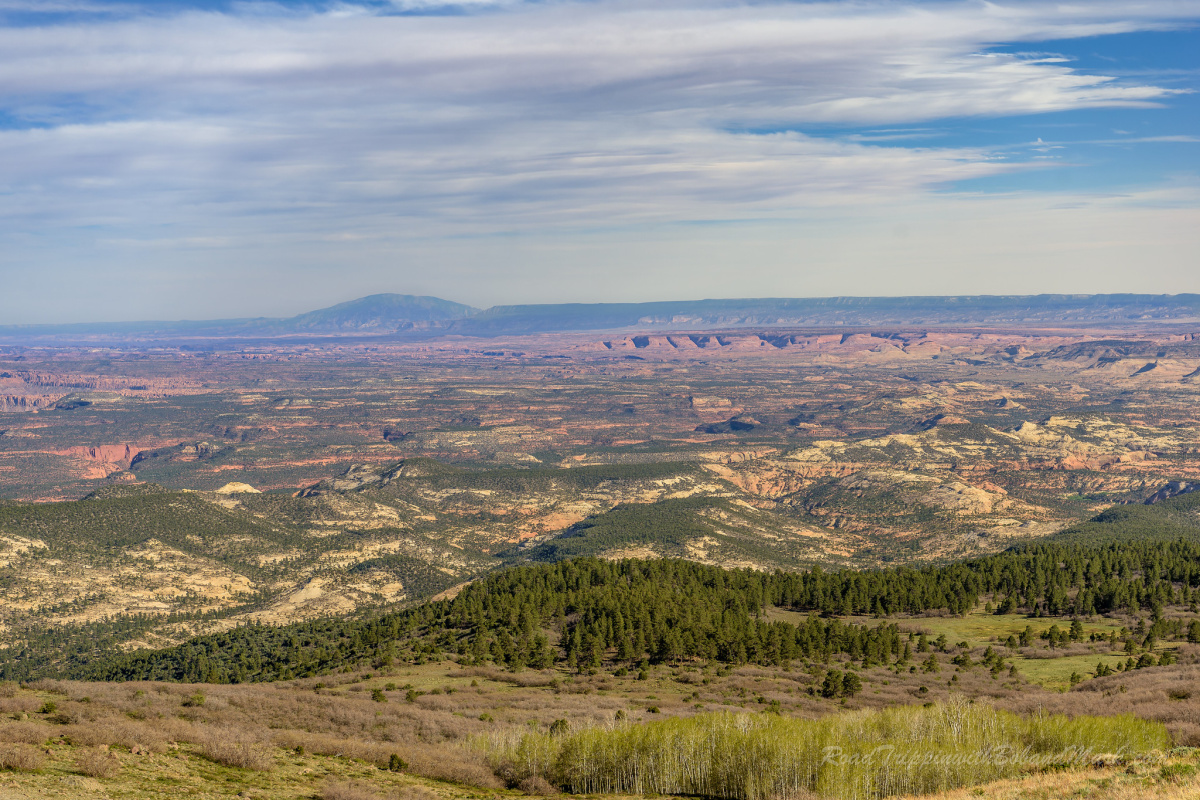 Homestead Overlook
Located in the Dixie National Forest at 9,400 ft, near the highest point (9,600 ft.) of the 120 miles stretch of highway 12, Homestead Overlook offers vast panoramic views of the south central region of Utah. From this vantage point, prominently within view are the Kaiparowits Plateau, Grand Staircase Escalante National Monument, Glen Canyon National Recreation Area including Navajo Mountain at Lake Powell, Capitol Reef's Waterpocket Fold, and the Henry Mountains. With some of the clearest sky in the continental U.S., Homestead Overlook showcases the spectacular landscape that makes southern Utah a must see destination to travelers worldwide.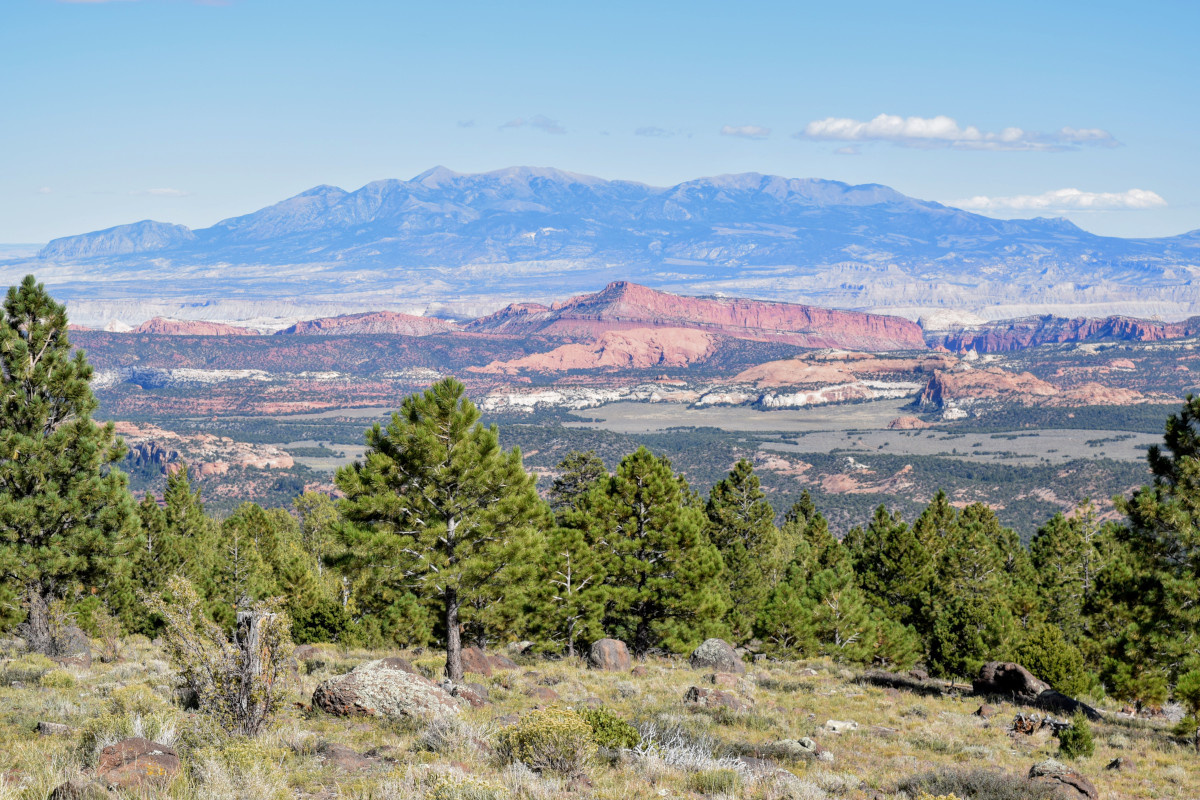 Larb Hollow Overlook
Larb Hollow Overlook is located 15 miles south of the town of Torrey, directly west of Capitol Reef National Park, and 11 miles east of the Homestead Overlook. Larb Hollow Overlook faces the east from a rocky summit offering views that stretch across the Henry Mountains and the colorful Waterpocket Fold. In the far distance to the east you'll notice the La Sal mountain range beyond the Henry Mountains. This is where Utah meets Colorado.
Both overlooks have vault toilets and trash cans. No other services are available. Don't forget to bring binoculars from home to fully take in the spectacular views of distant rock formations that define southern Utah's Western landscapes that have attracted Hollywood movie producers over the years. 
If you're fortunate enough to stop here at night, you're in for a treat! This is where some of the darkest skies on earth can be seen. Boulder Mountain is home to large populations of deer and elk, don't be in a hurry! Spring through Fall is the best time to visit this road when the road is clear of snow. 
Keep Capitol Reef Country Forever Mighty
What is Forever Mighty? It's practicing responsible travel while visiting Utah and Capitol Reef Country by following the principles of Tread Lightly and Leave No Trace.
Plan ahead and prepare, travel and camp on durable surfaces, dispose of waste properly, leave what you find, minimize campfire impacts, respect wildlife, be considerate of others, support local business and honor community, history and heritage. Help us keep Utah and Capitol Reef Country's outdoor recreation areas beautiful, healthy, and accessible.