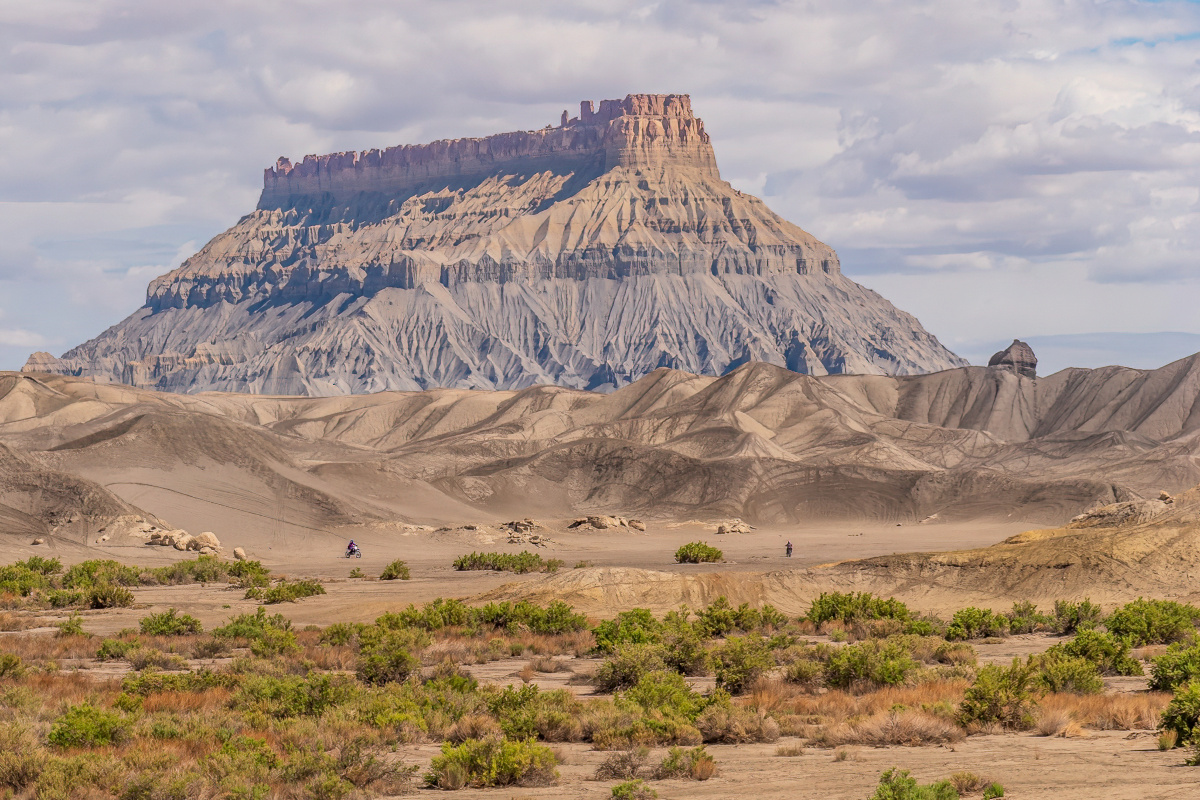 Interested in visiting Mars, or maybe the moon? No need to head to outer space when you can find lunar landscapes right here in Capitol Reef Country. Adventure seekers visiting Capitol Reef National Park will want to put the otherworldly attractions of Swing Arm City and Factory Butte on their must-see list. 
Factory Butte Factory Butte is a popular offroading site rising above the Caineville desert, near the iconic Moonscape Overlook. Fall asleep in the passenger seat on the ride over and you just might wake up thinking you landed on the moon. (Fun fact: scenes from the Disney movie John Carter were filmed here.) The massive, rippled landmark rises 900 feet above the surrounding barren landscape of the Upper Blue Hills, peaking around 6,300 feet. 
Trail tips: Located between Capitol Reef National Park and Hanksville, Factory Butte is a recreational haven for ATV and motorcycle riding, OHV jumping and even scenic drives. Elevations range on average from 4,000 to 5,000 feet, and the terrain is considered fairly challenging. Most trails here are rated moderate to difficult so come prepared with supplies, water, and a 4WD vehicle in good working condition. Avoid travel under wet conditions. 
Getting there: This surreal landscape sure makes it feel like you're on the moon. Fortunately, there's an easier way to get here that doesn't require space travel. Heading east from Capitol Reef National Park on Scenic Highway 24 toward Hanksville, turn onto Factory Butte Road. The hard-packed clay and gravel road is driveable by passenger vehicles for about 10 miles. After that a high clearance 4WD vehicle is recommended. Factory Butte Road also leads to Little Wild Horse Canyon and Goblin Valley State Park.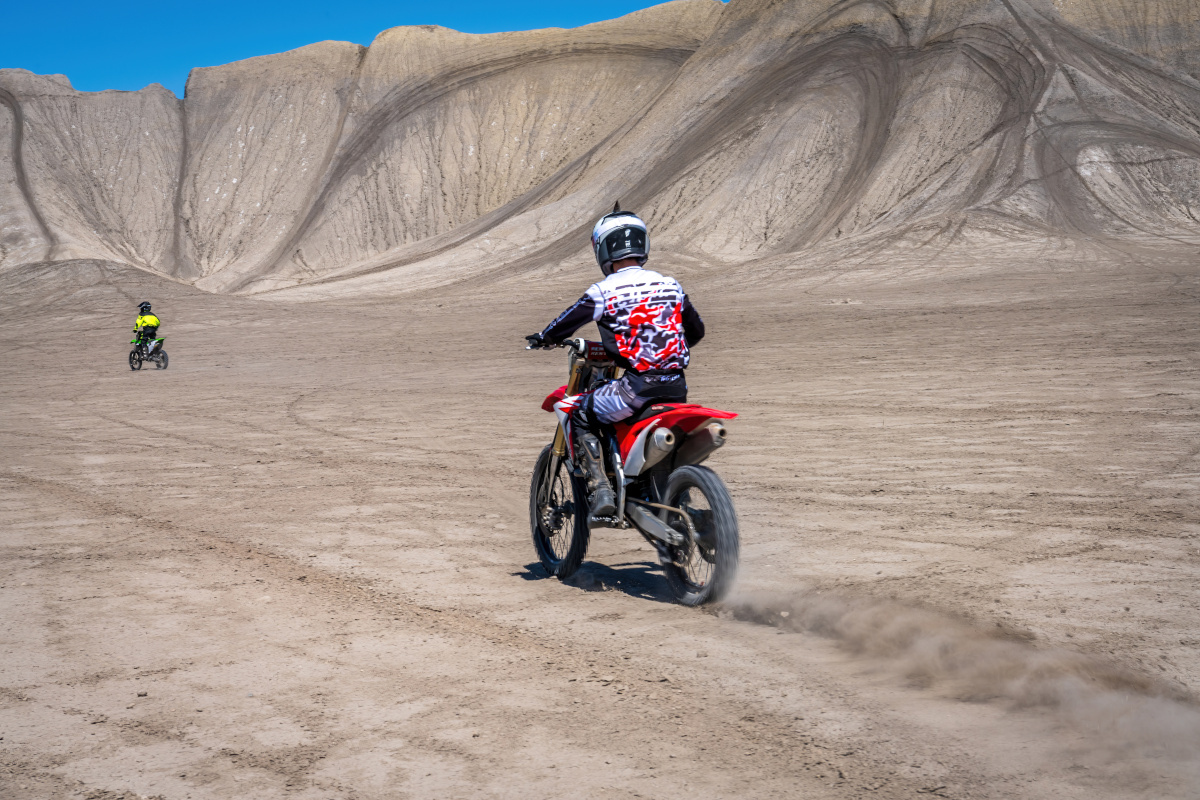 Swing Arm City Swing Arm City's sweeping bentonite clay hills create another thrilling playground for off-roaders visiting Capitol Reef Country. This ATV/OHV motorized recreation area is located between Factory Butte and Caineville, on the north side of the road on the way out to Capitol Reef. Uniquely eroded formations and steeply angled hills––as much as 45-50 degrees––create an exciting off-roading playground for recreational vehicles. On any given day, riders will find ATVs, motocross, OHVs and more flying across the landscape. The majestic Henry Mountains hover over the recreation area, providing the perfect backdrop for any action photo. 
Trail tips: Swing Arm City is a freeride area, meaning you can ride anywhere within designated areas. Prohibited areas are marked. Please take note and do not ride them. There is plenty of public space to enjoy, including trails along the top of the spines and within the canyon walls. The landscape ranges in difficulty from easy to extreme, so there's something everyone can enjoy. Due to the bentonite clay, Swing Arm City can be less dusty than other off-roading areas but challenging to maneuver in wet conditions.   
Getting there: Swing Arm City is about 16 miles from Capitol Reef National Park via UT-24, and seven miles east of Caineville. Head east toward Notom Bullfrog Basin Road, then turn left toward Swing Arm City. North Caineville Mesa separates Swing Arm City from Cathedral Valley to the west.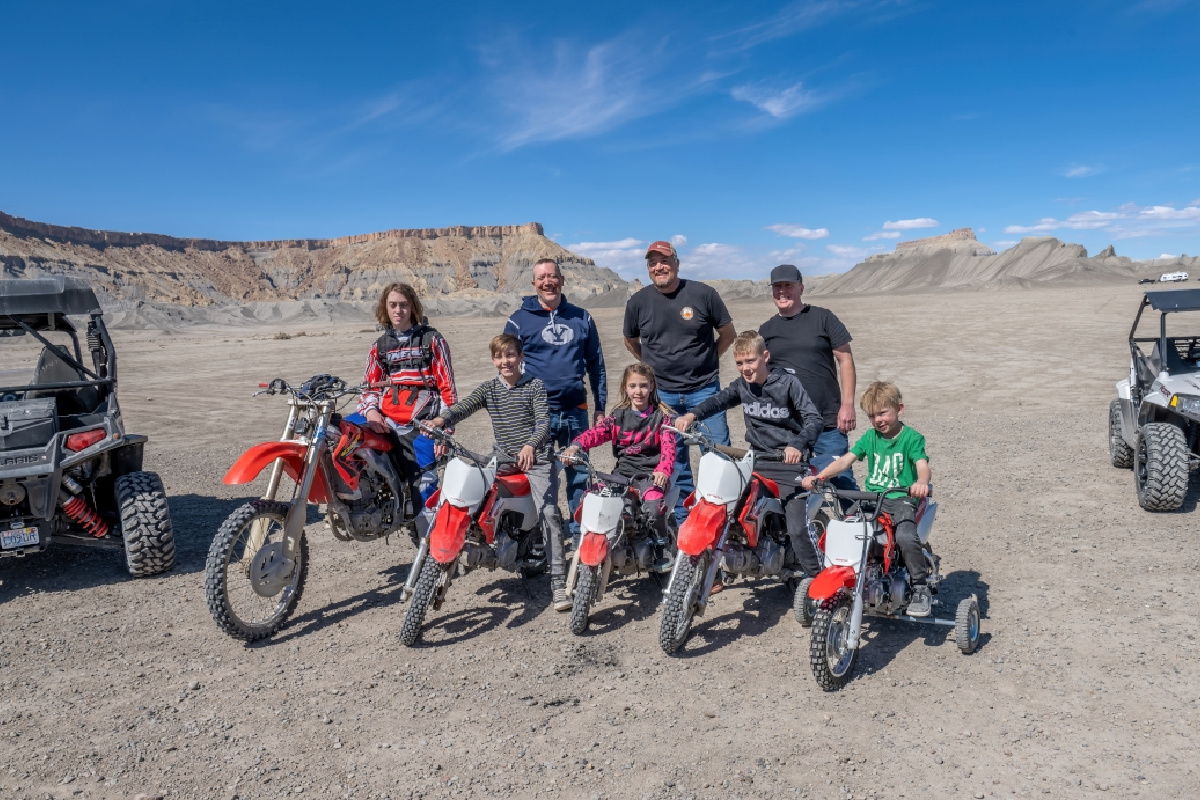 Caineville When visiting Swing Arm City and Factory Butte, be sure to stop by Caineville, located just off Highway 24 on the east side of Capitol Reef National Park. History buffs and tourists alike enjoy seeing the original 19th century structures that remain standing today, including the school-church building, the cemetery, and Behunin's red sandstone cabin.
Keep Capitol Reef Country Forever Mighty
What is Forever Mighty? It's practicing responsible travel while visiting Utah and Capitol Reef Country by following the principles of Tread Lightly and Leave No Trace.
Plan ahead and prepare, travel and camp on durable surfaces, dispose of waste properly, leave what you find, minimize campfire impacts, respect wildlife, be considerate of others, support local business and honor community, history and heritage. Help us keep Utah and Capitol Reef Country's outdoor recreation areas beautiful, healthy, and accessible.