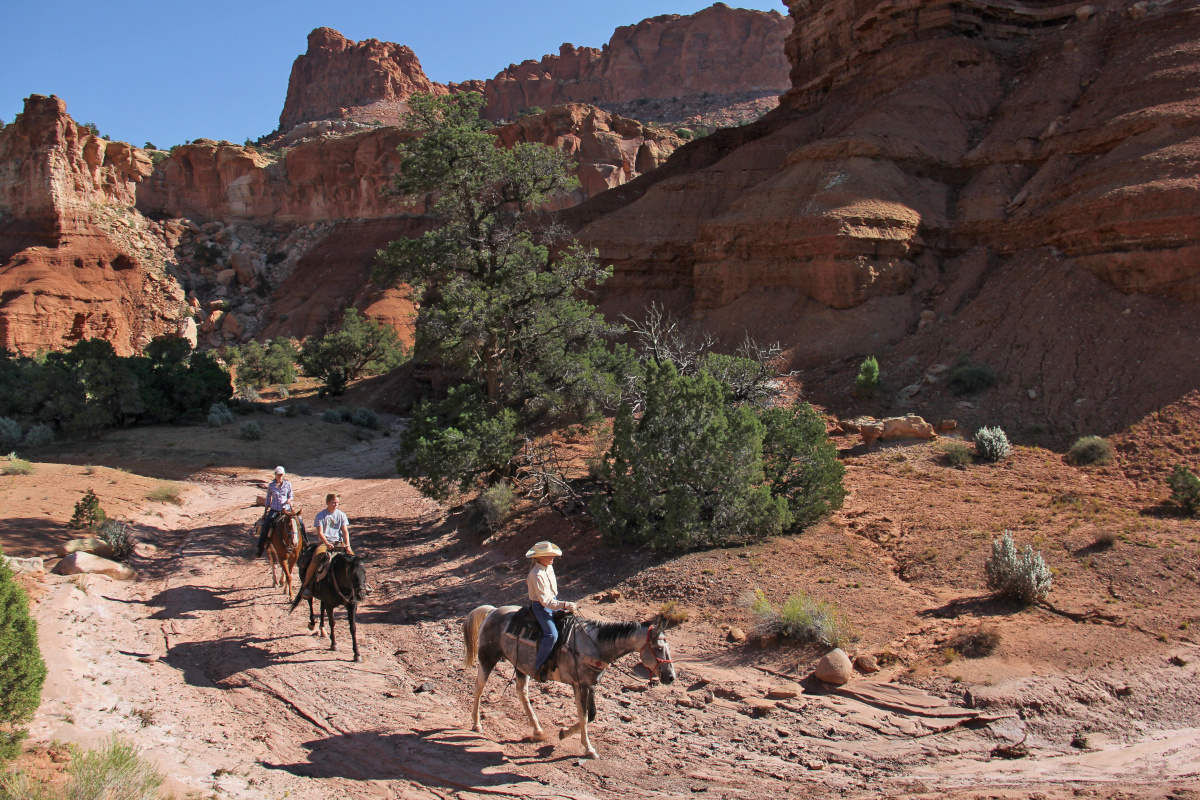 Saddle up and hit the trails in Capitol Reef Country. Bring your own horse or venture out with an outfitter for the ultimate exploration of Capitol Reef's rugged landscape. Horseback riding is the perfect adventure for discovering nature and history amongst the wild beauty of this untamed region. 
One of the last truly remote places in the U.S., many of the areas in and around Capitol Reef National Park were once home to Ute, Paiute and Navajo tribes. Wild West outlaws like Butch Cassidy favored Capitol Reef Country's cliffs and crevices as hideaways to evade law enforsement. It doesn't take much imagination to harken back in time and envision the majestic landscape in much the same way early explorers did. Horseback riding is an incredible opportunity to cover more of this rugged backcountry than you could on foot. Click here to view horse trails and maps. 
Capitol Reef National Park Capitol Reef National Park allows limited equestrian activities. Horseback riders often choose to explore the surrounding BLM and Forest Service lands. There are no developed overnight facilities for stock users within the park boundaries, however there is an Equestrian Staging Area in the Waterpocket District.
The famous Waterpocket fold runs for about 100 miles, from Thousand Lakes Mountain near Torrey, Utah to Lake Powell's Bullfrog Marina, through the Grand Staircase Escalante National Monument. The deeper you cut through the heart of the Waterpocket Fold, the landscape changes from the reddish hues of Wingate sandstone formations to the cross-bedded, windblown white Navajo sandstone cliffs. Pleasant Creek is one of the few passageways through both scenic sections of the park. Horseback riding is an excellent option for exploring this section of Capitol Reef. 
Great Western Trail Hit the Great Western Trail on horseback for an Old West experience and an up-close look at the incredibly scenic and rugged Capitol Reef backcountry once roamed by Native Americans, outlaws, and pioneers. Horseback riders enjoy this trail for the immense scenery and diverse terrain. Access points include Hatchery Road, Bulberry, Pine Creek Reservoir and the Aquarius Ranger Station. 
The Great Western Trail is a shared equestrian, mountain biking and ATV trail. Total trail distance is about 10 miles from Velvet Ridge to the Aquarius Ranger Station, and riders have the option to do a loop, a straight run, or continue on to Dark Valley. Stream crossings at Government Creek, Pine Creek and Bulberry add to the adventure. Deep Creek is a high alpine section of the Great Western Trail with grand views down into Capitol Reef National Park. Views of Thousand Lakes Mountain to the north showcase the vast scenery.
Boulder Mountain Located west of Capitol Reef on the Aquarius Plateau—North America's highest forested plateau—Boulder Mountain features a variety of trails that wind amongst pine and aspen forests, peaceful lakes and vast open meadows. Riders are rewarded with outstanding views of Capitol Reef Country's landscape from a variety of vantage points. Bluebird Knoll—known as Boulder Top to locals—is the highest point of Boulder Mountain, peaking at 11,328 feet.  
Local Outfitters Guided horseback rides can provide everything you need to explore Capitol Reef Country, from the horse and saddle to trail expertise and local history knowledge. Wilderness Ridge Adventures offers two-hour, four-hour, and full-day horseback riding trips into Fishlake National Forest, bordering Capitol Reef National Park. Fishlake National Park joins Capitol Reef National Park at the renowned Waterpocket Fold. A popular trail ride cuts through the washes that formed the Waterpocket Fold, passing by Red Bluff, Wingate Tunnel and through the Petrified Forest.  
If heading out on your own, be sure to educate yourself on trail etiquette and conditions prior to heading out on horseback. Water and other resources are limited in Capitol Reef's backcountry. 
Southern Utah truly has some of the world's best views and stunning landscapes. Take a trail ride you will remember for a lifetime. Come experience the magical terrain of Capitol Reef Country on horseback. Learn more.  
Keep Capitol Reef Country Forever Mighty
What is Forever Mighty? It's practicing responsible travel while visiting Utah and Capitol Reef Country by following the principles of Tread Lightly and Leave No Trace.
Plan ahead and prepare, travel and camp on durable surfaces, dispose of waste properly, leave what you find, minimize campfire impacts, respect wildlife, be considerate of others, support local business and honor community, history and heritage. Help us keep Utah and Capitol Reef Country's outdoor recreation areas beautiful, healthy, and accessible.