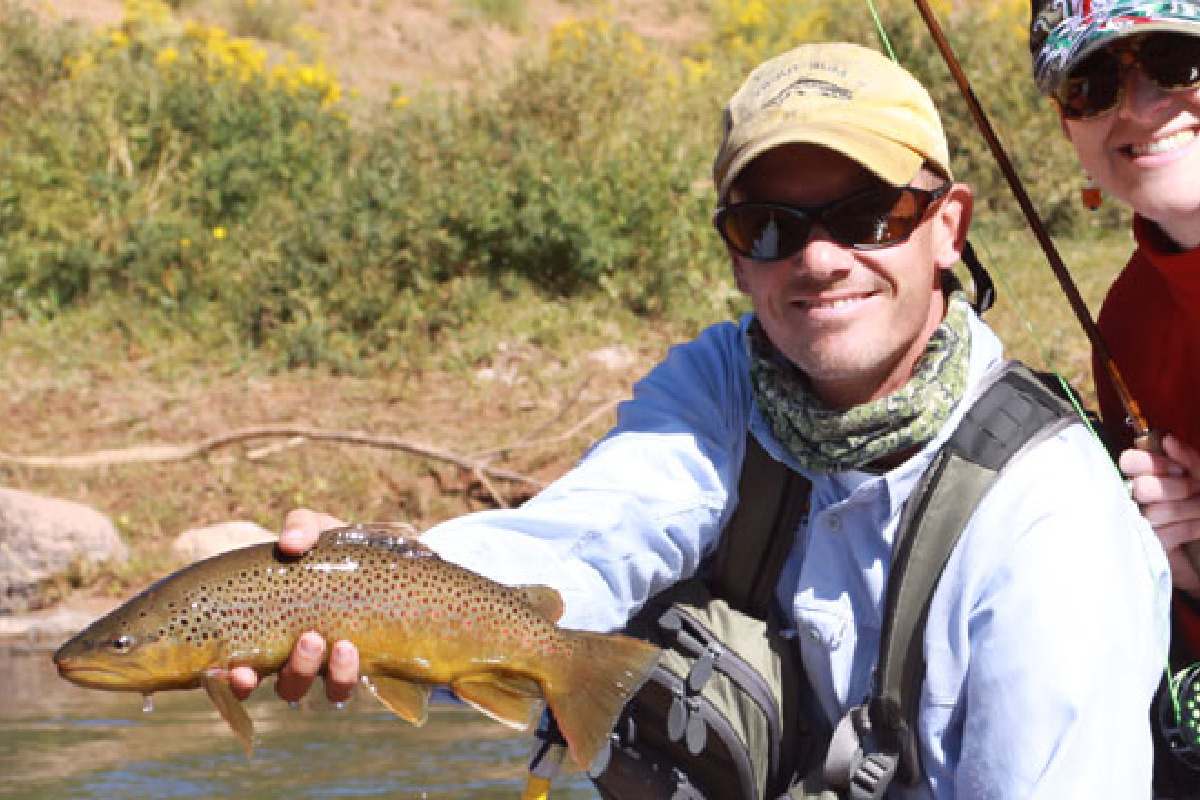 Fly fishing on the Fremont River is just one more reason to visit Capitol Reef Country. Offering some of the premiere trophy waters near Capitol Reef National Park, the Fremont River parallels Highway 24 from Loa and Bicknell, past Torrey, all the way to Hanksville, Utah. Bicknell to Torrey offers some of the primo fishing spots along the river. 
Experiencing the Fremont River's clear, calm waters flowing through lush riparian zones and backed by southern Utah's red rock landscape is nothing short of mesmerizing. World class fly fishing for brown, rainbow, cutthroat, brook and tiger trout is abundant here. Dry fishing is also quite rewarding along the crystal-clear waters, and hatches are best during spring, summer and fall. Streamers tend to bring the biggest trout to the net. 
Upper Fremont River The upper section of the Fremont River flows downstream from Johnson Valley Reservoir for seven miles until it reaches Mill Meadow Reservoir. Trout are abundant here, especially in the large undercuts. This section is just 30 minutes from Capitol Reef National Park or the gateway town of Torrey. 
Middle Fremont River Continuing downstream through the Fremont Valley, past the towns of Fremont, Loa and Lyman, much of Middle Fremont River flows through private property. Large, trophy-size trout is abundant in certain sections, but access is limited to unpaved dirt roads. This is the least accessible section of the river. 
Lower Fremont River  The Lower Fremont section of river flows from Bicknell to the north slope of Boulder Mountain and Thousand Lakes Mountain to the north. This highly scenic section of the river passes through bucolic farmlands and red rock landscape for about 20 miles to Torrey and ending just minutes from Capitol Reef National Park's boundaries. Brown and rainbow trout are most abundant here, with the occasional tiger or cutthroat. While much of this section of river flows through private property, local guide companies can provide access.  
Guided Fly-Fishing Adventures Enjoy some of the best fly fishing the Fremont River has to offer by using a guide. Local outfitter Fremont River Guides offers guided fly-fishing excursions, as well as non-guided fly-fishing for those willing to pay a rod fee. Stop by their Torrey shop for advice, gear, flies, maps and directions. They're also happy to spill the tea on hatches, local history and even the best local eats. Learn more.  
Torrey—Your Fly Fishing Basecamp Located just minutes from Capitol Reef National Park, Torrey is a great basecamp for local fly fishing. In addition to the Fremont River, check out the remote rivers, lakes and streams dotting the Boulder Mountains and Thousand Lakes Mountain. Torrey is also known for its historic Main Street where visitors will find restaurants, shops and art galleries.
Keep Capitol Reef Country Forever Mighty
What is Forever Mighty? It's practicing responsible travel while visiting Utah and Capitol Reef Country by following the principles of Tread Lightly and Leave No Trace.
Plan ahead and prepare, travel and camp on durable surfaces, dispose of waste properly, leave what you find, minimize campfire impacts, respect wildlife, be considerate of others, support local business and honor community, history and heritage. Help us keep Utah and Capitol Reef Country's outdoor recreation areas beautiful, healthy, and accessible.