Overview
Capitol Reef Country is a destination with an overabundance of scenic photo opportunities. How can you have too many photo op locations you ask? Well, it's not so much that there are too many, but the number of locations is so significant that you won't be able to reach them all in just one trip, nor would you want to rush through these places just to acquire a photograph.
Here's a brief list of three of our favorite locations in the Capitol Reef National Park region.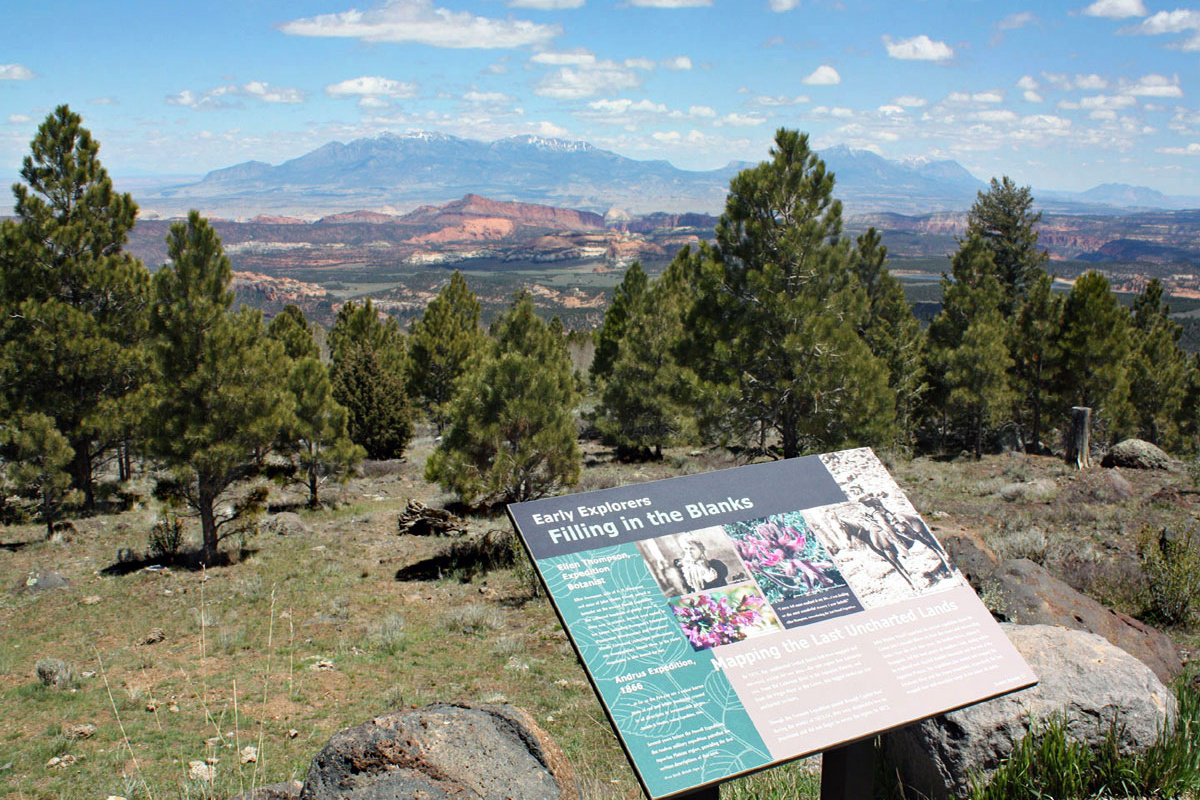 West of Capitol Reef – Scenic Byway 12 
Running south from the town of Torrey, Scenic Byway 12 rises to approximately 9,000′ in elevation as it winds across the eastern edge of Utah's Boulder Mountain plateau. Byway 12 is a 120 mile roadway that twists and turns its way across majestic mountain passages, along the spine of dramatic rock outcroppings, and through canyons that surpass the beauty quotient that any of us might impose on our own expectations. 
Where to go: Approx. 25 miles south of Torrey on Scenic Byway 12 is Homestead Overlook, a scenic viewpoint. From here the views stretch 180 degrees across much of the length of Capitol Reef National Park and across the way are the Majestic Henry Mountains.  The area surround Homestead Overlook is a great place for forest photography, and fall foliage shots in September/October. (map link)
When: Afternoon and early evening light will be best.
Capitol Reef – Scenic Drive 
This road is paved for approximately seven miles to Capitol Gorge, and passes along the base of the vast rock formations that comprise the western edge of Capitol Reef National Park.
Where to go: From the Capitol Reef visitor center, travel five miles south on Scenic Drive to the Slickrock Divide which is an elevated section of this paved road. The view back to the north in late afternoon light. (Map Link)
When: Afternoon and early evening light will be best to capture light on the west and south facing cliff faces.

Caineville Mesas (North & South) 
East of Capitol Reef you'll find the community of Caineville and two dramatic mesas. The bases of these mesas are made of bentonite clay and water has eroded this soft-soil into vast alluvial fans into otherworldly views.
Where to go: Travel on Scenic Byway 24 just east of the community of Caineville (2.4 miles) until you see an old cement truck on the north side of the road. Don't laugh, as this is the best marker for the beginning of the North Caineville Mesa Trailhead (search on google maps). Park your car in a safe space on the side of the road, and venture up the ridges of the bentonite hills. There are trails that traverse the ridgelines or you can follow the trail to the top of the mesa. Be mindful that this trail up to the top of the mesa is very strenuous and technically challenging. (Map Link)
When: Early morning or late afternoon light will be best to capture photos of these ridges that will make you believe you are actually standing on the moon.
Keep Capitol Reef Country Forever Mighty
What is Forever Mighty? It's practicing responsible travel while visiting Utah and Capitol Reef Country by following the principles of Tread Lightly and Leave No Trace.
Plan ahead and prepare, travel and camp on durable surfaces, dispose of waste properly, leave what you find, minimize campfire impacts, respect wildlife, be considerate of others, support local business and honor community, history and heritage. Help us keep Utah and Capitol Reef Country's outdoor recreation areas beautiful, healthy, and accessible.