What do the moon, mars, dinosaurs, and dirt bikes have in common? They all share an area called the Caineville Desert between Capitol Reef National Park and Hanksville Utah.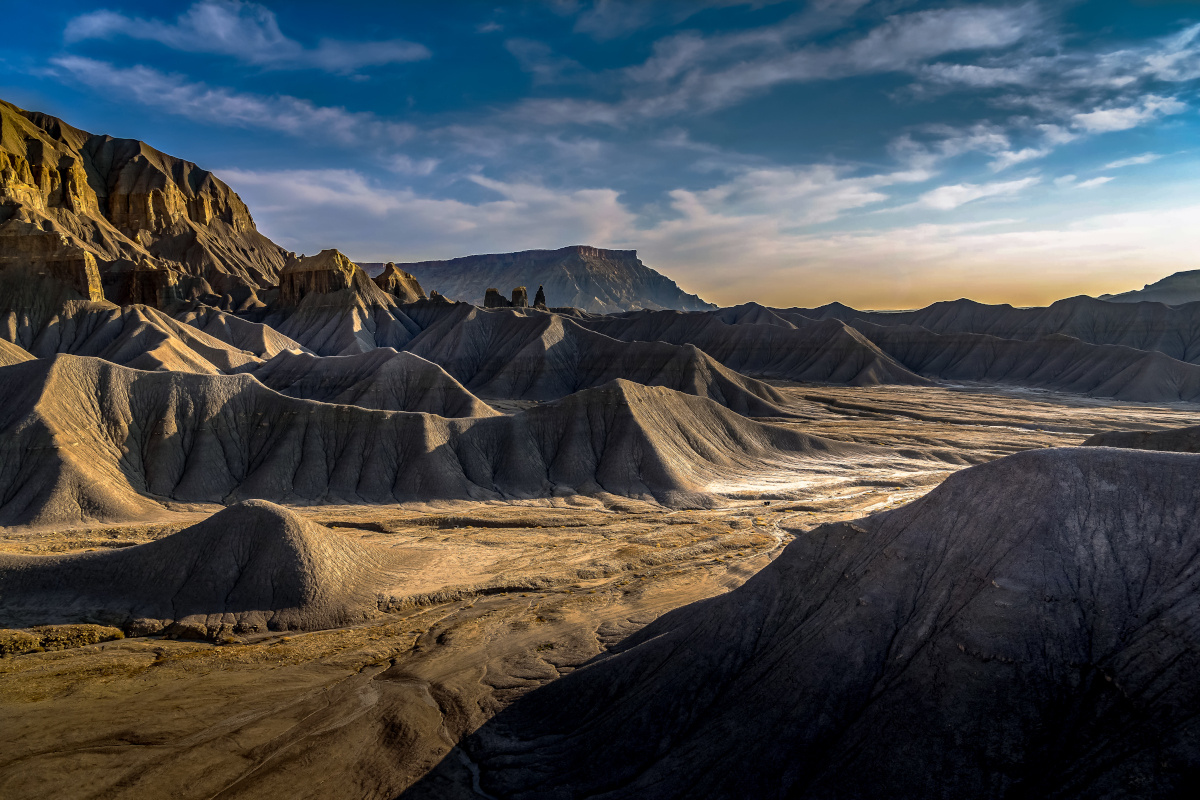 Southcentral Utah is home to unique and unusual landscapes. The terrain in this region is different from the rest of southern Utah that is known for its red rock rock canyons and cliffs. Mancos Shale mesas in hues of yellow and grey look as though they were carved with a knife dominate the western half of the region near Capitol Reef National Park, while rolling multi-colored hills of Bentonite Clay formed during the Jurassic Period some 150 million years ago are found north of the Henry Mountains and south of Goblin Valley State Park.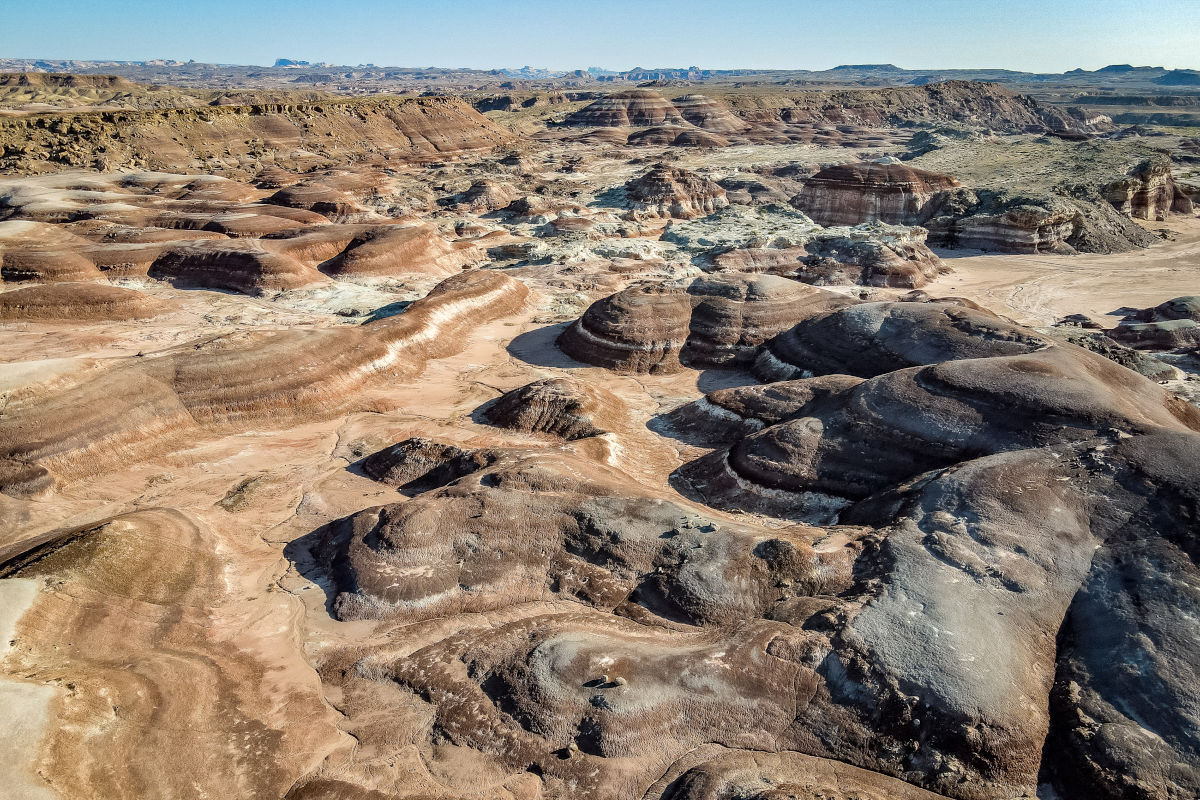 Buttes, bluffs, and pinnacles create a convoluted landscape that has been compared to an extraterrestrial planet. Hollywood agrees and has used this area as the backdrop for Sci-fi movies including Galaxy Quest, John Carter, and others.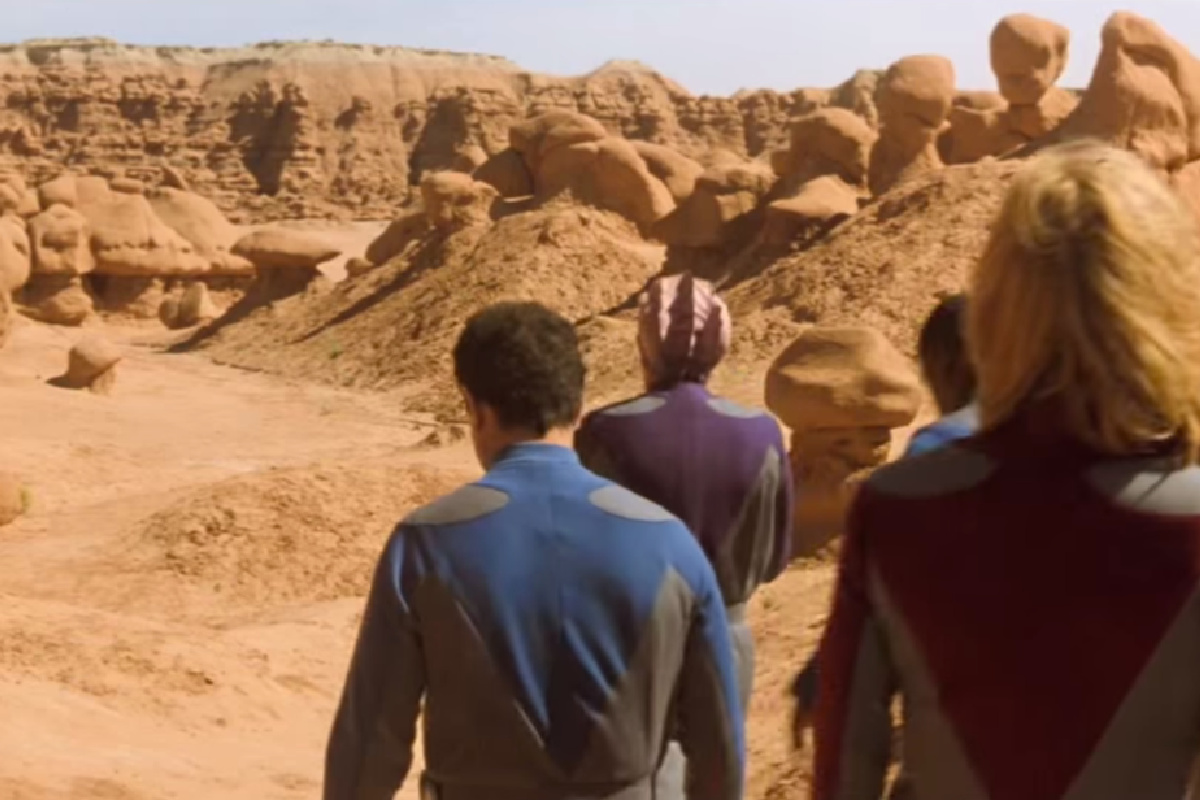 Welcome to Mars!
Capitol Reef Country is known for its terrain that looks extraterrestrial and the area between Capitol Reef National Park and Hanksville won't disappoint.
The Bentonite Hills west of Hanksville known as Utah's Mars 0ffer earthlings a glimpse of what the red planet might look like. If you visit at the right time, you might see men and women in space suits with the Mars Desert Research Center.
The Mars Society must have found the region ideal for simulating the red planet considering The Mars Desert Research Station (MDRS), owned and operated by the Mars Society, is the largest and longest running Mars surface simulation facility in the world. The facility houses crews that carry out their mission under the constraints of a simulated Mars mission with most missions two to three weeks in duration. MDRS is not a tourist attraction, please be respectful of this facility. The following statement is published on their website.
"The Mars Desert Research Station is a private research facility.  We do not at any time offer tours nor are we open to visitors.  People are allowed to pass the campus from Cow Dung Road, and are welcome to stop and park where allowed, and view the station from that spot.  We are very sorry for the continued false information that many are given that we allow visitors on campus.  Because of the research being conducted here, we are not open to the public at any time."

Rockhounding
In addition to imagining yourself on a distant planet, Morrison Formation is also a great place for rockhounding. The Painted Desert of Arizona (Morrison Formation) where the Petrified Forest National Park is located gives a good indication of what might be laying around out in this desert. Morrison Formation formed during the Jurassic period, Jurassic Park! Dinosaurs roamed the earth during this period, which increases the odds of finding coprolite fossils and gastroliths. It takes a good eye to spot them among the rocks, but they are there. If you get shut out, pay a visit to the Rockin' Riddle Rock Shop in Hanksville, they have a ton!
Burpee Dinosaur Quarry
In 2007 a crew from the Burpee Dinosaur Museum in Rockford IL discovered a significant dinosaur quarry in this remote Utah desert. The quarry is the site of hundreds of dinosaur bones and considered one of the largest dinosaur quarries in the world. The age-old question has finally been answered. Dinosaurs did roam the red planet! At least Utah's version of it.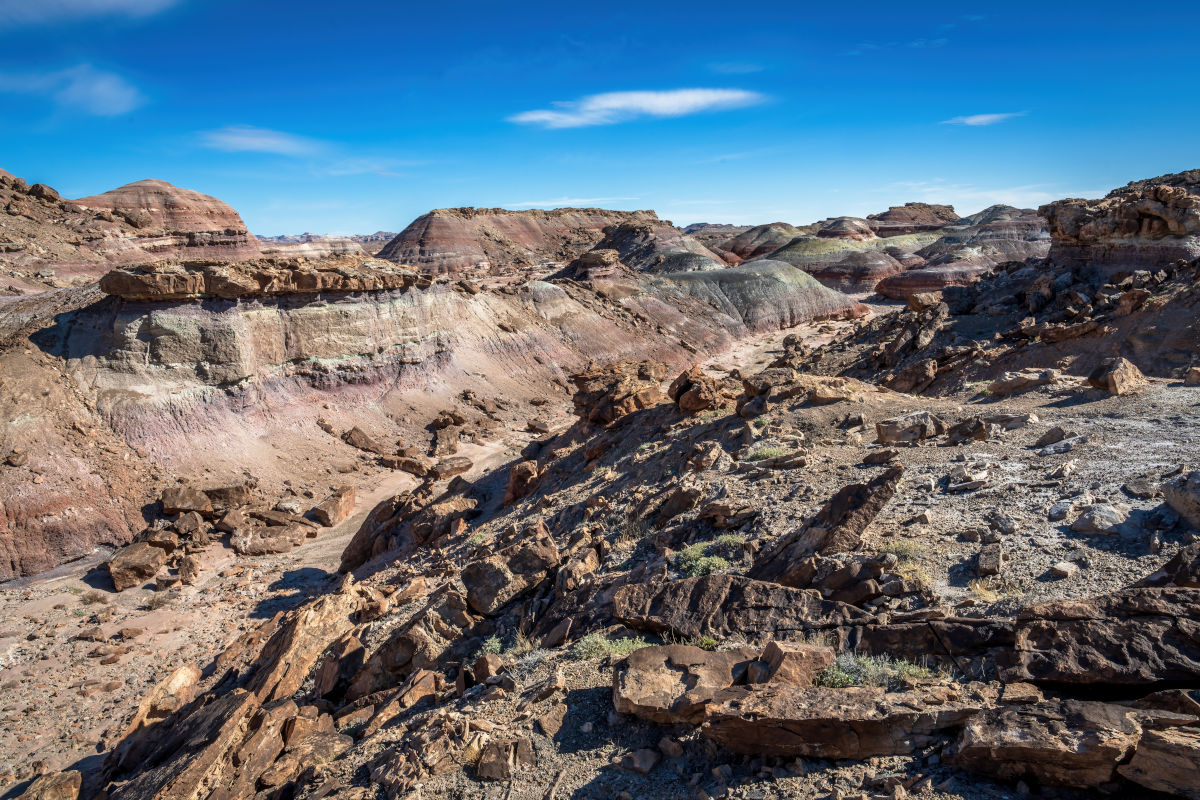 Skyline Rim
Capitol Reef Country has more diverse landscapes than anywhere else in Utah but the place that's really mind blowing is the Skyline View overlook of the Blue Valley near Factory Butte. This is where photographers dream of visiting, and that's quite often who you'll see on the rim. Even if you've never heard of this area, you've most likely seen photos of it.
Visitors who have passed by this stretch of the desert on Highway 24 have unquestionably noticed the massive Factory Butte that dominates the skyline. This is a key landmark for entering this section of the desert. Not far from Factory Butte is Moonscape Overlook offering panoramic views to the east of the Bentonite hills with the Lasal Mountains near Moab in the far distance. To the south are the Henry Mountains, the last mapped mountain range in the lower 48 states. This is also where a genetically pure blood herd of Bison roam that originated from Yellowstone.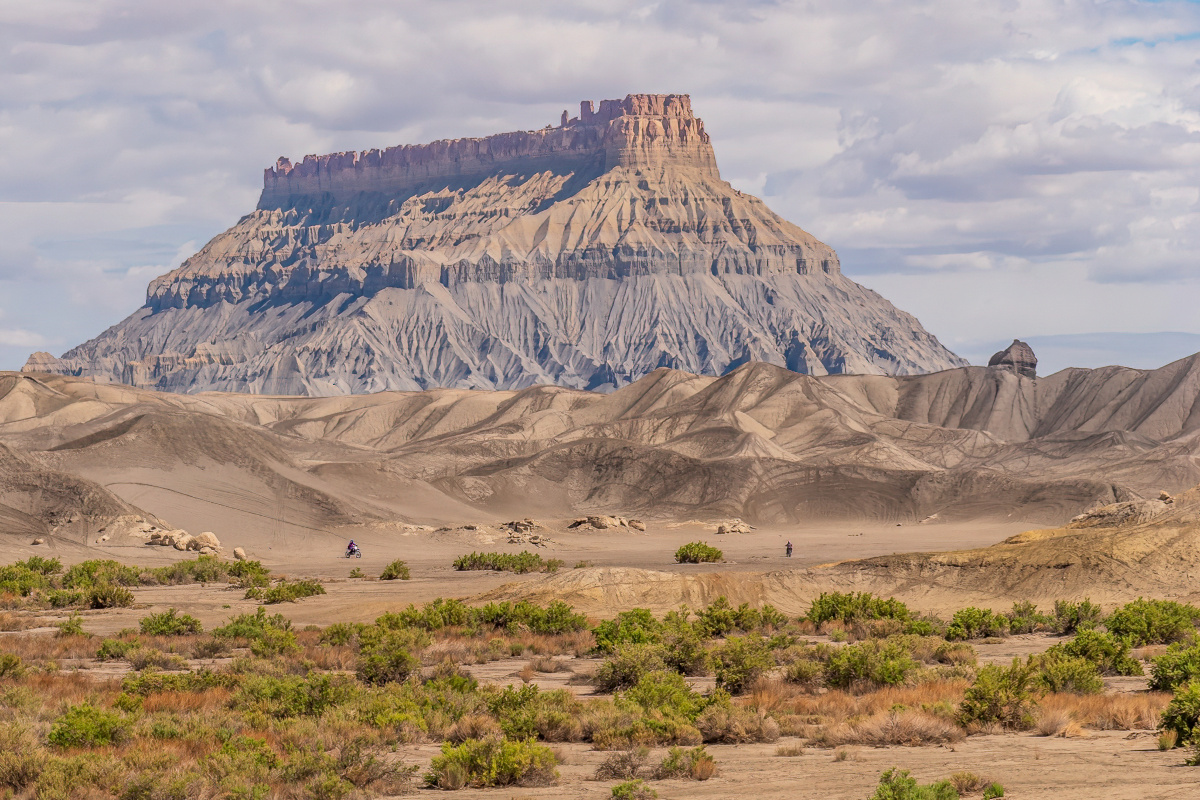 For the best views of this unique landscape go to Moonscape Overlook, just a short distance to the east of Factory Butte. To get the most dramatic views and light we suggest going late afternoon, early evening with the sun behind you. The pinnacles and spires cast long shadows across the desert floor.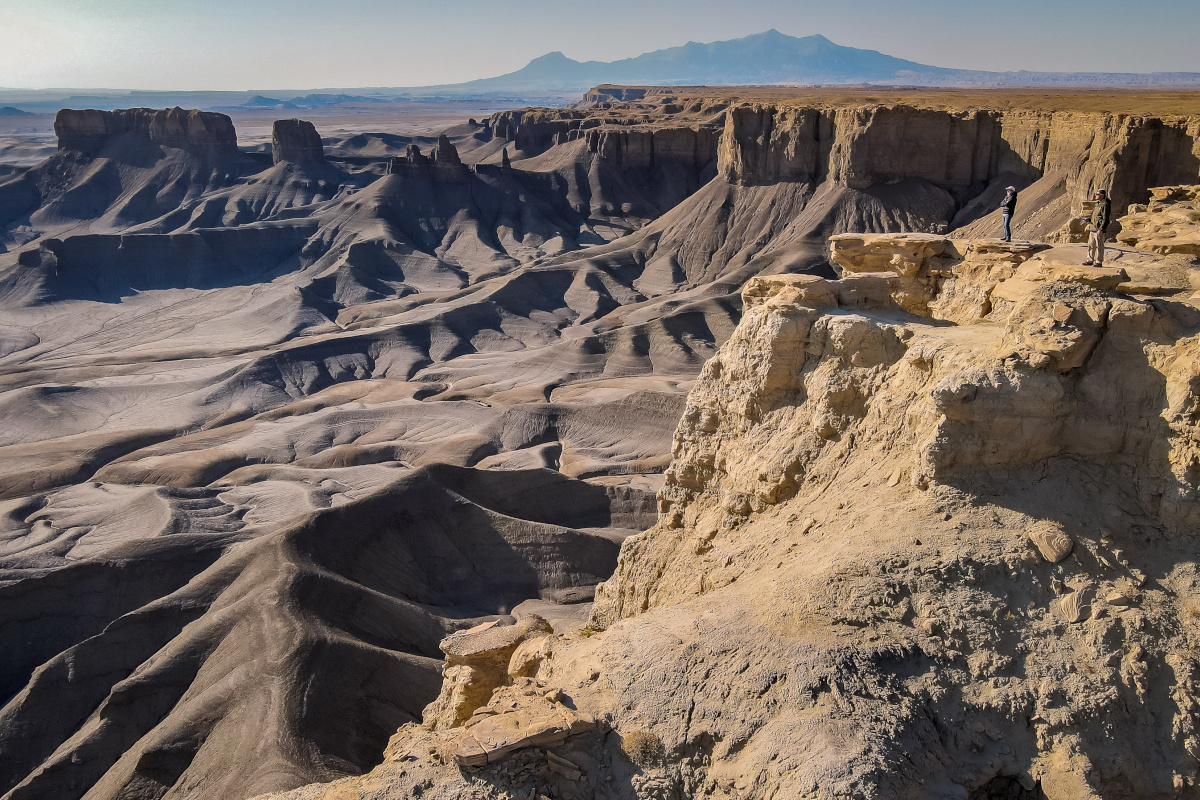 This Skyline View and Moonscape Overlook are a short drive from SR-24 and is definitely worth the stop anytime you are in the Factory Butte area. Get there from Hanksville (view this Google Map link) Get there from Caineville or Torrey (view this Google Map link) You can also use this itinerary that includes more details about the Skyline View. (LINK)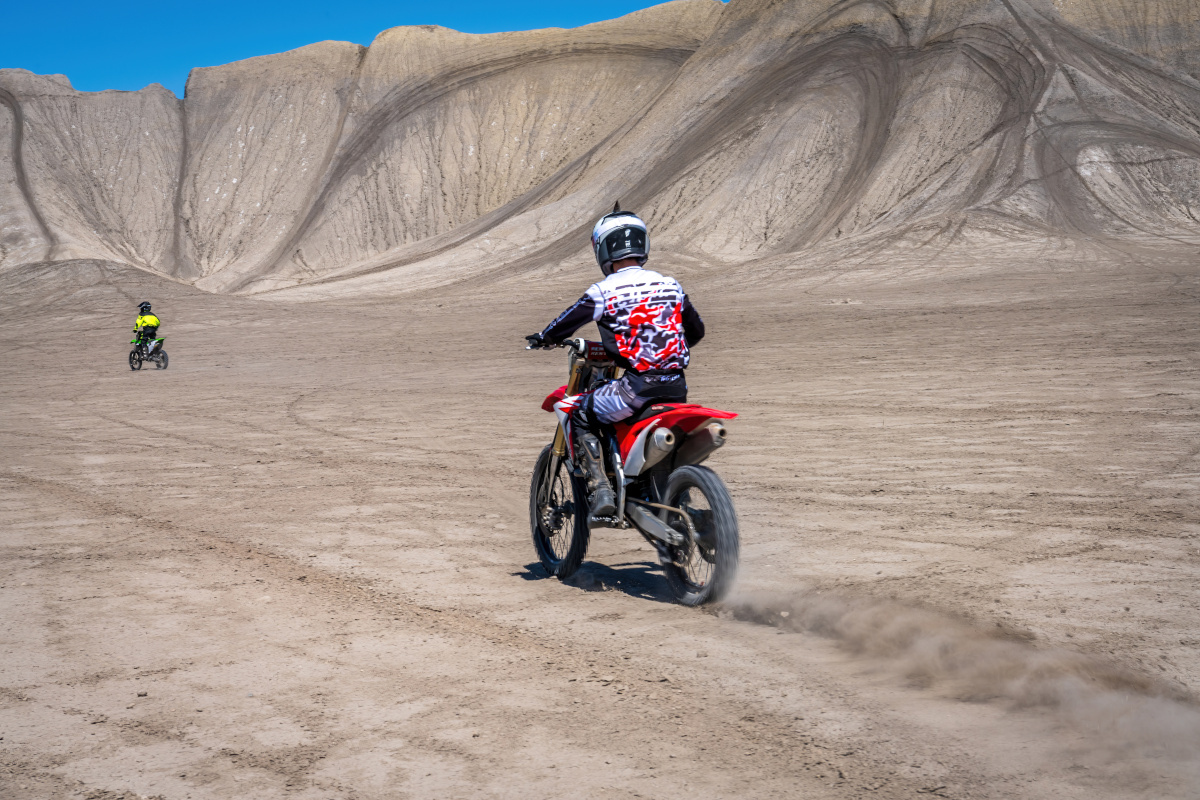 Swing Arm City
Swing Arm City's bentonite clay hills located 12 miles west of Hanksville just off Highway 24 offers offroad enthusiasts an outdoor playground for young to old.  Steeply angled hills create an exciting off-roading playground for recreational vehicles from ATV's to dirt bikes. On any given day, Swing Arm City plays host to adrenaline junkies from grandkids to grandparents. On any given weekend from Spring to Fall you'll find ATVs, motocross, OHVs and more flying across the landscape.
Keep Capitol Reef Country Forever Mighty
What is Forever Mighty? It's practicing responsible travel while visiting Utah and Capitol Reef Country by following the principles of Tread Lightly and Leave No Trace.
Plan ahead and prepare, travel and camp on durable surfaces, dispose of waste properly, leave what you find, minimize campfire impacts, respect wildlife, be considerate of others, support local business and honor community, history and heritage. Help us keep Utah and Capitol Reef Country's outdoor recreation areas beautiful, healthy, and accessible.