If you're planning a trip to Capitol Reef National Park, a stop at the Waterpocket Fold is an absolute must. This captivating geological feature extends for nearly 100 miles from Thousand Lake Mountain to Lake Powell. The Waterpocket Fold is home to a dramatic landscape filled with deep canyons, natural bridges, and stunning rock formations.
This hidden gem in the heart of red rock country is home to some of the most amazing landscapes in the world, though few know about it because of its location in one of the lesser-known national parks in the United States. Today, we're sharing everything you need to know about the Waterpocket Fold so you can prepare for an unforgettable visit.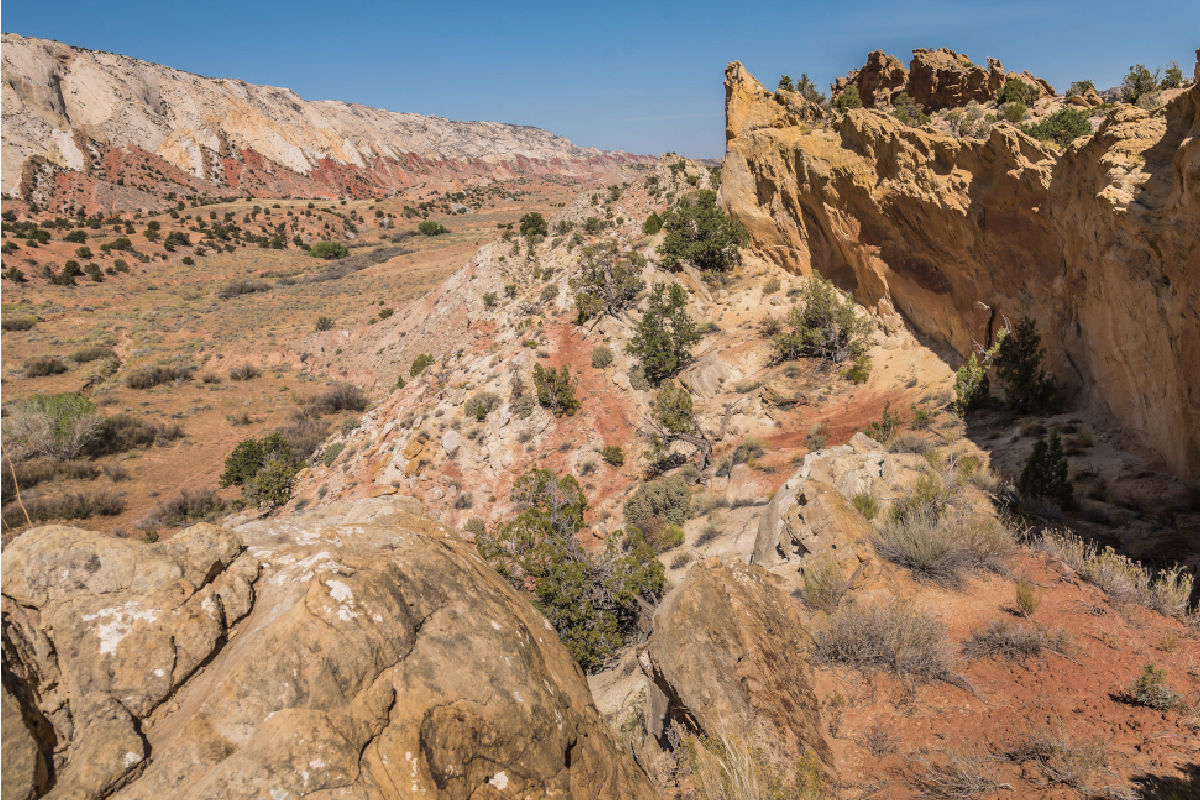 What is the Waterpocket Fold?
The defining feature of Utah's Capitol Reef National Park, the Waterpocket Fold is a massive buckle in the earth's surface that was formed along an underlying fault. The phenomenon occurred during the Laramide Orogeny around 50 to 70 million years ago. An uplift around 15 million years ago resulted in further erosion that caused the formation of the Fold's cliffs, domes, canyons, and arches that we see today.
This spectacular region of Capitol Reef is open year-round, though road conditions can vary depending on the weather. Rain and snow have been known to leave the area's roads slick, muddy, and impassable. Before you visit, it's important to check the weather forecast so you can prepare accordingly for your trip.
How to Get to the Waterpocket Fold
There are several ways to access the Waterpocket Fold depending on where you're traveling from. You can access from the east, north, or south by car. Here's a breakdown of the best way to get here from each route:
East – Arrive via the Burr Trail road from Boulder to discover the beauty of the Waterpocket Fold from above and pass through spellbinding red canyons.
North – Take the Notom Bullfrog Basin Road for approximately 2 hours before reaching the Burr Trail road.
South – Travel on Route 276 via the Burr Trail road until you reach the park's entrance.

Things To Do at the Waterpocket Fold
While you can experience plenty of majestic views from the comfort of your car, we highly recommend exploring the Waterpocket Fold on foot to make the most of your visit. Hidden throughout the region are tons of breathtaking sights like natural bridges, arches, and slot canyons. Whether you're traveling solo or visiting with kids, there are plenty of fun things to do at the Waterpocket Fold.
Some of the most popular activities include hiking, horseback riding, picnicking, and camping. Cedar Mesa Campground is located along the Notom-Bullfrog Road and is free to the public on a first-come, first-serve basis. For hiking, you can head over to Lower Muley Twist Canyon, Upper Muley Twist Canyon, or The Post.
Final Thoughts
We hope that this guide to Capitol Reef's Waterpocket Fold has helped you determine whether this uniquely beautiful destination is worth a visit. Capitol Reef National Park holds roughly 280 million years of our planet's history and the Waterpocket Fold is a massive part of that story. Check out our Capitol Reef Blog to learn more about all the sights this remarkable park has to offer.
Keep Capitol Reef Country Forever Mighty
What is Forever Mighty? It's practicing responsible travel while visiting Utah and Capitol Reef Country by following the principles of Tread Lightly and Leave No Trace.
Plan ahead and prepare, travel and camp on durable surfaces, dispose of waste properly, leave what you find, minimize campfire impacts, respect wildlife, be considerate of others, support local business and honor community, history and heritage. Help us keep Utah and Capitol Reef Country's outdoor recreation areas beautiful, healthy, and accessible.