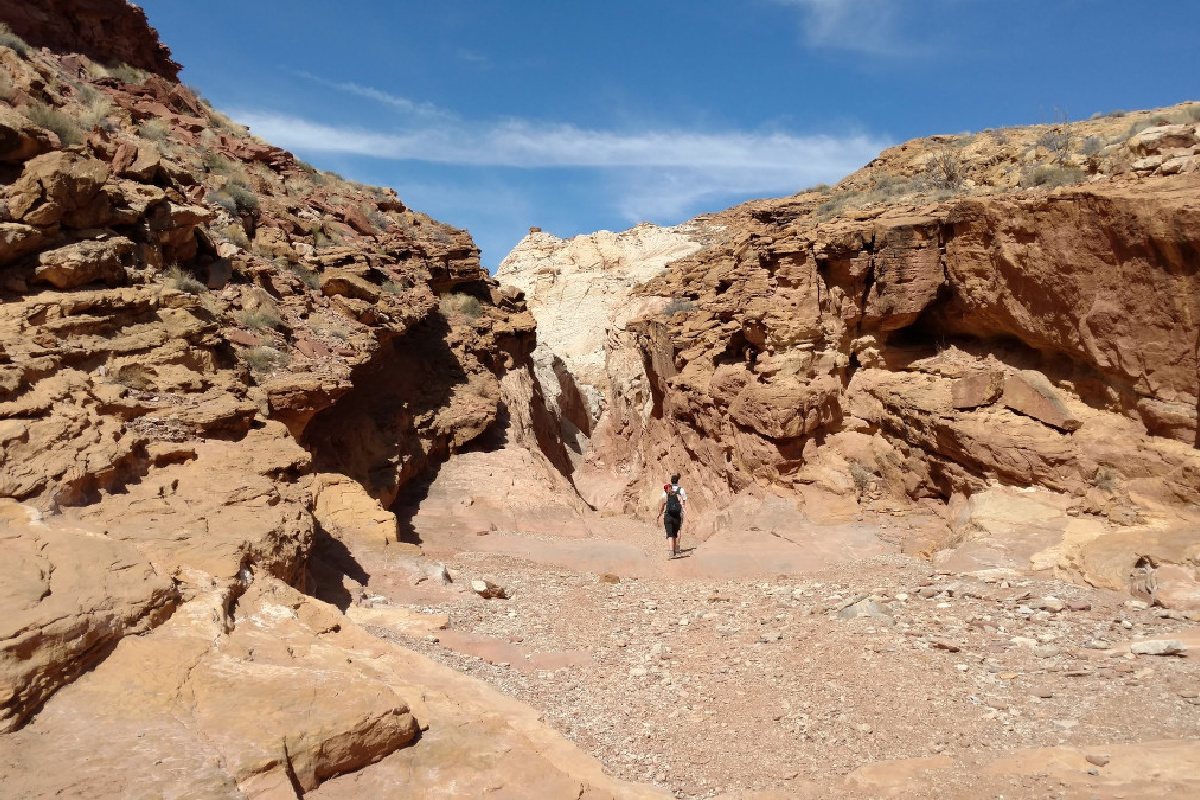 Located in the San Rafael Swell, just five miles from Goblin Valley State Park, Little Wild Horse Canyon is a popular slot canyon hike with families and adventurers of all skill levels. The trail is relatively easy, with a bit of scrambling and bouldering throughout, but no major rappelling or technical skills required. Combine it with Bell Canyon for an adventurous, family-friendly loop.
Hike Overview
Little Wild Horse is the easiest slot canyon to reach in Capitol Reef Country, and the main attraction, but many hikers choose to add Bell Canyon to the adventure. The full loop takes about 4 to 7 hours to complete. The other option is just going in and back as far as you like in either canyon. Elevation at the Little Wild Horse Canyon trailhead is 4,962 feet with a gain of only 700 feet for the entire hike.
Little Wild Horse/Bell Canyon Loop Distances:
Parking lot to trailhead: 0.5 mile

Little Wild Horse Canyon: 3.6 miles

Distance between the canyons: 1.6 miles

Bell Canyon: 1.8 miles

Bell Canyon exit back to parking lot: 0.5 mile
Total: 8 miles
Getting Started
Little Wild Horse Canyon is just about five miles from Goblin Valley State Park. If you're coming from Hanksville, take UT-24 east toward Goblin Valley. If you're coming from the state park, head northeast on Goblin Valley Road toward Goblin Valley Cutoff Road, then turn onto Wild Horse Road. The trailhead is accessible by most passenger vehicles, no high clearance required.
It's about a half-mile walk from the parking lot to the trailhead. There are directional signs for Bell Canyon to the left and Little Wild Horse to the right. Signs throughout the hike will help guide your way. It's recommended to begin the trek through Little Wild Horse, then loop through Bell Canyon for the full experience.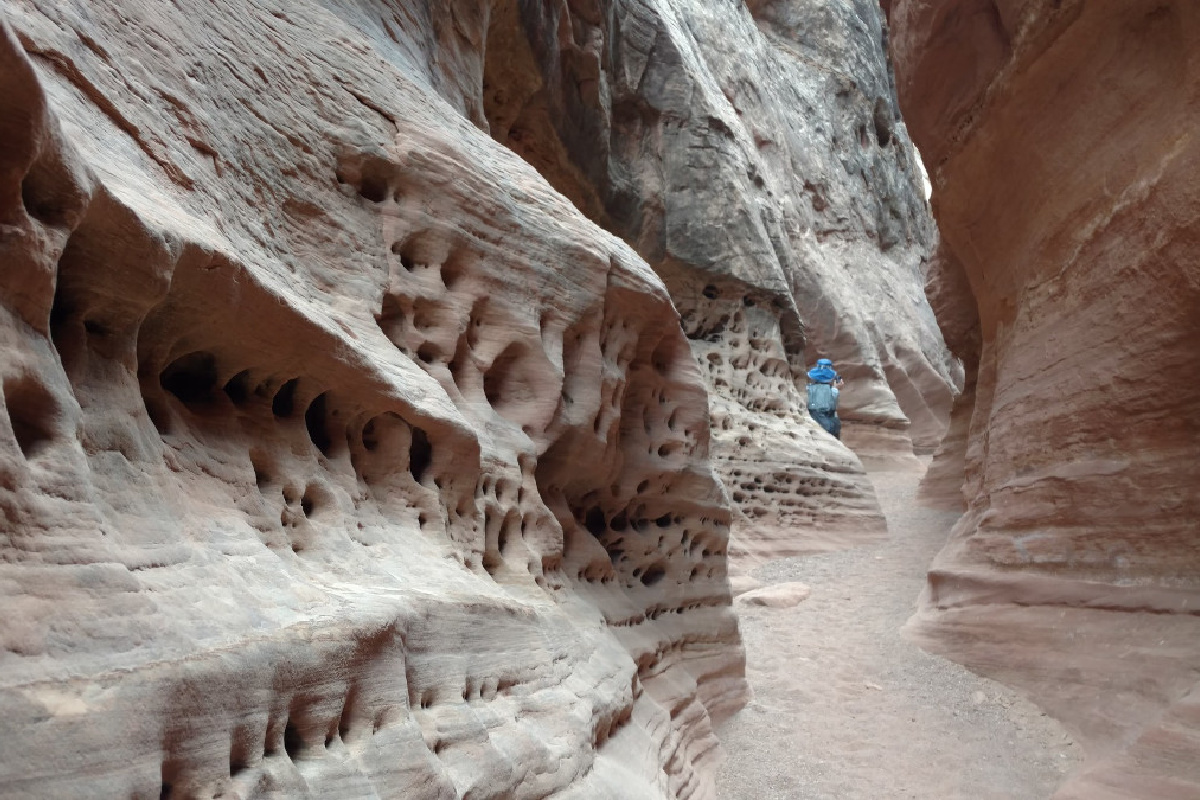 Little Wild Horse Canyon
The mouth of Little Wild Horse canyon almost looks as if you've come up upon a dead end, but a peek around a jutting rock formation reveals a beautifully striated slot canyon. Long, narrow stretches of cool, dark canyon—sometimes just two feet wide—alternate with more open sections of the trail before the walls start closing in again. A few areas will require a bit of creative maneuvering through the narrowest sections, especially around the halfway point.  
Bell Canyon
At the end of Little Wild Horse Canyon there's a fork in the road and a trail marker for Bell Canyon. It will be a bit before the official start of Bell Canyon—about 1.6 miles—while you hike along an open desert wash. During this section of the hike, you'll come upon a drop that's about 10 feet or so. Scramble across the upper section until you find a safer spot to descend. There are a couple of tricky drops in Bell Canyon that require some resourceful tactics but they are manageable. 
The Beauty of the Canyons
One of the most amazing things throughout this hike is the variations—red and orange color striations and swirls, varying widths and heights of the canyon walls, fascinating rock formations, a wondrous sense of scale and the visual effects of the powerful forces of nature that have created these incredible slot canyons. Note the differences between Little Wild Horse Canyon's sharp edges and Bell Canyon's softer curves. Take your time to admire the beauty, listen to the echos off the canyon wall, and enjoy the experience.
Things to Keep in Mind
Little Wild Horse/Bell Canyon Loop overall is very exposed so enjoy the cool slot canyon shade whenever you can. Carry enough water for everyone in your party, and consider downloading a trails app that doesn't require WiFi to track your progress. As with any slot canyon, flash flooding is a danger, so always check weather conditions prior to heading out. There are vault toilets at the trailhead but no running water. Pack out what you carry in, and always follow Leave No Trace best practices.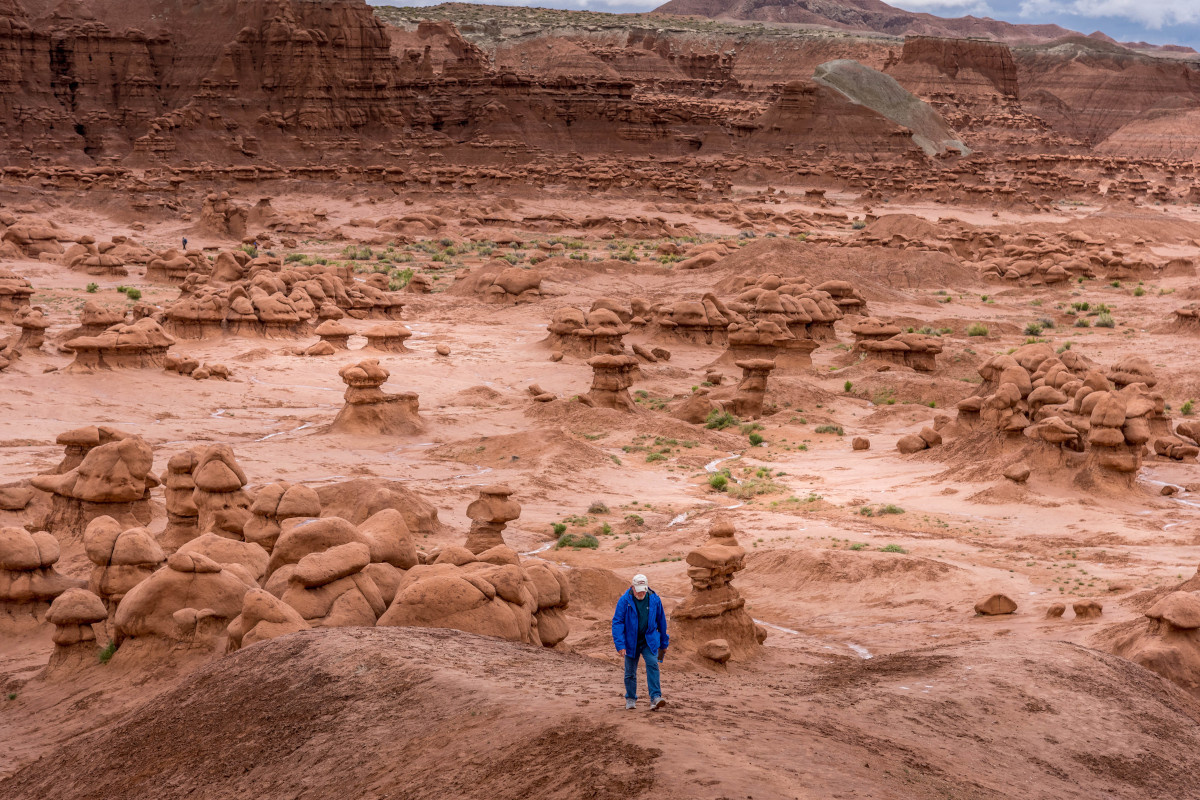 Make it a Multi-day Getaway
Combine this slot canyon adventure with a visit to nearby Goblin Valley State Park for an unforgettable family-friendly getaway. The campground at Goblin Valley has 25 campsites, including 10 walk-in tent pads, 14 RV spaces, and one group site. There are also two yurts for rent, for a lodging option as unique as the adventure. Nearby Hanksville also offers multiple lodging options for a great night's rest, including Duke's Slickrock Campground & RV Park and the Whispering Sands Motel.
Keep Capitol Reef Country Forever Mighty
What is Forever Mighty? It's practicing responsible travel while visiting Utah and Capitol Reef Country by following the principles of Tread Lightly and Leave No Trace.
Plan ahead and prepare, travel and camp on durable surfaces, dispose of waste properly, leave what you find, minimize campfire impacts, respect wildlife, be considerate of others, support local business and honor community, history and heritage. Help us keep Utah and Capitol Reef Country's outdoor recreation areas beautiful, healthy, and accessible.