The region that includes Capitol Reef National Park's diverse landscape is a natural home to a variety of wildlife habitats. Along the Waterpocket Fold and throughout the park, pinyon and juniper forests, rock cliffs, biological soil crusts, dry washes and perennial waterways provide homes for dozens of different mammal, reptile and amphibian species, and more than 230 species of birds.
Large Mammals
About 60 species of mammals inhabit the Capitol Reef area, and one of the first questions many people ask when visiting a national park is, "Do bears live here?" In Capitol Reef, the answer is yes—but encounters are rare, usually occurring near food and water sources. Mountain lions are another rarely seen species but they are active year round, and primarily feed on the park's mammal population. Coyotes and foxes are also common predators.
The most commonly sighted large mammal herds are desert bighorn sheep, elk, pronghorn antelope (sometimes alone) and mule deer. Mule deer can adapt to a variety of habitats, from high mountains to lower meadows, as long as there are shrubs, woods and grasses to feed on, and are commonly found in the Fruita area of Capitol Reef. Bighorn sheep also tend to gather in Fruita, as well as at the rocky terrain at the park's southern tip.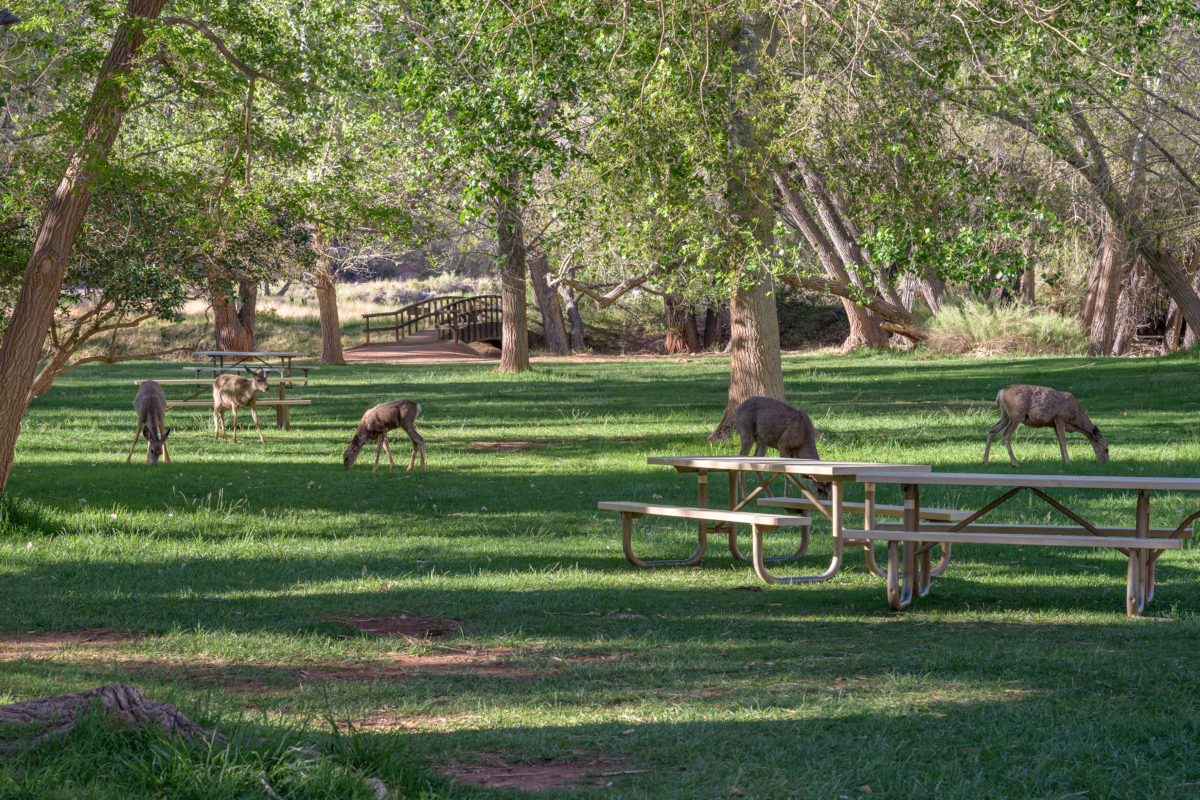 Smaller Mammals
Capitol Reef National Park's smaller mammal species include the endangered prairie dog, raccoons, porcupine, beavers, squirrels, marmots, mice, woodrats, chipmunks and sixteen species of bats. Kangaroo rats typically appear at night in search of seeds, leaving a trail of "hopping" tracks.
Marmots, commonly referred to as "whistle pigs" because of their high-pitched squeal, are the largest ground squirrels in the Capitol Reef area, weighing up to ten pounds and growing up to two feet long. Porcupines are the largest rodent in Utah. Bats are nocturnal, and typically hibernate during cold weather. The canyon bat is commonly sighted early in the evening in Fruita.
Birds
Capitol Reef's bird population includes year-round residents, seasonal dwellers and migrating visitors. The raven is one of the most commonly sighted large birds in Capitol Reef. More rare sightings include the golden eagle and the endangered peregrine falcon. These large and beautiful creatures typically feast on small mammals. Owls, orioles, canyon and rock wren, chukars, pinyon jays and black-billed magpies are bird-watcher favorites in Capitol Reef. The Fremont River Trail near Fruita is one of the most popular bird-watching areas in the park.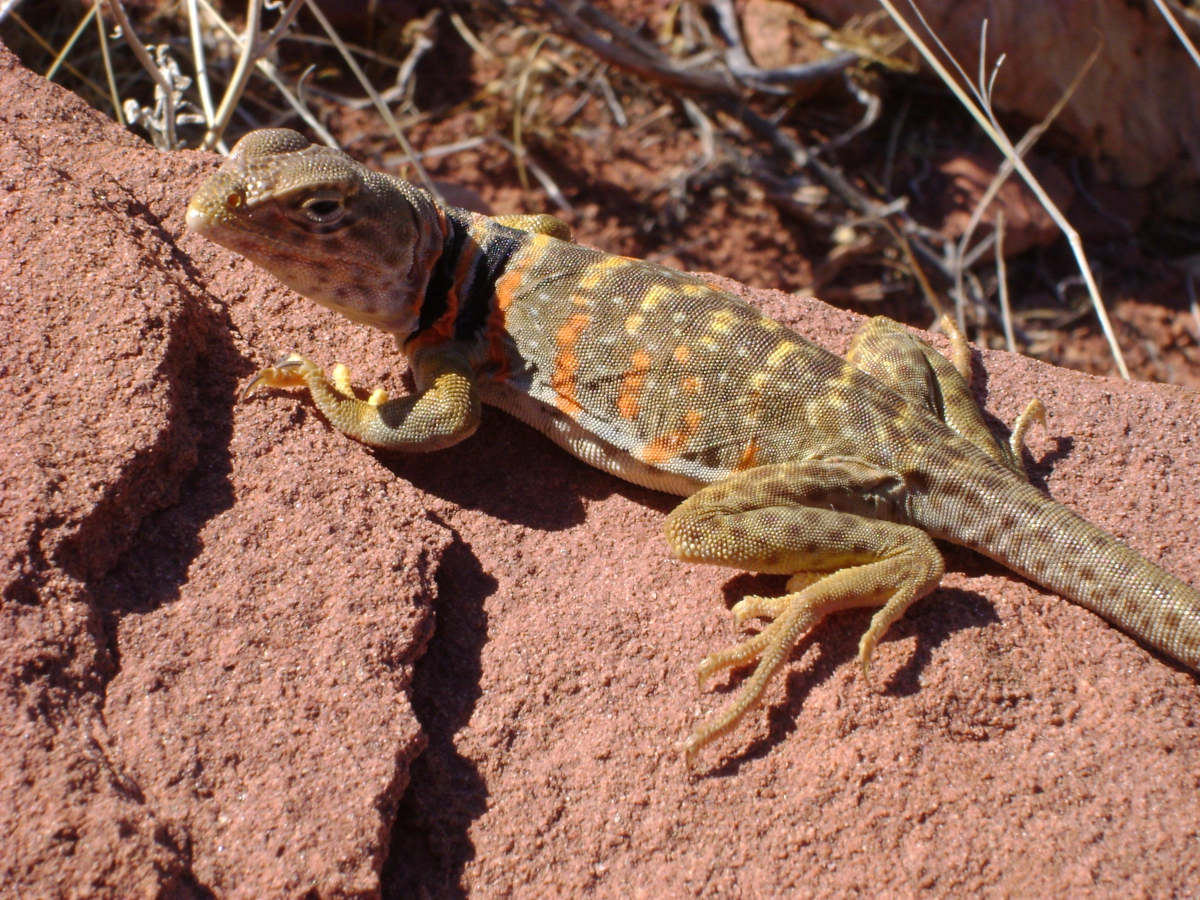 Reptiles
Snakes and lizards are common inhabitants of most desert ecosystems, and they are no stranger to Capitol Reef. The park's most frequently sighted snakes include the gopher snake (often mistaken for a rattlesnake because of the way it hisses and shakes its tail), striped whipsnake, terrestrial garter snake and common kingsnake.
The common kingsnake is one of the few that will prey upon rattlesnakes. Midget faded rattlesnakes are usually found on the ground in Capitol Reef National Park, and prey on birds, small mammals and lizards. Most lizards in the park thrive on a diet of insects, spiders, shrubs and plants. Different species inhabit a variety of ecosystems, including sparsely vegetated areas, pinyon and juniper forests, burrows, rocks and canyons, and even higher grasslands. Capitol Reef's lizard population includes the Great Basin collared lizard, common sagebrush lizard, desert spiny lizard, tree lizards and western whiptails.
Amphibians
Capitol Reef National Park's perennial waterways and its unique ecosystems along the Waterpocket Fold are ideal habitats for amphibians such as the Great Basin spadefoot, woodhouse and red-spotted toads. The canyon tree frog is also a popular dweller along the Waterpocket Fold. Northern leopard frogs thrive near the Fremont River. Read more about Utah wildlife here.
Click here for bear safety tips. Click here for big cat safety tips.
Keep Capitol Reef Country Forever Mighty
What is Forever Mighty? It's practicing responsible travel while visiting Utah and Capitol Reef Country by following the principles of Tread Lightly and Leave No Trace.
Plan ahead and prepare, travel and camp on durable surfaces, dispose of waste properly, leave what you find, minimize campfire impacts, respect wildlife, be considerate of others, support local business and honor community, history and heritage. Help us keep Utah and Capitol Reef Country's outdoor recreation areas beautiful, healthy, and accessible.