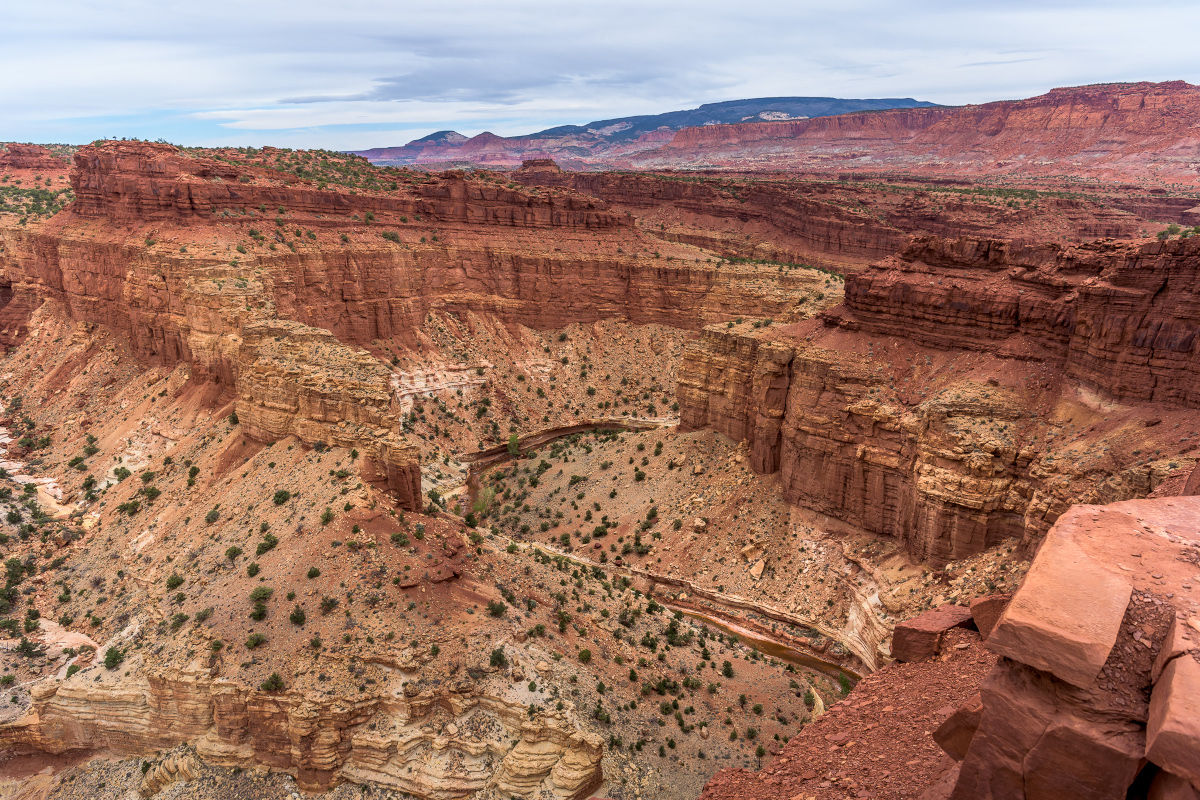 A Can't-Miss Beautiful Trail in The Center of Utah's Mighty Five!
While you're out roaming through Capitol Reef National Park, the Sulphur Creek hike is one you can't miss – it passes through some of the oldest rocks in Capitol Reef! These landforms are incredible to see, with several unique waterfalls that only add to the adventure. 
Sulphur Creek Basics This trail spans around 6 miles point-to-point. Ideally, you'll have two cars, one at each end of the hike, but if not, plan for an additional 3-mile walk back to your starting point. No dogs or pets are allowed on this trail, as is it not officially maintained and can be dangerous with inclement weather.
The best times to visit are spring, fall, and summer if there is no chance of rain. The probability of a flash flood is high when there is rain in the forecast. It's essential to plan for this hike: pay attention to the weather in the days before and around your visit! Even in normal conditions, you're likely to encounter at least ankle-deep water, so be prepared to do some wading. A warning from the National Park Service website: "Dangerous flash floods are an occasional hazard on this route – do not hike the Sulphur Creek route if there is a chance of rain."
The National Park Service does not officially maintain this route. Note that route conditions, including obstacles in canyons, frequently change due to weather, flash floods, rockfall, and other hazards.
Access + Transportation There is a designated parking lot located just over 3 miles west of the visitor's center at the upper part of the creek. If you begin your hike here, the trail will end just behind the visitor's center. This location is where most people choose to start their hike, as it leads downstream. You can also start your hike at the visitor's center but note that parking in the visitor's center parking lot while hiking is discouraged.
Your Options You can choose to hike a shorter section of this trail, starting at the visitor's center following the creek upstream less than a mile, or opt to trek the entire 6 miles downstream. If you decide on the shorter portion, there is parking available on State Route 24, by the bridge. 
Alternatively, know that it will be highly rewarding if you choose the longer hike. Along the way, there are three small waterfalls and about two miles of scenic narrows. Utah is known for its gorgeous sandstone, and these narrows do not disappoint!
If you check out AllTrails, Sulphur Creek is a moderate hike. The hike starts with some flat, level ground areas, but as you progress through the trail, there are various climbs and scrambles, particularly around the waterfalls.  
Bypassing each of the falls requires the ability to scramble down 12-foot ledges, so use caution as you make your way down. Once again, this trail is not officially maintained, and there are no signs for Sulphur Creek as you make your way, so come prepared with a GPS or a map. 
So You've Chosen the Sulphur Creek Hike You'll start this journey in the paved parking area located 3 miles west of the Visitor's Center and ending it right behind the Visitors Center. You'll cross over the hill next to the parking lot, which leads down to a small wash, which you'll follow and continue downstream for about a half mile before it turns into a larger wash. 
You'll follow this south, and before the convergence with Sulphur Creek, you'll encounter the wash narrows where there are two 6-foot pour-offs to climb down. Once you've reached the creek, continue downstream. As previously mentioned, depending on the water flow, you may be able to jump over the stream, but its more likely you'll need to wade through some water. 
Follow this for another half mile, and you'll come upon your first view of Goosenecks Overlook, which will be about 800 feet above. From this point, there is another mile of walking along the creek to the first falls and the beginning of the narrows. 
To bypass these falls, you'll need to scramble down a 10-foot pitch, which will require the use of hands to navigate. Once down, the next falls is only 750-feet away. The right side is best when navigating past these first two waterfalls. 
The third and final waterfall is located over 1.5 miles away and requires a short and slippery traverse on the narrow ledge. When passing these falls (on the left), use caution as there is only a faint hiker-made trail that climbs out to a series of ledges. Once you're atop these ledges, follow this bypass as it descends back to creek level. 
This will bring you to the last 0.7 miles of your hike, delivering you to the visitor's center. 
As a health and safety note from the National Parks Service: Capitol Reef National Park recommends hikers do not ingest water from Sulphur Creel because E. coli bacteria are occasionally detected at frequencies greater than Utah water quality standards.
So what are you waiting for? Add Sulphur Creek to Your List! Whether you're planning to visit Utah or Capitol Reef Country specifically, you're going to want to add the Sulphur Creek Trail to your itinerary. Don't forget to take time to plan your adventure, account for the weather, and wear the right apparel as avoiding water is not an option on this hike. 
Always tell a friend or family member where you're going and what your route is. Most importantly, have fun! Take in the beautiful sights and sounds of Capitol Reef National Park. The Sulphur Creek trail is an adventure you won't want to miss. 
Keep Capitol Reef Country Forever Mighty
What is Forever Mighty? It's practicing responsible travel while visiting Utah and Capitol Reef Country by following the principles of Tread Lightly and Leave No Trace.
Plan ahead and prepare, travel and camp on durable surfaces, dispose of waste properly, leave what you find, minimize campfire impacts, respect wildlife, be considerate of others, support local business and honor community, history and heritage. Help us keep Utah and Capitol Reef Country's outdoor recreation areas beautiful, healthy, and accessible.