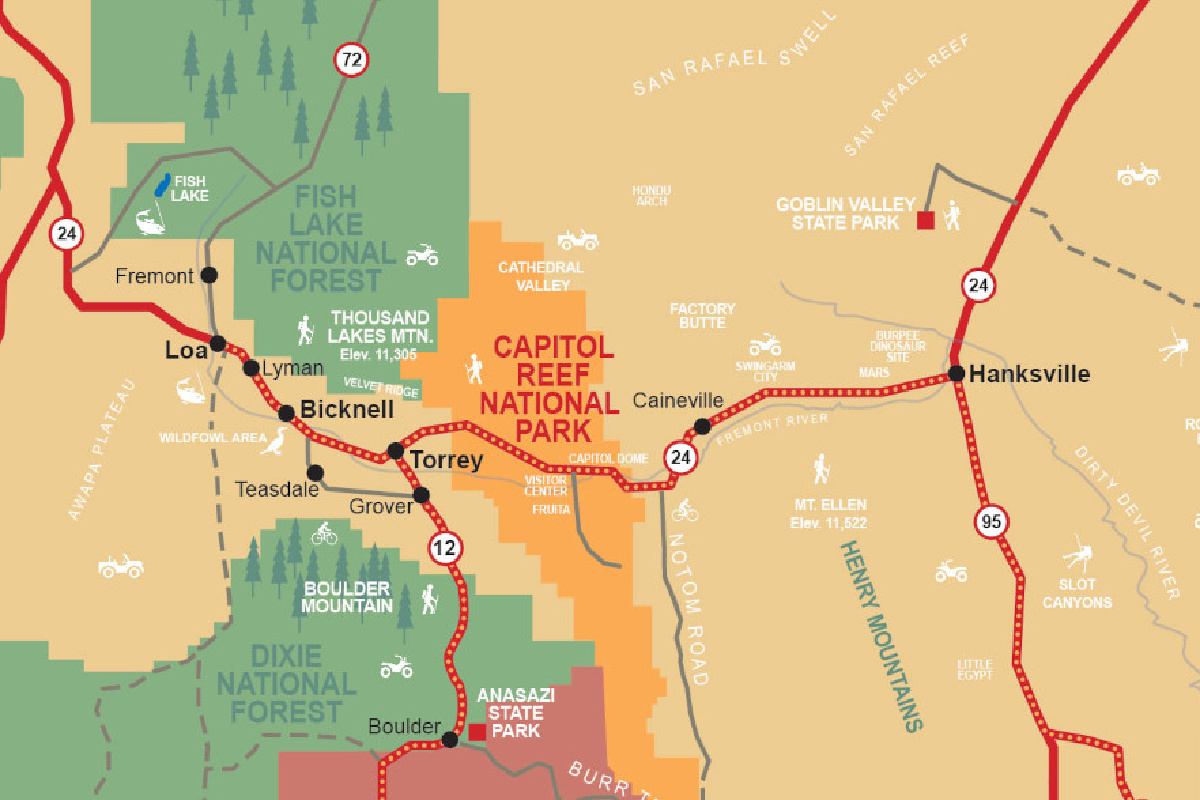 State Route 24 is Wayne County's main highway that connects the region's small towns and scenic attractions and is a designated Utah state scenic byway. It's also Utah's longest contiguous state route at 163 miles that connects three central Utah counties.
Wayne County Utah, aka, Capitol Reef Country, is in the southcentral part of the state with borders that stretch from Fish lake Plateau on the western side to Canyonlands National Park in the east, with the Green River forming the eastern boundary. Between these two borders lies a plethora of scenic attractions, natural wonders, and historic points of interest.
SR-24 passes directly through Capitol Reef National Park, it's easy to understand why it has a scenic byway designation. However, it's not just the scenery that makes this route interesting, there's more to it than sandstone formations, lunar landscapes, and scenic attractions.
Here are a few stops worth visiting while cruising SR-24.
Sunglow Café – Bicknell UT
Pickle pie anyone? The Sunglow located in the town of Bicknell is like any other small-town café. Booths, and veneer tabletops dot the room while friendly waitresses serve locals who regularly visit over coffee and their favorite homestyle meal. Nothing unusual here. However, what makes the Sunglow unique is its menu of unusual pies. The best seller is the pickle pie, you heard that right! Visitors often include a stop at the Sunglow to sample this odd sounding dessert, many becoming repeat customers. In addition to pickle pie others you'll find on the menu are pinto bean, buttermilk, and oatmeal. There's even a sampler that offers half slices of each.
Hans Peter Nielson Gristmill – Between Bicknell and Torrey
The Hans Peter Nielson Gristmill is a wonderful showpiece of Capitol Reef Country history, and popular roadside attraction located between Bicknell and Torrey on Highway 24. Gristmills were used for grinding grain during the era of the early settlers. The gristmill was built by Danish born Niels Hansen in 1893 and operated by Nielsen until 1909. Listed on the National Register of Historic Places, photos can be taken roadside, but please be respectful, this is private property.
Historic Fruita – Capitol Reef National Park
Settled in 1880, Fruita is the historic settlement located in Capitol Reef National Park near the visitor center. The main section is located between the visitor center and the Fruita campground where the Scenic Drive begins its route to Capitol Gorge. Lined with large cottonwood trees where large well-kept lawns are located that are frequented by resident Mule Deer, this section of Fruita is a great place to have a picnic or to simply stroll among the surrounding red cliffs. It's also in this section where the historic Gifford House is located where fresh homemade breads, jams, and pies can be purchased including strawberry rhubarb, cherry, apple and mixed berry, but you better arrive early as the pies go fast.
The early founders and members of the Church of Jesus Christ of Latter-Day Saints planted the many fruit orchards from the 1880's to the 1960's to provide food and income to the families living here. Listed on the National Register of Historic Places, these orchards are preserved and protected as part of the historic landscape of the park. They continue to bare fruit, which visitors are welcome to pick when in season.
The historic district continues east on SR-24 past the visitor center where additional orchards line the road and a one-room school house is found that was used until 1941. The building was also used as a community center and church.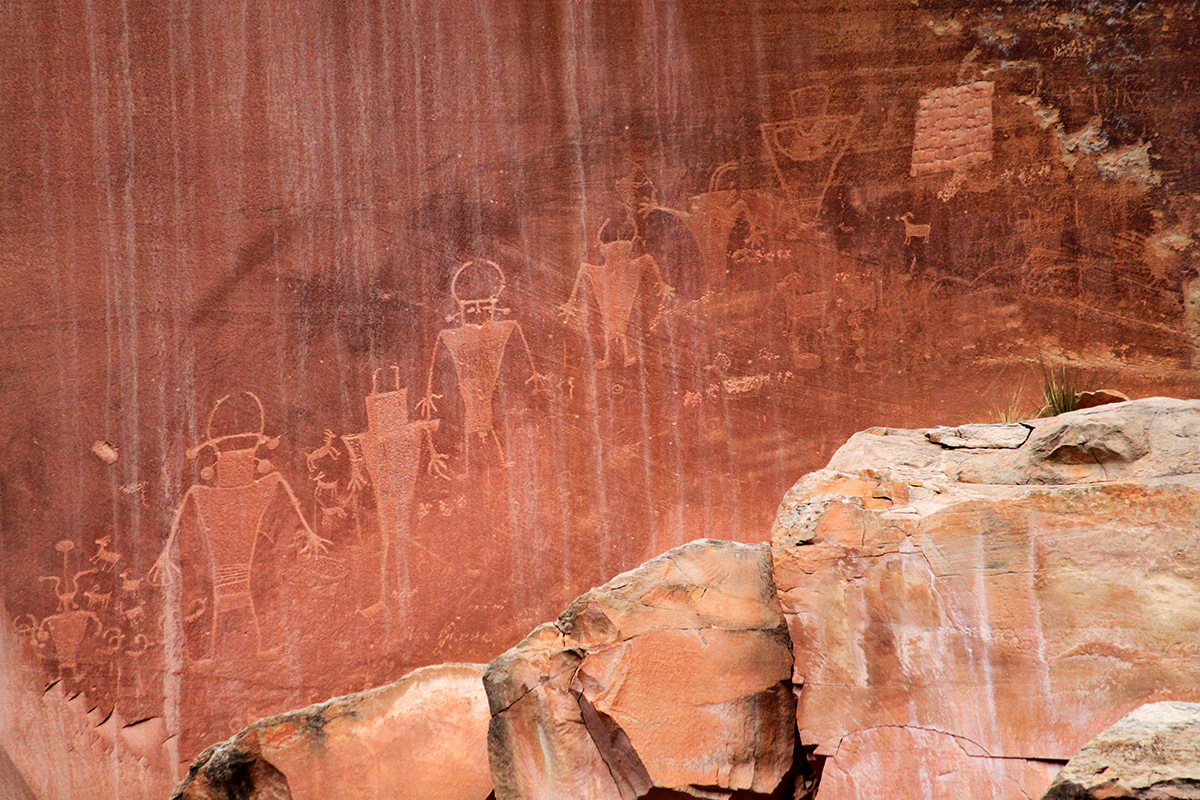 Petroglyphs – Capitol Reef National Park
The Fremont Culture thrived in this region from 300 – 1300 AD. Evidence of their habitation in the park during this time is seen throughout the park including petroglyphs that are easily accessible along SR 24 less than a half-mile east of the historic schoolhouse. The petroglyphs can be difficult to see at certain times of the day especially when the sun is directly overhead. For this reason the park service has set up a spotting scope pointed directly at the etchings. If you have binoculars, bring them with you. Boardwalks lead to additional petroglyphs that include Bighorn Sheep and anthropomorphic (human-like) figures.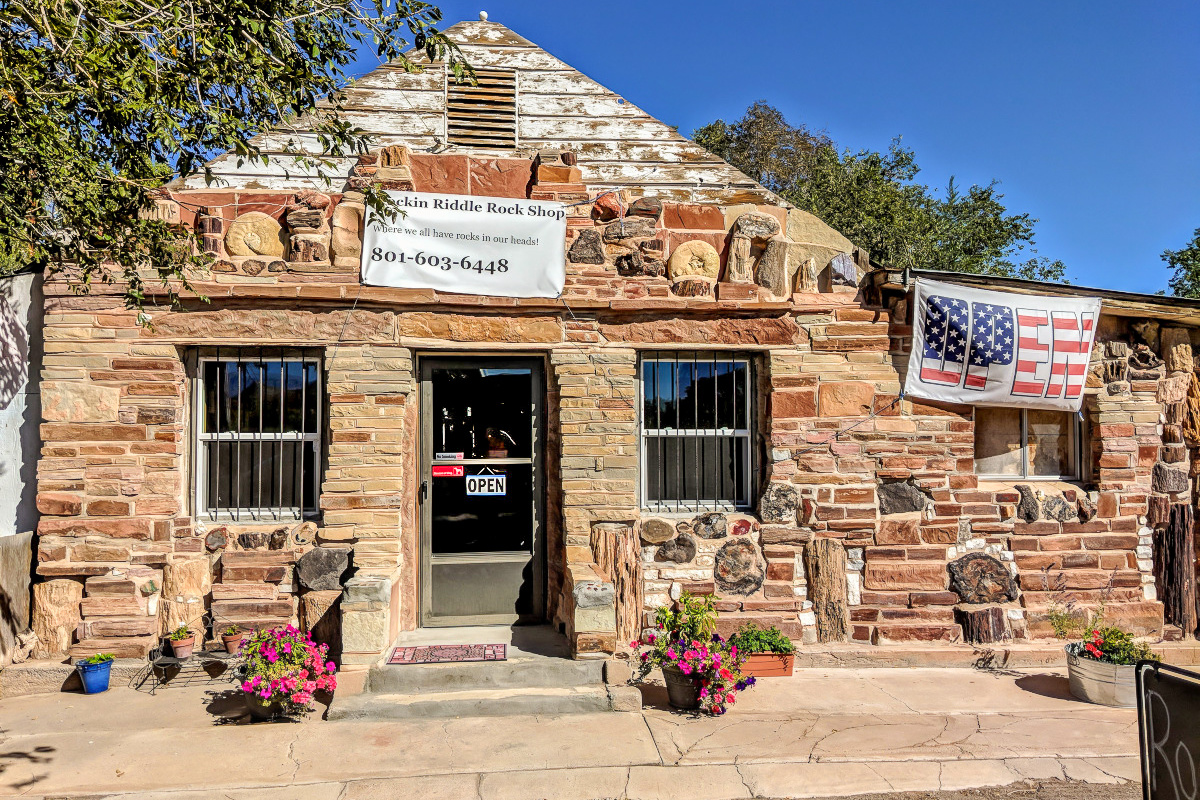 Rockin Riddle Rock Shop – Hanksville Utah
There are many rock shops in southern Utah and and throughout the Grand Circle, so what's so special about this rock shop? For one, the proprietor, Cathy, will greet you with a cold bottle of water on a hot day. Cathy purchased the shop a few years ago and moved to Hanksville from northern Utah to find a more simple life in open spaces. You'll find a lot of that in Capitol Reef Country. Additionally, the building façade looks as though it was built with someone's rock collection from the surrounding mesas and canyons with petrified wood a dominant feature. The Rockin Riddle is shop known for it dinosaur fossils, coprolite, agate, petrified wood and more, many of which are made into jewelry. The most novel rock is local coprolite, or in layman's terms, petrified dinosaur dung. This fibrous stone makes beautiful jewelry, a must buy for that someone special! Located on the west end of Hanskville on the north side of the highway.
Wolverton Mill – Hanksville Utah
Constructed in 1921 by mining engineer Edwin T. Wolverton to crush ore and cut lumber for his and neighboring mines in the nearby Henry Mountains. Wolverton came to the area in search of a legendary Spanish gold mine. After 12 years of filing mining claims around Straight Creek on Mt. Pennell, Wolverton was able to establish his own claims. After years of little success Wolverton abandoned his dream of finding riches and living a lavish lifestyle. The mill stood on Mt. Pennell several more years but was subject to vandalism and a source of problems. To solve the problem and maintain this historic building the Bureau of Land Management in 1974 moved the mill to its current location where it is on display at the BLM office in Hanksville. A restoration of the mill was completed in 1988. Located at 406 South 100 West in Hanksville UT.
Hollow Mountain – Hanksville Utah
Located at the junction of Highway 24 and Highway 95 is the Hollow Mountain convenience store. While the fuel island looks normal, that's where normal ends. Not a natural cave or rock cavity, Hollow Mountain was built in 1984. The hill in which it is located once extended to the highway before Harry Thompson (owner) blasted the hillside back and hollowed out the rock. With the exception of where rock are exposed near the restrooms, the store itself looks like most convenience stores inside. Velociraptors were placed near the entrance to complete the puzzle. You can find hollowed out rocks as living quarters in other parts of Utah but this is the only convenience store using Utah's sandstone and rock in such a way.
Keep Capitol Reef Country Forever Mighty
What is Forever Mighty? It's practicing responsible travel while visiting Utah and Capitol Reef Country by following the principles of Tread Lightly and Leave No Trace.
Plan ahead and prepare, travel and camp on durable surfaces, dispose of waste properly, leave what you find, minimize campfire impacts, respect wildlife, be considerate of others, support local business and honor community, history and heritage. Help us keep Utah and Capitol Reef Country's outdoor recreation areas beautiful, healthy, and accessible.