If you're looking for a place to explore that is rich with history, you're going to want to look at Capitol Reef National Park in Utah. Not only is the landscape itself a stunning reminder of the passage of time, but the relics of those that came before us decorate the area. 
From the hunter-gatherers of 500 B.C.E to the early settlers and pioneers of the 1800s to the founding of this National Park in 1937, an incredible amount of history has traveled across this rocky landscape. Let's talk about it.
Here's what you don't know you're missing: The Petroglyphs of the Fremont People Centuries before tourists walked these lands, the Fremont People inhabited this area. The unbelievable petroglyphs, or rock carvings, tell the story of life from centuries ago. According to the official Capitol Reef National Park website, The Fremont People lived in this area up until the year 1250. 
The Paiute Tribe It's believed that these indigenous people walked this land between 1600-1800. They were forced out of this space as more pioneers and western settlers began moving in and by the Spanish settlement in the central southwest. 
Manifest Destiny! We all learned about it in school. The history of America as we know it today runs through this land from when the Pioneers traveled West in search of new railroad routes or sought the expansion of their religions in the 1800s. 
Discovery and Designation Officially, Capitol Reef became a national park in 1971, but this piece of history truly began 100 years earlier when the first documentation of this Wayne County area was created. Ephraim Portman Pectol was a local settler in 1872 who appreciated the beauty of his surroundings and became dedicated to protecting them.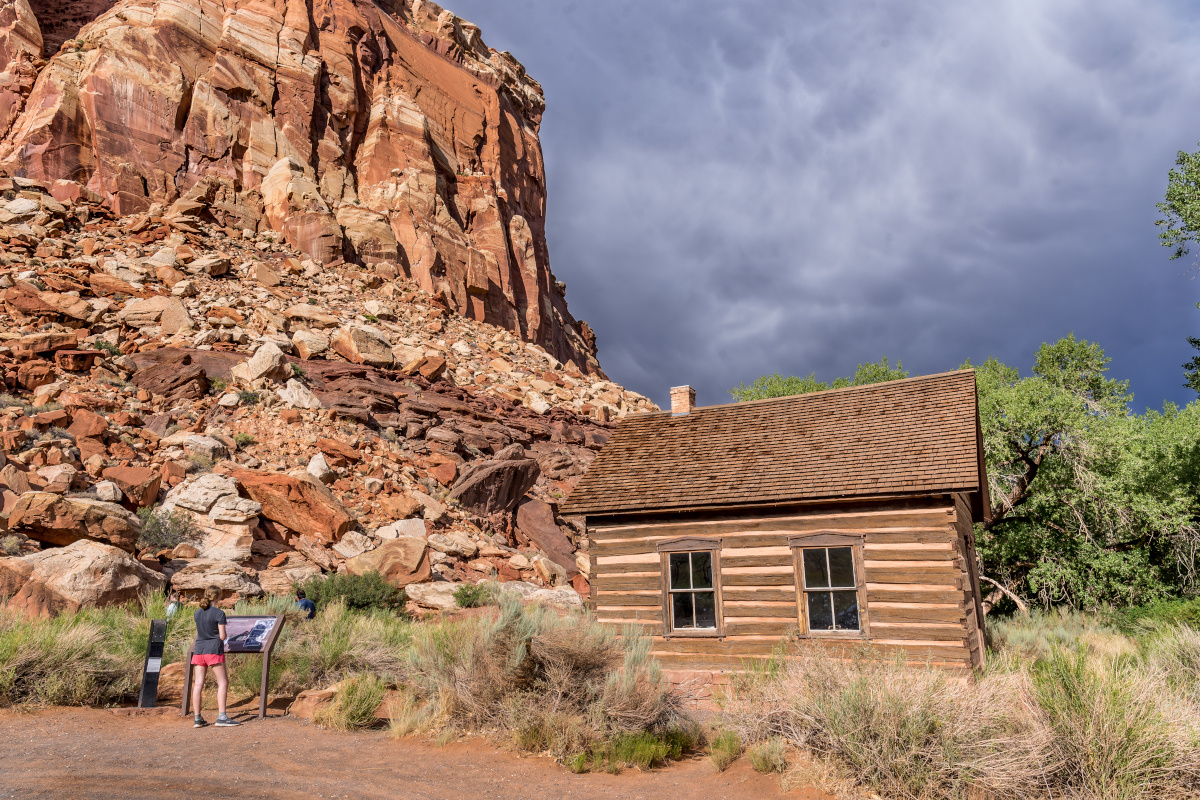 In the 1920s, Ephraim and his brother-in-law created and dedicated a club called "Wayne Wonderland Club" to the protection and promotion of this Wayne County beauty. From 16 acres in 1926, this land was expanded and declared a national monument by President Roosevelt in 1937. Since 1971, this area of Capitol Reef has been a designated national park as we know it today. 
Historical Sites Nowadays, if you've decided to delve into the history of Utah, you're going to want to check out a couple of historic sites located in the Capitol Reef National Park. Here are a few examples of places to stop:
The Gifford House – this home is a classic depiction of a 1900s Utah farmhouse; it now operates as a museum and demonstration site

Torrey Log School & Church – this church was built in 1898; this building also doubled as a school; though it sits in a different location than originally built, this building serves as a piece of unaltered history as an example of early log construction.

Nielson Grist Mill – the only remaining mill in Utah with its original water-powered mechanics
If these types of historic sites don't pique your interest, there are many trails to hike and outdoor activities to enjoy. There is plenty to do in Capitol Reef National Park. Get lost in the history and the mystery of those that walked these paths before you.
Keep Capitol Reef Country Forever Mighty
What is Forever Mighty? It's practicing responsible travel while visiting Utah and Capitol Reef Country by following the principles of Tread Lightly and Leave No Trace.
Plan ahead and prepare, travel and camp on durable surfaces, dispose of waste properly, leave what you find, minimize campfire impacts, respect wildlife, be considerate of others, support local business and honor community, history and heritage. Help us keep Utah and Capitol Reef Country's outdoor recreation areas beautiful, healthy, and accessible.