If you're planning a family vacation to Capitol Reef National Park, you're in for a treat. This prized park is one of Utah's most captivating yet underrated destinations. Tucked away in the heart of red rock country, Capitol Reef National Park spans 378 square miles of breathtaking cliffs, canyons, and valleys.
While the park offers an abundance of exciting things to do, hiking is undoubtedly one of the best ways to experience Capitol Reef Country in all of its glory. The hiking trails range from easy to strenuous, with plenty of options for scenic hikes that are suitable for children. Today, we're sharing some of our favorite family-friendly hikes in Capitol Reef National Park so you can start planning your next great adventure.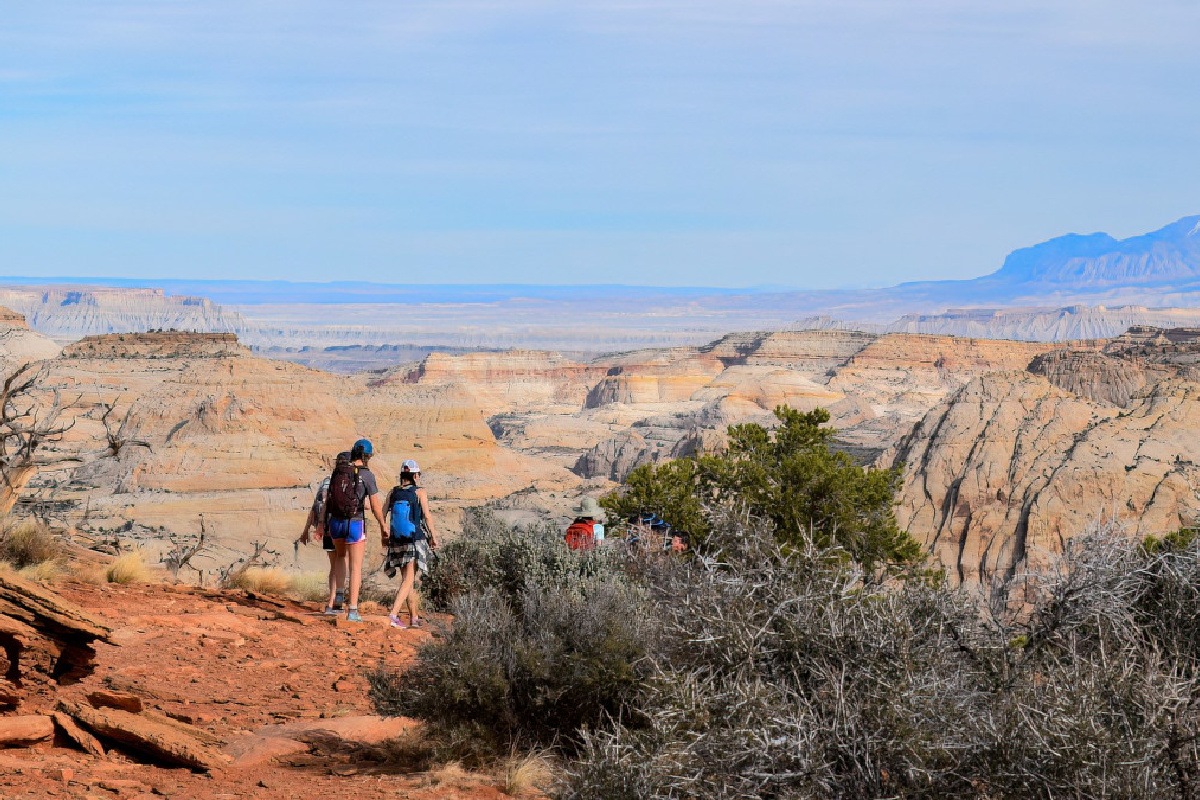 Here are 4 of the best hikes in Capitol Reef National Park for kids: 
Hickman Bridge Trail
As one of Capitol Reef's most popular hiking trails, Hickman Bridge Trail is a fantastic choice if you're visiting with kids. The 1.8-mile hike starts with an easy walk along the Fremont River, followed by some climbing that brings you to stunning views of the valley below. Inside the valley, you can find tons of caves for the little ones to explore. 
Hickman Bridge Trail finishes at the Hickman Bridge, a 133-foot stone bridge that makes for a truly magical photo op. Make sure to bring your camera so you can snap a family photo under the bridge once you make it to the end of the trail.
Pioneer Register Hiking Trail
If you're looking for a flat and easy hike for kids that still yields worthwhile views, you can't go wrong with Pioneer Register. This 1.6-mile hike is mostly flat and runs right alongside the red rock canyon walls. Along the trail, you can find inscriptions on the walls made by pioneers up to 150 years ago and even a few petroglyphs. 
This family-friendly Capitol Reef National Park hiking trail offers excitement from start to finish as your kids find the names scribbled along the walls and climb into the naturally formed holes in the canyon walls. It's an easy hike that combines exercise with history in a unique and exhilarating way. 
Sulphur Creek Waterfall Trail
This 1.8-mile hike starts behind the visitor center and follows Sulphur Creek, passing through colorful red rock canyons along the way. We love exploring this hiking trail in Capitol Reef with kids for the incredible swimming hole at the end. 
Surrounded by canyon walls and complete with a small waterfall, this swimming hole is the perfect way to cool down with your tiny hikers. Pack your water shoes for this one!
Chimney Rock Loop Trail
This kid-friendly hiking trail in Capitol Reef National Park is perfect for families looking for a bit of a longer hike with ultra-satisfying views. The Chimney Rock Loop Trail is a 3.6-mile trail with some uphill hiking, but it's nothing that your youngsters can't handle. 
Once you make it to the hop, the views of the 300-foot Chimney Rock and the surrounding topography are staggering. If you don't have time for a full hike, we highly recommend pulling into the parking lot to gaze at Chimney Rock, a magnificent natural stone tower that guarantees to take your breath away. 
When you visit the park, we hope you take advantage of these amazing hikes in Capitol Reef National Park for kids! Looking for more family-friendly attractions in Capitol Reef Country? Check out our Capitol Reef travel blog to learn more about all the remarkable sites this area has to offer.
Keep Capitol Reef Country Forever Mighty
What is Forever Mighty? It's practicing responsible travel while visiting Utah and Capitol Reef Country by following the principles of Tread Lightly and Leave No Trace.
Plan ahead and prepare, travel and camp on durable surfaces, dispose of waste properly, leave what you find, minimize campfire impacts, respect wildlife, be considerate of others, support local business and honor community, history and heritage. Help us keep Utah and Capitol Reef Country's outdoor recreation areas beautiful, healthy, and accessible.